Stuart Hamilton looks at the new Steve Morse Band album.
It must get right boring being the guitarist in Deep Purple. Especially, if you've been a creative sort in your youth, the way that Steve Morse was when he was a lad. After all, Deep Purple albums don't come along very often (four in fifteen years). And when they do, you're shoehorning your music into someone else's slippers.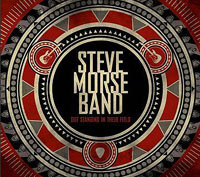 Which could explain why he's resurrected the Steve Morse Band for this new, rather excellent, release. No-one who followed his career prior to his hitching a lift in the reformed Kansas will find anything to surprise them here. Unless they've forgotten just how good a guitarist Morse was, all those years ago.
This album is a close relative of his mid-eighties, post Dixie Dregs albums, and will prove irresistible to fans of driving, guitar instrumentals. The last fifteen years are brushed aside withing the first two tracks - 'Name Dropping' and 'Brink Of The Edge' - which are just brimming with inventive life.
He's lost none of his sparkling fluidity and is gamely followed through every twist and turn by bassist Dave Larue and drummer Van Romaine. Not everything works as the somewhat leaden prog of 'Here And Now And Then' demonstrates, but the misses are few and far between.
Instead, listen to the utterly insane country picking on 'John Deere Letter' or the classical licks on 'Baroque'n Dreams'. In between there's enough electrifying fusion to keep the most demanding noodler satisfied, on what is a very good album indeed. However, Todd Rundgren does ask if he can have his copy of "Deface The Music" back.
Stuart A Hamilton
Zeitgeist, PO Box 13499, Edinburgh EH6 8YL
I write stuff - links here - http://www.stuarthamilton.co.uk
I rant about stuff here - http://ascandalandadisgrace.blogspot.com/