We'll be taking a detailed look at Deep Purple's new album in the next issue of Darker Than Blue, but do feel free to send in your comments or reviews for this 'first impressions' page, which will mostly feature shorter reviews or extracts.

"I've had the disc for a while now, have given it a good few spins and have to congratulate the guys! Although I liked the previous CD, this one is definitely in another league and I think it has a hell of a lot to do with little Ian and Roger's contributions: this thing grooves! I'd love to hear some of the tracks stipped back just to drums & bass! Nothing really wrong with any of the other 3's contributions of course. Also a better mix than 'Bananas'." Tonny Steenhagen
"Well, after 'Bananas' I was more than a little worried about hearing the new album, but, to some extent I was pleasantly pleased. There is a more substance to 'Rapture Of The Deep' certainly, but it still lacks that 'fire in the belly' scenario that induces butterflies in the stomach of the listener. Lyrically, there are some wonderful moments and having read a number of reviews I most definitely have to take issue with one particular chap who deemed the lyrics to be "banal" - oh come on, what album are you listening to mate? I mean, if it was a review of a Whitesnake/Coverdale album then lyrical banality is par for the course, but not here - moving from pure fun rock 'n' roll through to satire and politcal poignancy. The downside (and it is a major one that continues on from 'Bananas') is the production. There is a compressed feeling to the entire album, the sounds seems to lack some form of sonic spread, as if everything is bunched together. Jon Lord commented that Roger should have produced 'Bananas' and I feel he should have here also. Both albums were recorded quite quickly, and to me this come across audibly in the mix. My main gripe is that the vocals are still fairly dry sounding and are crying out for a big fat reverb at times. Another plus point with Roger producing is that because he knows Gillan's voice so well, and is therefore able to coax the best performances out of him in a studio environment, and Bradford doesn't do this. Bradford is not doing Gillan any favours and not pushing him enough so that some of the vocals have a kind of demo feel about them and could do with a little more grit and bite that Gillan can do so well when he distorts his voice. While there may be times when first or second takes capture the spontaneity or spirit of a band, there should also be moments when time and care are necessary to pull the very best out. Purple are capable of so much more and 'Rapture Of The Deep' would sound infinitely better with Roger at the controls pushing them to fully realise their potential (I mean, how great does 'Purpendicular' sound!)." Ron Bellamy
"I've listened to it a few times now and it stirs so many emotions. Joy and frustration being the overriding ones! The first thing to note is the production which I feel doesn't do the band any favours at all. The album's very clean sounding thank you very much, but I much prefer a much harder, edgier sound. On to the music, and there's no doubt there are some real gems in there. To me, Money Talks would be a fantastic show opener and is right up there with the best that Purple have produced. Superb work from Don Airey who drives it along, and it must be said that Don is pretty much the star of the show on this album. Finally the shackles are off! Other gems include the title track, Kiss Tomorrow Goodbye and Before Time Began (very different for Purple I think). I noted that a lot of comments refer to the sudden ending but doesn't that fit the context of the song? Also has anyone noticed the similarity to Rush's Xanadu on the fade out? I too noted the Blackmore'esque playing from Steve on tracks like Rapture of the Deep. I must say I prefer that to his usual American style. What this album has done is bring back all my old feelings of confusion with Purple. The truth be told I'm more of a Mk 3 fan but then again MOST of Purple's classic material has come from the Gillan era. This has always been my dilemma. When Gillan gets it right as on the tracks I've mentioned I love him to bits but too often for me there are too many run of the mill, going through the rock 'n' roll motions tracks. e.g Back to Back, Don't Let Go. This album shows how vibrant Purple can still be and I'm sure there's a killer album lurking in the wings waiting to appear. 7 out of 10 for me." Kev Roberts - South Wales
"Many have probably noted it already, but in the December issue of Record Collector magazine, 'Rapture of the Deep' gets a very positive review with 4 out of 5 stars. Also, Guitar & Bass magazine Dec issue gives the album a very good review. In Norway the two biggest newspapers (VG and Dagbladet) only gave it 2 and 3 out of 6 respectively, but then the reviews in these papers in general are nothing much to write about, they are very short and not well researched and argued. Another thing here in Norway is that the distribution has not been good, long delays so that the album is still not obtainable in the record shops here. Don't know whether the Norwegian distributor is to blame or if the album hasn't arrived from Edel. Myself I like the album a lot and it grows on you with every new listening. I only hope that the concerts coming up include many of the new songs and that they play more Morse-area songs and skip out most of the older songs, I think they are doing themselves a disservice by still playing many of the old classics." Hans Peter Jenssen, Trondheim, Norway
"I am in Australia and usually things take a while to filter down here - but lo and behold I found Rapture in HMV so that was good. I was suspicous though as already it was bargain-basement price. I had enjoyed the Mk 7/8 but I was so disappointed with this new one - listened a few times but no memorable riffs and I thought the lyrics banal in the extreme - sounded like a band looking for somewhere new or different to go but not getting there in a hurry at all. . . so I am re-circulating this one. Also, a minor point is I think the cover is cheap and uninteresting and not even a band photo on the inlay - does not exactly warm or enthuse the listener. As for production values! I do say up front I am a particular fan of Mks 1-4 but I have tried to listen to this objectively. To my mind Morse is a pleasant enough player but ultimately forgettable - perhaps it would give the whole band (as it is now) a lift if they would focus on live re-works of more current material than simply re-hashing Mk 2 hits - that would give the guitarist some impetus surely as there is only so much one can add without detracting from the original - witness the pointless revisit of Bloodsucker on Abandon." Ian Douglas, Australia
"From all the pre-reviews I saw in the Internet I was not sure whether I'd like the new album or not. Now the clear answer is 'Yes, and this is probably the best DP album ever'. Why do I say that?? Well, because it sounds and feels like that. I will not comment on each song, that's been done already in various ways. The sound pretty much reminds me of 'Who Do We Think We Are' or 'Come Taste The Band'. It's damn dry and crystal clear, not like most of today's productions that are 30% FX and just 70% music. Thanks to Michael Bradford! What surprises me the most is that Steve Morse sounds a lot like Blackers in places; a lot more feeling, no endless highspeed solos. Don Airey is incredible. Paicey is back to his best with millions of ghost-hits and a brilliant groove. Rog plays better than ever. Ian Gillan sounds a lot like in the "Gillan-days" (some phrases remind me on Clear Air Turbulence!) I can't see any filler on the album; for me DP never did any at all but I have to say I'm a die hard fan ….. Btw: 'MTV' is great (the song!!). Cool lyrics …. really cool. One thing that isn't perfect is the mixing / mastering of the vocals (hard on the edge, sounds distorted in places) I mean EQ/compressor-wise. Anyhow, it's refreshing to see there is still a band that don't give a shit about trends. They simply do what they like and there's nobody else doing this better than the Purps." Jan Thielking, Germany
"Thank your chosen Gods(!), this is an album worthy of Deep Purple and of the time to appreciate it. (fifth time of listening today, it just gets better). I love the songs and the overall direction, but I still don't like the production. (Although it is much better than Bananas). The band disappear into the background the second Ian sings or as soon as there is a solo. Cranking up your speakers helps, but there is still a hollowness to the production. There are some great songs that I can't wait to see live, please let's have lots of new stuff in the live set!" David May
"I've read nearly all reviews about Rapture of the Deep and I must say that I agree with most of them : it's an awesome album. But there's a low point. A big one that doesn't seem to bother many people: the sound quality. If Michael Bradford is a good producer, he's a poor engineer. On Bananas we had a preview, with the distortion spots in Haunted and Contact Lost. On RotD, it's a nightmare. Really. Each song sounds like a poor quality MP3. The worst of all is "Clearly Quite Absurd". On this one, the great voice of Gillan sounds passed through a tube, which makes it really difficult to appreciate the song.
It's a shame, because there are some wonderful gems on this album, but for every nice musical part, there are technical low points: too much treble on the vocals, the mix packed in the middle of the speakers, too much reverb on the drums, and the overall sound quality. I just can't understand why those old professionals have allowed this Bradford man to do this, especially in 2005! Hey, Machine Head sounds better than that with the technology of 1972! Please, someone, tell me that my copy of RotD is the problem, not the master!" Nicolas Houle
"Money Talks" - is a slow rocker with interesting vocals, reminds me of 'Fireball'-era Purple. "Don't Let Go" is possibly my favourite track. Very funky! Steve's guitar work will blow you away. "Junkyard Blues" has a fantastic riff, plus guitar and piano solos to die for. Actually, maybe that's my favourite. Oh, I don't know... "Girls Like That" - much faster, sing-along chorus, an obvious live choice. "The Wrong Man" is a song for driving; it makes you go faster! Love it!! The bonus track "MTV" is one of the best things Deep Purple have done in decades. Sharp, witty, cutting. A classic rock shuffle with well-suited solos.
On to the plain good stuff: "Rapture Of The Deep" - could be a cross between 'Perfect Strangers' and 'Gates Of Babylon' in places, with a very Oriental style. Should be a killer live. "Kiss Tomorrow Goodbye" is one of several songs that have a certain Blackmore feeling to them; difficult to explain, but I'm sure you'll hear it too. "Clearly Quite Absurd" - a ballad, with the most exquisite chord structure, although too much like 'Sometimes I Feel Like Screaming' in places. "Back To Back" is a swinging little number graced by Ian Paice's wonderful sense of rhythm, and another catchy chorus. And finally, "Before Time Began" which is another cleverly crafted and complex composition, this time featuring some very serious and thought-provoking lyrical content.
The Low Points: The gruesome Rick Wakeman-esque Minimoog soundalike solos by Don in "Back To Back" - they just sound like something off a 1974 Yes album. The all-too-obvious references to Sometimes I Feel Like Screaming in "Clearly Quite Absurd". The ending of "Before Time Began". It just stops. So there we have it - 11 new songs. Some high points, some lows (especially that Moog sound). what I would say is that this was a far easier album to listen to than either Bananas or Abandon. It just sounds more 'Purple'. I really did have Blackmore flashbacks several times, and I've yet to decide whether that's a good or a bad thing. A special mention for Michael Bradford for producing a very Purple album, without sounding too retro. A job well done. You can tell that a lot of this album was conceived and played as 'live'; it has a certain "togetherness" about it. Everyone fits in nicely. This is a whole, complete band. From my point of view (should that be point of hearing?), this is the second best Deep Purple album since 1976, with only Purpendicular being above it in the post-reformation album ranks. It knocks Perfect Strangers back a place. And finally, my real pet hate about this album - the cover. It's on a level with the gutter-lining that was the vinyl edition of "The Deep Purple Singles As and Bs" or even "When We Rock We Rock And When We Roll We Roll". I'll say no more." Nick Naylor, Lytham St. Annes
"On the first hearing I was not enthusiastic about all of the songs but it has grown on me after a few listens.. It is a really Gillan album, with his singing often reminding me of Fireball, especially in the opener 'Money Talks'. ''Girls Like That' is a nice song to sing along to, but is certainly no highlight. 'Wrong Man' is a darker song which I have heard played live in Dusseldorf last month. Nice playing by Steve and I think it could survive for a few years in the live set. 'Rapture of the Deep' was also played in Dusseldorf and it opens with a kind of a gypsy dance rhythm. The style of singing sounds like 'A Touch Away' from Purpendicular. On to 'Clearly Quite Absurd': I can imagine Ian Gillan walking barefeet on the Beach in his beloved Portugal thinking about the world today and writing this song. Beautiful! Next up is 'Don´t Let Go', not a very strong song, but it stays inside your head. The guitar solo sounds a lot like Blackmore's playing on the Stormbringer album. And then comes the best song of the album: 'Kiss Tomorrow Goodbye'. What a rhythm, this is the real Deep Purple! I haven´t heard it live yet, but I am sure it will be great. 'Before Time Began'. starts slowly and builds up to a climax with mighty drumming by Paicey. Ian Gillan's last words on the album (´and for those who remain with your chosen Gods, may your prayers be answered´) sounds like a goodbye forever but I am sure that they will carry on!!!! I rate the album as a whole as a 7 on a scale of 10". Peter Rossen.
"The title track "Rapture Of The Deep" (natch) is more instant than Nescafe, and has more hooks than a fly-fisher's hat, the eastern riff reminding me of early Rainbow. The track is stolen by the instrumental break in the middle, some great keyboard and guitar runs leading into a sublime Morse solo. This is "Perfect Strangers" for 2005, a classic. Next up, "Clearly Quite Absurd", a ballad with a melody which beautifully overlays the delicate guitar work, and a stunning ending with a rising scale dovetailed under some great Hammond work. "MTV" is possibly the track I go back to most, great music and some rib-tickling lyrics, nice playing all round too. The guitar playing puts me in mind of Tom Petty and the vocal hooks (there are many) are instantly memorable. "Junkyard Blues" has got a great chorus but sounds flat to these ears during the verses, saved again by another extended Morse/Airey exchange of solos. "Before Time Began" closes out the album, a dark song which builds from a quiet intro and first couple of verses into a powerful anti-war rant, Gillan spitting lines like "Every day of my life I discover/Someone murdering my sisters and brothers/in the name of some God or another".
All in all, a natural and worthy progression from "Bananas", the gold stars to Steve and Don particularly, whenever they can be heard. I don't like the lack of edge to the production, it seems to have robbed the songs of their power, but there are some great extended musical passages and solos (no song under 4 minutes and several nudging, and over, 6). Played several times, your ears get used to it, and that allows the songs to grow on you. This shouldn't be needed though. Please, please, please can Purple build the live set around some of this material and ditch the older stuff? Please?" Martin Ashberry
"Money Talks – Solid opener – would work well to begin the live act too, I think. Ian's narrative vocal style brings to mind past glories such as No One Came & Little Share Of Plenty – not the last time he sings this way on the album either. Rapture Of The Deep – Deservedly the title track – a snake charmerish-call to prayers signature lead begins before a dreamy vocal kicks in with some cosmic lyrics. Would make a great live track – a natural successor to `Perfect Strangers'. Steve's guitar work at around 3.5 minutes in is just beautifully fitting. I would happily play this to anyone to justify my love of DP. Clearly Quite Absurd – Some great guitar from Steve. Piano from Don is sadly too far in the background. Back To Back – Some good guitar & keyboard work, with Don bringing in some different (for Purple) keyboard sounds. Kiss Tomorrow Goodbye – Pounding Paicey tom-toms herald the Environmental Message. Steve too low in the mix. Good track though. MTV – Good song, amusing lyrics, strong harmonies. Steve and Don get turned up for the solos showing off some nice work. A `Space Truckin' run thrown in too. Before Time Began – Great ending to the album – Almost military drumming and casual guitar fuse into something rather wonderful. Nice juxtaposing of `What do you know?' with comments on religion-inspired wars (what does anyone really know for sure?). The bottom line – with an improved mix this could have been a killer album." Tim Summers
"I don't think 'first impressions' will do justice to this often wonderful album, which only slowly reveals itself in all of its glory. Maybe 'fifth impressions' would be more apt... Anyway, to generalise for no very good reason, it strikes me as having parallels with 'House Of Blue Light'; except that it works. The title track is a beauty, reminiscent of 'Strangeways'. Junkyard Blues' is a feast which despite its title sounds like nothing else I've ever heard, (it certainly isn't blues)...indeed like much of the album it covers multiple styles and influences within its duration, often at the same time. The songs are generally longer than on Bananas, which often suffered from musical coitus interruptus during its best tracks. Here they have more space, and the musicians joyfully take full advantage. The only dodgy track as far as I'm concerned is 'Girls Like That'. It has plenty of garnish, including a harmony heavy chorus, but for me its mediocrity still stands out, particularly as the other ten songs are so good. It seems we have a great rock album on our hands." Ethan Wright
"Opening track 'Money Talks' is an absolute cracker, an up tempo rocker with a memorable hook, some sparkling keyboards from Don Airey and a tasteful solo to boot. The title track is straight out of the 'Perfect Strangers' mould, and I'm sure fans will take it to hear; mid-paced, moody and borderline magnificent. 'Don't Let Go' is melodic enough not to scare the Radio 2 listeners, different enough to intrigue those unfamiliar with modern Purple, but the chorus is a bit of a let down. 'Kiss Tomorrow Goodbye' has ended up as one of my favourites, some pounding rhythm work, semi spoken singing from Mr Gillan and some more excellent keyboard work from Don Airey, a man who emerges as the hero of the piece, with some fine saving tackles on the lesser material.
'Junkyard Blues' is another highlight as the driving blues motif which recurs throughout the best material here reappears with a sprinkling of honky tonk piano and some ZZ Top guitar riffs. Things end up with 'Before Time Began', and this is the track people should be talking about. Taking Purple back to their progressive roots, it's a dark and affecting piece of melancholia, topped off with some of Gillans better lyrics, touching on the modern world and the amoral society we live in. By far, the best song here and one that should be hailed as a future classic. After the debacle of 'Bananas' this is a worthy album. There are 4 songs that stand up to the legacy that Purple have created, maybe another 4 that are good Gillan songs, but don't really belong on a Purple album and a few fillers." Stuart A Hamilton. You can read Stuart's full review at www.the-rocker.co.uk shortly.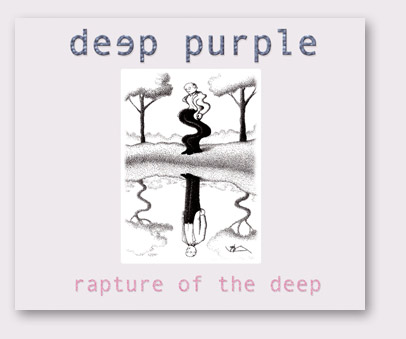 "Deep Purple spent five weeks recording their new album "Rapture of the Deep". This fact becomes very evident when listening to the album. What we have here is a collection of songs that sound as if they were born in a jam situation, with five guys in a room together bouncing ideas off of each other. The album's got a definite live feel to it. Whether it was a result of the addition of Don Airey to the band or the choice of working with Michael Bradford, "Bananas" was a new step for Deep Purple in many ways. There was an old-fashioned rock and roll feel to the songs which was embraced by many fans. They go one step further with this tight but loose approach on "Rapture of the Deep". This is a different beast compared to "Bananas". It's darker, harder and dare I say more adventurous. The songs follow a similar pattern and this makes for a very cohesive album, although one or two fast rockers wouldn't have been out of place.
It might not be as easily accessible as "Bananas" was, but I'm on my fifth listen as I type this review and it just gets better. Some of the songs remind me of the mid-tempo stuff on "Abandon" but this material works better. Many fans are sure to take this album to their hearts, whereas some of the old timers may be confused with parts of it. In truth, the band's creative juices are currently flowing and I have a feeling this material is exactly what some fans were hoping for. My first impression is that Ian Gillan sounds very inspired. Bucketloads of attitude. It reminds me of his approach to singing on projects like "Cherkazoo" and the Ian Gillan Band. It's obviously very different from that, but there's something about his vocal delivery and the quirky nature of these lyrics that really show off his uniqueness as a singer and as a wordsmith. Results are almost always rewarding when he is in the mood for questioning authorities, and he takes many opportunities to do so on this album.
"MTV" (the European bonus track) is a particularly fine example of this and one of my favorites on the album. Excellent lyrics lashing out at journalists asking way too many predictable questions and making fools of themselves while doing so. When Gillan sings "Mr. Grover, Mr. Gillian oh you must have made a million on the night that Frank Zappa caught on fire" it's difficult for me to explain just how good it is. Not to mention the steaming Hammond solo and Paice's insanely tasty drumming to back it up. Many similarities to "No One Came" in the way Gillan sings it, while still being totally different. In a way, the stuff of Purple dreams. Hell, Ian Paice even gets a "Space Truckin'" drum roll in there somehow! Steve Morse's and Don Airey's interplay is now more refined and they get more chances to shine here than on "Bananas".
Case in point: the way they compliment each other in "Don't Let Go" (feel good chorus!). Their ground work on the title track is very solid too. In fact, the whole band cooks on "Rapture Of The Deep". Unlike anything else to have come out of the Morse line-up this song is based on an oriental melody line which Airey and Morse plays simultaneously to great effect. Dreamy singing from Gillan (think "Cherkazoo") and a driving power rhythm throughout. The sounds Airey wrenches out of his Hammond are wonderful. A very successful attempt at trying something new.
"Clearly Quite Absurd" is the ballad on the album. Driven by a delicate guitar melody from Morse, it might not quite scale the same emotional heights as "Sometimes I Feel Like Screaming", but it fares a whole lot better than "Haunted" which followed too much of a formula. Just when you thought you had this one figured out, it starts to build with some nice layered guitar and a short but sweet burst of Hammond to top it off. Gillan sings beautifully here. They need to include this on the upcoming tour. "Girls Like That" features a relentlessly driving riff with a sweet chorus to boot. "Wrong Man" bears a resemblances to "Whatsername" from Abandon but is groovier. Very little happens in "Back to Back" – a weak spot on the album.
"Kiss Tomorrow Goodbye" is another gem. A drum rhythm gets the thing going and then there's a chugging riff. Gillan singing "Did a bad thing, I did a bad thing, I did a bad thing, did a bad bad thing..." leaves you in no doubt that he did. Add some vintage Paice breaks and a warm, fat Hammond tone to the mix and all is well in Purple land. Another highlight. "Junkyard Blues" has an immediate funk vibe courtesty of Morse. Catchy chorus. Airey gets out the honky tonk piano for an extended solo mid song. Morse comes in with the riff again at the end, and it almost sounds like a first take. The energy is contageous. And just when you thought things couldn't possibly get much better, Ian Paice brings the proceedings to a close with a drum fill hardcore fans are sure to remember from days of old.
"Before Time Began" ends the album on a somewhat somber note. A promising song and a bit unusual for Purple. The outro could definitely have been extended. As it sits right now it ends rather abruptly. Let's hope they take the opportunity to make this song an improvisation vehicle once the tour rolls around.
In summary, a very interesting effort by the band. They are discovering some new musical themes which I found refreshing. Everyone plays very well and the jamming spirit is certainly alive. The album is not without its faults, but on the other hand some of it is really, really good. Can't wait for the tour in 2006! ` Daniel Bengtsson