DPAS LIVE REVIEWS

Deep Purple
'Summer Music Festival' Stadio Briamasco, Trento, Italy
July 7th 2006
This year I just couldn't make any of Deep Purple's European Tour gigs and therefore I was really happy to see the Trento concert work out. It had been raining all day in the Trento area and when I got to the Stadio Briamasco at 9 p.m. it looked like the sky was about to clear up. By volume there is more precipitation in Italy than in the U.K. per year, so when it rains it really rains and it was really humid.
Suitably for the World Cup vibes going around the world the stage was set up at one end of the football pitch and it looked like an oversized goal -- probably the size Italy should have had when the Germans were trying to score during the semi-finals.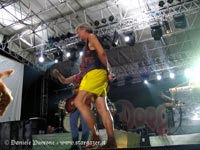 The "stadio" itself is surrounded by apartment buildings and people had gathered on their balconies waiting for the headliner. Just before 10 p.m. there was the first indication that I might not see the Purps after all: there was a loud crackle in the P.A. system while taped music was playing and the P.A. shut down. A few minutes later the P.A. was back and so was the crackle. 10 p.m. house lights go down, intro music, stage lights go up, Paicey gets the drums for "Pictures Of Home" going, the rest of the guys join in and then Ian Gillan enters: wearing a white bathrobe (later to be exchanged for a PVC rain cape), yellow swimming trunks, shades, and flip flops. Time to settle down, forget all my worries about the P.A., and enjoy.
The sound was good, and finally Steve Morse gets into position for his solo -- ready to rev up that guitar get out of cruise control -- hit those pedals and let her rip, baby! The guitar solo kicks in, crackle too... suddenly darkness and silence... The only light to be seen is a little flashlight the sound engineer is using at the mixing panel. Dang! A couple of minutes later everything is fixed. Good -- the band are coming back on stage, Steve continues with his solo, the show must go on.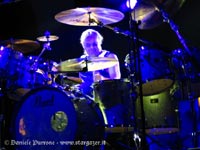 The band goes straight into "Things I Never Said", and no time to be lost. Crackle... crackle... crackle... Darkness and silence...er.... perhaps a few whistles. I must admit I was getting a little worried. Not even two songs completed and the P.A. had gone again. I was sure that Deep Purple would not put up with this situation very much longer and might call it a night. Lights on, sound back up and the band finishes "Things I..". Ian Gillan seems less upset than nervous as he addresses theme 2,500 spectators, suggesting that a guy name Sven Goran Erikson now had "a new job working as a generator at a rock concert" (clearly quite absurd). To cut a very long story short: the P.A. worked for the rest of the gig despite the fact that it had started to rain again, the P.A. did "crackle" every once and a while, and the band (especially Ian Paice) seemed to be barely touching their instruments in order not to blow anymore fuses. Eventually they did seem more confident and really put out another superb gig.
O.k. Ian Gillan did occasionally have problems with his voice -- but I would rather hear him sing like this than not at all! The highlights: "When A Blind Man Cries", "Perfect Strangers", Roger Glover's evil sounding bass on "Space Truckin'", and anything Steve and Don did.
The lowlights: "Pictures Of Home" in three parts, no "Bananas" stuff, rain, and with it all the umbrellas that went up in front of the stage. But they were the best umbrellas I've ever seen.
review: P.M.Stickler, photos: Daniele Purrone