April 26th 2006. Convention Centre, Wellington, New Zealand Crusty Bogans' Night Out

"The first night of the Pacific tour was a high energy gig with a very boisterous crowd. The set list remained very much the same as early 2006 gigs and the 4 week lay off probably took more out of Ian Gillan than anyone else. A missed cue from the rhythm section into the beginning of Lazy and Ian Gillan arriving late at the beginning of Highway Star was about all I noticed from the front row and on the whole the band did the business.

The tracks off the new album went down very well and great to see so many young headbangers in amongst the crusty bogans. The production was very streamlined with no pink lights out the back or major light show and even Ian Paice is now using a slightly smaller drum kit. All in all a superb gig in keeping with the 2003 Bananas show I witnessed in the UK and blows the 1984 and 1991 Deep Purple gigs I saw completely out of the water. A week ago The Rolling Stones came through town, played a big stadium show to 40,000 people and the musicianship was at times appalling. Deep Purple roll into Wellington play to a crowd of about 2-3,000 and put on a truly class performance. Where's the justice in that?

These guys are the best in their field. There is no other band that comes close in my opinion. The Steve Morse/ Don Airey version of Deep Purple is positive chemistry all the way! Make the most of it and go see Purple.They are the greatest Rock Band in the World!

Set List: (from memory apologies the order may be wrong) : Pictures Of Home / Things I Never Said / Wrong Man / Vavoom:Ted The Mechanic /Mary Long/ Rapture Of The Deep / Kiss Tomorrow Goodbye / Steve Morse Solo Contact Lost / Well Dressed Guitar / Lazy / Don Airey Solo / Perfect Strangers / Space Truckin' / Highway Star / Smoke On The Water / Hush / Black Night." review Bryce Coleman

"Purple kicked off the next leg of their World Tour in a small aircraft hangar known as the Events Centre in Wellington. It was a mixed bag. The sound at times was truly awful, a common problem at this venue. We couldn't hear Paicey's intro to Pictures and the keyboards were inaudible at times. Compared to other set lists I've seen, this one was a bit short, with only three songs from RoTD, which was a bit strange given that they're supposed to be promoting the new stuff. You can't count The Song We Don't Know (aka Things I Never Said). I was looking forward to hearing Before Time Began but alas it was not to be.

On the plus side, Steve was on fire and really carried the show. His guitar tone seems to have got heavier and more ferocious; absolutely awesome! Paicey and Roger – do they ever have a bad night? When we could hear him Don was creative and exciting. Big Ian was looking extremely slim and healthy! There was plenty of tomfoolery (did somebody tamper with Ian's lyrics book to put him off?), mistakes (Ian was off stage when he was supposed to start singing Highway Star!) and disbelieving looks at Steve's genius. An obliging fan gave Big Ian an All Blacks shirt; the ultimate sign of acceptance! Although there was far too much reliance on the old stuff for my liking, the guys have breathed new life into these songs with new arrangements. The new intro to Highway Star being especially enjoyable. Crap venue and dodgy sound notwithstanding, Purple are a class band and Steve Morse just gets better and better." review: Simon Dickens

"The concert opened with a half hour set from hard rocking Auckland act Raptus Jack. This was a very down to earth concert. Set props consisted of the words "Deep Purple" on the back drop and that was it. Songs were performed with gusto, talent and relaxed confidence. Adequate acoustics (for a shed) and a slightly lower volume than the last concert I saw two years ago meant I could hear the individual instruments. With musicians who can play this well that is a huge bonus. " review: Richard Schofield
April 26th 2006. New Zealand radio interview

"There is a 20 minute Roger Glover interview with Radio NZ available at: http://www.radionz.co.nz/audio/national/aft/deep_purple

This is part of the Jim Mora afternoon show on "National Radio" originally broadcast 26 Apr 2006, the day of the Wellington NZ show. It will only be available until 4 May 2006 so be quick. Cheers, Richard Schofield "
April 29th 2006. Palais Theatre, Melbourne, Australia High Energy, But Short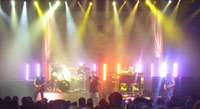 "A really high energy show which had the crowd on their feet from the very beginning. But short compared to the European tour - no 'Rapture of the Deep', 'Mary Long' or 'Kiss Tomorrow Goodbye'. This tour is being 'co-headlined' with Status Quo and when Quo played for 1hr 20mins I did wonder whether Purple's set would be curtailed. Quo were great for 15mins but after 45mins I was getting bored and had to retire to the bar. There is only so much 12bar that I can take and from a musicianship perspective they were quite poor. Their Live Aid set was the perfect length!!
Anyway the main event..........Highspots for me were 'Perfect Strangers' and 'Space Truckin'' (not normally one of my favourites but the new, slower approach is really powerful). Steve seemed a bit high in the mix and the sound at times got a bit harsh. Maybe I am getting too old(!) but this seemed to be a more guitar based sound than on the Bananas tour, more consistent with the Rapture album sound perhaps but less of the warm bass/keyboards sound of last time. Mind you as a result' Things I Never Said' and 'Wrong Man' were incredibly heavy! My only regret was the shortness of the set. They hit 90 minutes but the loss of a couple of new songs was disappointing and I was really looking forward to 'Rapture of the Deep' and 'Mary Long'. Without them the set was basically identical to the Bananas tour from 'Perfect Strangers' to the end - even the encores were the same as last time they were here!! I guess this was more disappointing given that they were on such good form. How do they keep it up??"
Set List: Pictures of Home / Things I Never Said / Wrong Man / Ted the Mechanic / Living Wreck / Before Time Began / Steve Solo - Contact Lost / Well Dressed Guitar / Lazy / Don Solo ~ Perfect Strangers / Space Truckin' / Highway Star / Smoke on the Water. Encores - Hush (short drum solo) / Black Night.
review & set list: Mark Tucker
April 30th 2006. Palais Theatre, Melbourne, Australia

"I went to both of Melbourne concerts. Before Time Began really sounded horrible on the first night, I could tell the crowd around me didn't like this at all. It wasn't played the second night, replacde by Rapture of The Deep which sounded much better! This was the only change to the set list from the night before. The band were in great form, playing like a group half their age, but I felt this was not the best concert I have seen from them, that was when they played at Melbourne Park in 2001, a show where they played all the songs such as Bloodsucker, Fireball, Speed King, and When a Blind Man Cries." review: Geoge Fotis

"I thought the mix was a little better than on April 29th. Great to hear "Rapture of the Deep" played, and disappointing not to hear it on the first night. It really did come across very powerfully. I noticed on both nights that big Ian kept referring to his lyrics book. He's never been that great at remembering words, but he is great at making them up as he goes!!! He got a couple of funny looks from Roger Glover when he sang different lyrics. During "Things I Never Said" he replaced one line of the song with "Once I was a Prince, Now I am a Toad..." Ever the entertainer our Mr. Gillan. Huge highlight for me was after the show when the band were saying their thanks, I caught one of Paicey's drum sticks!!! Sorry to the guy who I knocked back his $100 offer for the stick. No way was I giving that up. Sensational couple of nights." review: Mike Burrows
May 1st 2006. Thebarton Theatre, Adelaide, Australia

"Neither Status Quo or Deep Purple had been in town for a few years, and the small theatre sold out in about 3 hours. Anticipation ran high and both bands delivered. Status Quo gave us 75+mins of their best which had the place jumping and singing. They were going to be a hard act to follow.

At 9.45pm Deep Purple hit the floor, opening with "Picture of Homes". A very straight version, which could have have been right off "Machine Head". We got a good rendition of "Rapture of the Deep", which had Don's keyboard overlay with Steve of the signature riff so tight it was hard to hear the difference. A great song live and could be extended much more than time allowed. We had a short solo spot from Steve, which got the audience going when he broke into AC/DC's Back in Black, and then full blast into "Lazy". Don followed up with his solo on the piano, keyboard and synth, with a mix of classical and local Aussie music, finishing up with the Star Wars theme. He then rolled into the opening bars of "Perfect Strangers". He made full use of his keyboard and seriously stretched the PA. The depth and power of the opening bars were felt by everyone in the house. The floor and walls shuddered to the rolling thunder. It was the turning point in the show, the house erupted and the band seemed to relax and pour forth all their talents in a coordinated rush.

"Space Truckin" was quick, very powerful and unfortunately too short. "Smoke on the Water" and "Highway Star" had us all singing along, and with such a small venue Ian G. was able to hear us all clearly. Steve made light work of the "Highway Star" solo and the band slipped off for a few minutes before returning for the encores of "Hush" and "Black Night". Ian and Steve did quite a bit vocal/guitar jousting which was often lost in the mix. But you knew it was there. Don quietly went about his business, there so much talent that we didn't hear from him. It would be great to see him really stretch out. Roger got in a few solo parts too but surprising no solo from Ian Paice. Both of these guys were still superb, you heard every note from them. The mixing certainly was spot on for the drums and bass. And it looked like the band were enjoying themselves. Two days later I still haven't listened to any music, I can still feel and hear the concert!! It was that good".

Set List: Pictures of Home / Things I Never Said / Wrong Man / Ted the Mechanic / Mary Long / Rapture of the Deep / Steve Solo - Contact Lost / Lazy / Don Solo ~ Perfect Strangers / Space Truckin' / Smoke on the Water / Highway Star. Encores - Hush / Black Night review & set list: Greg O'Neil
May 10th 2006. The Hordern 'Pavlova' (!), Sydney, Australia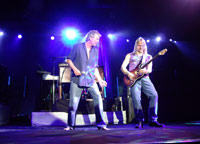 "Overall a great night at the Hordern "Pavlova" in Sydney. The 4,200 strong crowd got suitably warmed up with a knock out set by local crew "Swanee" … Then a workmanlike performance from Status Quo (probably three 12 bar songs too many) set the scene to "Roll over and let Deep Purple in ! " ( The last time I saw Purple at this venue was in 1975 with the Bolin/Coverdale/Hughes/Lord/Paice line-up ). The Purps took it to another level indeed … the lads were certainly on their game with Gillan in fine form, Paicey as solid as ever and Don Airey taking over the Lord legacy with distinction. Steve Morse always leaves you wanting more, in fact the shortened set, whilst an interesting concept, would have left any hardened Purple addict with a glass half empty feeling.
The highlights for me were "Lazy", "Strange Kind of Woman", a mesmerising "Perfect Strangers" and a tight version of "Hush" . This was my 7th Purp gig and I walked away in anticipation of a full dose of the band next time around, I left yearning for much more from the fantastic catalogue.
In retrospect I would rather hear Gillan belting out "When a Blind Man Cries" or the legendary Steve Morse "Riff Locomotiv " than a smaltzy version of "once a jolly swagman camped by a billabong " in a shortened set scenario. What captures the essence of Deep Purple for me is the exceptionally high quality musicianship across the board, (Roger you are a rock – I didn't forget you !) tonight was no exception."
review: Stephen Smith, photo: Graeme Milton (click the pic to see a full gallery)
May 12th 2006. Entertainment Centre, Wollongong, Australia new May 23rd

"Got to say that the vibes in the Oz Deep Purple Down Under guest book about the tour aren't too good. Was the tour as bad as everyone was saying, and why – can we work it out???? Before that – how was Wollongong?

The set list was Pictures Of Home, Things I Never Said, Wrong Man, SKOW, Before Time Began, Fireball, Well Dressed Guitar, Lazy, Don solo, Perfect Strangers, Space Trucking, Highway Star, Smoke, Hush, Black Night – about 90 odd minute in total. I have to say that although there are a few songs I'd kill to hear (Flight Of The Rat, the Aviator, Living Wreck, Kiss Tomorrow Goodbye and Lucille to name a few – and I'd love to see them do Crossroads) I will happily accept anything the guys care to play because I know they will do it well and I'll enjoy it. Musically the show was as good as any I've seen. Without exception each member of the band was simply great. And Paicey bought his one handed drum roll out again. I swear that if you aren't watching you can't tell the difference. There really isn't much more to say – the guys just keep on giving their all. The sound system was brilliant. Crisp and clear, you could hear every note (Damn!! – as Roger said later, that makes it harder to hide the stuff ups).

What was different was the reaction of the crowd. Nearly all (if not every) concert I've been to, going as far back as Randwick 1971 the reaction has been fabulous. You know Deep Purple has delivered and the crowd reacts accordingly. This time they did deliver again but the reaction wasn't as boisterous or as general. And I think I know why (please tell me if you think I'm wrong). Some of the crowd were there for both bands. Some were for Purple and some were for Quo. And, like many band fans, I reckon quite a few of the Quo fans weren't really into Purple and although they stayed, they stayed to get their money's worth. And that showed in their reaction. And that dragged the general level down as well. What was the reaction of the crowds like when DP toured with other bands over the last few years? I suspect it may also have been down a bit and if so I think my theory might hold a bit of water.

The other thing was crowd simply wasn't used to the new songs (unless they had the album and I wonder how many that was). That would also have had an effect on the reaction. Anyway – my view on the tour (based on one concert) - Deep Purple are still alive and kicking and playing great music Their standard is as high as ever The crowd reaction WAS down but I don't think it was because of Deep Purple. I think they should stick to single tours where the audience can and probably will react like they usually do, and should do. They still deserve to have the crowds raise the roof in appreciation. Cheers all and I hope you had a great tour." review: Colin Hadden
May 13th 2006. Entertainment Centre, Newcastle, Australia

"Wow what an amazing show! Having seen the Purps the last 3 times they have visited our city this was by far the best. They just seem to get better with age. Status Quo warmed the crowd up nicely with a rocking set. With the Quo though it is a bit hard to tell when one song finishes and another starts. But enough of that.

I'm not sure whether they have a new sound engineer mixing the sound or new equipment but bloody hell Deep Purple sounded amazing. Especially the drums, you could hear everything Ian Paice was playing. Like other shows on the Oz tour they opened with "Pictures of Home". Then it was into "Things I Never Said" which to me was a puzzling choice given the fact that to my knowledge that track has never been released in Australia. "Strange Kind of Woman" was a pleasant suprise then they pumped out "Fireball". Paicey's double bass drumming sounded amazing. The title track from the current album was next then a short solo from Don segued into "Perfect Strangers". Three classics from Machine Head; 'Space Truckin', 'Highway Star' and 'Smoke on the Water' closed the set. After a few minutes rest the boys returned on stage for 'Hush' and 'Black Night', then they were gone.

All in all a great performance. The crowd really enjoyed themselves. After the show I was just left with one question: What happened to the drum solo? The only answer I could come up with was the fact that the show was a co-headlining one and time was a factor. I hope that wasn't the last time they come to Newcastle." review: Brendan Nielsen