A wise man pointed me towards the guitar solo in 'Stargazer' and to the first half of 'Still I'm Sad', both of which appear on Disc 2 of this latest archive release (the latter of which, the studio version I loathe). The dirty bandit. A day later and it took a big bag of Munchies, a Girls Aloud calendar and a bottle of Barrs Red Kola to prise the headphones from my, um, head. Knowing my lust for the guitar work of Ritchie Blackmore at his peak, it's like taking a Glasgow jakey to Buckfast Abbey and locking him in.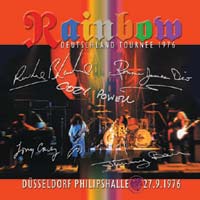 Recorded a mere two nights after the already released 'Live In Cologne', this is, remarkably, even better. The mix seems clearer and the band performances seem to have notched up a degree. In particular, the often maligned keyboards of Tony Carey seem more integral.
But on to the stars of the show. Ronnie James Dio is in fine fettle, especially on what is my new favourite version of 'Catch The Rainbow' , Cozy Powell demonstrates that he was the greatest rock drummer ever (rebuttals on a postcard to someone who cares - for goodness sake, listen to 'Man On The Silver Mountain' for proof) and the workmanlike bass of Jimmy Bain is never less than workmanlike!
And then there's Ritchie. Now I've probably heard thousands of hours of his playing including (whisper) boots of this tour but, cleaned up and polished, I'm convinced this was when he peaked. Back in the box Purpleheads, this was when the line between genius and Xmas carols was straddled with most applomb.
So, as the Cozy 1812 Overture crashes through my head again, I doff my syrup to Mr Blackmore one more time. We shall never see his like again. Absolutely essential for fans of the man, this is an hour and a half you will want to relive over and over.
review: Stuart A Hamilton, Zeitgeist, PO Box 13499, Edinburgh EH6 8YL, UK