DPAS REVIEW
Rainbow
Catch The Rainbow • The Anthology
It used to be you'd wait 10 years for a Rainbow compilation, and now there's one 'round every 10 minutes. A bit mad, and a bit pointless. This one, however, bills itself as the 'ultimate Rainbow collection - 28 stellar recordings', which, apart from indicating a lack of scientific understanding, is a bit of a claim. And it sort of lives up to it.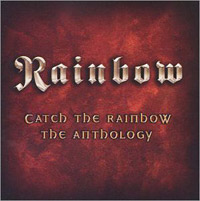 Every album from the original Rainbow incarnation(s) is represented, with 3 from the debut, 4 from "Rising", 1 from "Live", 3 from "Long Live Rock'n'Roll", 4(ish) from "Down To Earth", 4(ish) from "Difficult To Cure", 3 from "Straight Between The Eyes", 3 from "Bent Out Of Shape" and 1 from "Finyl Vinyl". Now, obviously, everyone has their own opinion of what is the 'best' and with the various Rainbow lineups differing in fairly radical fashion, there are few people who could objectively put a compilation of all the periods together.
Things are fairly non-contentious during the Ronnie James Dio years with all the usual suspects rounded up ("Stargazer", "Man On The Silver Mountain", "Kill The King" etc). Fortunately, "Catch The Rainbow" and "Light In The Black" are included, which precludes my usual rant. Which, in case you were wondering involves "Light In The Black" being the best track on "Rising". And they chuck on "Mistreated" from the "Live" album for a bit of variety.
Into the Graham Penis years, and well.... "Down To Earth" is an OK album, and I am delighted to see "Eyes Of The World" appearing. But I would happily burn the master tapes of "Since You Been Gone" and "All Night Long". And with the -ish B side of "Weiss Heim" being included, it makes for a very poor cull. They should have dumped those three tracks and put on "Lost In Hollywood". Now, that's a song.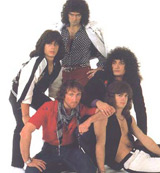 Then onwards into the controversial Jolene period. Which, frankly, I enjoyed. On record. Let's not mention the live performances. Ever. No surprise after the "Down To Earth" comments here's "I Surrender". "Spotlight Kid" - yes. "Can't Happen Here", - oh dear god, the pain. Social commentary from tax exile millionaires. Where's my Sting crossbow when I need it most. "Jealous Lover" - yes. It may have been a B-side, but it was actually quite good, and a better indicator of Joe Lynn Turners vocal ability, after he'd had to sing in the wrong range after Graham Bonnet's departure. Four tracks from "Straight Between The Eyes", which is fine by me, as it's my favourite late era Rainbow album. And it's impossible to have too many copies of "Tearin' Out My Heart". So there. The slightly duff "Bent Out Of Shape" album ended things, although they have cherry picked the better tracks for this comp, so don't be fooled into thinking it's a good album. Things end with the 'rare' live version of "Difficult To Cure" from the "Finyl Vinyl' compilation. A bit pointless.
So, a reasonable selection of tracks, with a few gripes. But, and it's a big but: did no-one at Universal think we'd notice that they have simply copied the sleeve notes from the 1997 "Best Of Rainbow" single CD, which includes references to the reformed 1990s Rainbow, and questions whether the new version will scale the heights of the previous incarnations? Well, I can answer that. No. They split up. Ritchie Blackmore now wears tights and plays the mandolin. Dirty record company bandits.
Verdict. If you don't have a Rainbow Best Of, then this is a good one. But I suspect the casual punter seeing "All Night Long" on VH1 Classic Rock will be buying the £5.99 single CD "Pot Of Gold" rather than this one. And if you're a fan, you not only have all the music, you've probably got the sleeve notes as well. WIth a bit of effort this could have been great. Updated sleeve notes, some live material, of which there are thousands of hours of soundboard copies floating round, and a less contemptuous approach to the record buying public.
Review: Stuart Hamilton,
c/o Zeitgeist Magazine