visit www.purplerecords.net for more details of this release
The Pete York Percussion Band
EXTENSION 345 LIVE


(click on the red titles in the review to hear mp3 clips)
Ex-Spencer Davis Group and Hardin & York drummer Pete York originally formed The Percussion Band back in 1971 as a solo project, and recorded a solitary studio album produced by Ian Paice. After that he maintained it on a part-time basis, roping in friends such as Paice and Jon Lord to take part in live shows.
In mid 1974 Pete invited Paice and Lord to the latest set of Percussion Band rehearsals, and such a good time was had by all that two live performances were organised, with Paice and Lord skipping Deep Purple's Stormbringer writing sessions to take part. The brass and vocals were provided by the group Yipee, with the rest of the band consisting of ex-Spencer Davis Group musicians Charlie McCracken, Ray Fenwick and Pete York. A London show was recorded, and has now been released by Purple Records.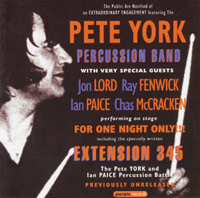 "Points", from The Pete York Percussion Band album is an uncompromising jazz instrumental with a rock backbone. Jon Lord's Hammond carries the melody,and the dual drums of York and Paice propel the piece forward with remarkable tightness. The discordant woodwind on top fits in surprisingly well, sounding like elements of music on Deep Purple's third album pushed in an avant-garde direction. It is quality music, very 'out there', and a lot tighter than I expected.
The jazzy cover of The Rolling Stones' 'Satisfaction" is more like what I guess I was expecting, though perhaps worse. I can get by listening to Lord and Paice's contribution, but the song just doesn't suit the cabaret / 70s TV sitcom theme music arrangement. The vocals are well below par, but thankfully are (deliberatedly?) understated enough to be swamped when the band raise the volume. Jon Lord does get to kick loose a bit, with two minutes of fabulous noodling building up to a full blown blast of Hammond, paradoxically one of the best moments on the CD.
'Sombrero Sam' is a second highly enjoyable jazz instrumental from the Percussion Band album. It's something of a percussion fest, peppered the electric piano work similar to Billy Cobham's 'Spectrum', and Ian Paice let loose as in Purple's 'Chasing Shadows'. From an extended instrumental, it's back to a short r'n'b cover of 'Finders Keepers', a muscular PAL-style shuffle, but with weak vocals. Tony Ashton's presence would have made one hell of difference to this one in particular.
The style rotation continues with the brass lead jazz of 'Moleshawk' , with busy drums and an even busier guitar solo, all of which I'm sure Tommy Bolin would have approved of. In places it's not a million miles away from the direction he had been exploring with Zephyr and Energy. Good stuff.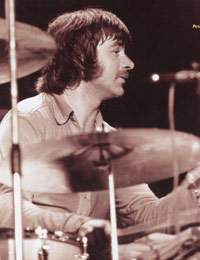 'Extension 345' is the famous Paice / York 'drum battle' number that the pair performed together when Hardin & York supported Deep Purple in 1971. It makes for a smashing seventeen minutes of propane powered jazz-rock which jumps from one excellent tangent to another, including a wonderful extended Hammond outing in the same vein as 'Wring That Neck' just before the drummers are truly let loose.
As for the 'drum battle'_ I'm no drum connoisseur, but it doesn't sound like a battle at all to me. It's musically rooted, with both players complimenting rather than battling against one another and making full (and often mind-blowing) use of their kits. It sounds even better as you can hear the shouts and countdowns between the two of them. An absolute must for Paice fans.
After that, it's party time; two minutes of 'Jailhouse Rock' complete with weak 'Hi-de-Hi' vocals, and a long take of The Spencer Davis Group's 'Gimme Some Lovin'. Again it suffers in the vocal department, but overall it's a very cool version. Jon's souped up Steve Winwood organ lines sound great, but the highlight for me is a particularly nonchalant trumpet solo over the pumping organ and drum backing.
So, as well as being historically interesting for Deep Purple fans, this is an enjoyable, and sometimes very exciting album, though much more successful in the jazz-rock rather than the r&b direction. From the perspective of looking back to 1974 from today it provides an example of the music that Paice and Lord obviously enjoyed playing and would introduce to Deep Purple in 1975 with the help of Tommy Bolin, and then re-invent from another angle in PAL.
review: David Browne
'The Pete York Percussion Band: 'Extension 345 Live' is avaibale to buy from the dpas online store