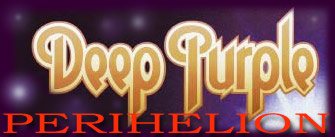 The truth is that I approached this release without a great deal of enthusiasm. Another concert dvd, from year four of a five year tour which began as the Abandon tour , gradually morphed into mk2's greatest hits, and culminated with Jon Lord packing (or rather unpacking) his bags for good.
Beyond the inevitable Total Abandon II comparisons the show actually has a lot to offer. The best recommendation that can be given to a concert film is that it's fun to watch, and accurately represents the artist/s on stage. This one passes on both counts.
The Sunrise Theatre, Ft.Lauderdale was awash with cameras on June 5th, the second show of Deep Purple's 2001 US Tour. The DVD presents a full show of 14 tracks, including six not played in Melbourne 1999... 'Mary Long', 'When A Blind Man Cries', 'No One Came', 'Fools', 'Hush' and 'Hey Cisco'. (Ironically five out of those six had appeared in pre April 1999 mk7 sets). The music is superbly played (sadly it mainly sticks to the well-oiled mk7 formula), and the band have an absolute ball. The multi-camera filmwork is excellent (not quite as classy as Total Abandon), and the sound sharp (though Gillan is buried somewhat in the mix. To compensate, Lord's work is fabulously upfront throughout).
Highlights for me are a stirring 'Lazy' preceded by Jon doodling around 'The Resurrection Shuffle' in honour of Tony Ashton. 'No One Came' also rattles along powerfully, great to hear and see the track clearly (unlike the murky San Jose 1998 clip on New Live & Rare). 'Sometimes I Feel Like Screaming' is perhaps top of the list, the best live version of the song that I've yet heard. It also throws sharply into focus that Steve Morse has a huge amount to offer to the band that has never been fully tapped, certainly not while rolling out the band's early hits year after year.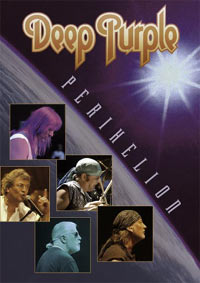 The bonus material is worthy of being called 'bonus', not something you could say about a lot of DVDs. The 'Behind The Scenes' section is particularly watchable (though easily missed on the rather crappy DVD menu). It's 13 minutes long, a cameras everywhere look at the entire evening; including soundcheck, backstage before and after, and filming of the filming of the show. Very thorough. There are also 23 minutes of interviews with all of the band (neatly cut to having them discuss the same subject one after another).
Historically, assuming that all of Hammersmith, February 2002 isn't up to release standard, this will most probably be chronologically the last full show featuring Jon Lord to be made available. Happily it's a superb document of the energy generated by Deep Purple in concert, and a thumping good send off for Jon.
review: David Browne
Deep Purple 'Perihelion' is now out as Region 0 (all regions) dvd, and ia available from the
dpas online store, both as PAL and NTSC.

The sound is Dolby Digital 5.1, the picture ratio aspect is rather disappointingly only 4:3 throughout, a bit of a wasted opportunity I feel.