DPAS LIVE REVIEW

Ian Paice with Demon's Eye
De Boerderij, Zoetermeer, Netherlands. February 22nd 2007
Ask a scientist if it´s possible to travel in time and the answer will be negative. But Ian Paice and Deep Purple Tribute band Demon´s Eye proved that it is very well possible to at least make believe that time travelling is possible. From the first note to the last, they created an atmosphere just like it was somewhere between 1972 and 1975.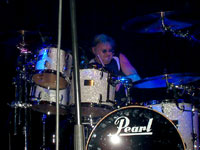 The setlist was full of surprises, with songs like Sail Away, Emmeretta, April / Hall of the Mountain King, Burn, Child in Time, and Ready´n Willing. Singer Robby Thomas Walsh has a very powerful voice, perfect for these songs, and the interaction between guitarist Steve Curly and keyboardist Florian Pritsch was excellent. Bassist Maik Keller plays somewhere between Glenn and Roger, but always kept it together. Paicey played steadily as always, and included his one handed drum roll in The Mule. Regular Demon's Eye drummer Andree Schneider played only one song (April / Hall of the Mountain King). I sometimes felt sorry for him, seeing his place taken by Ian, but looking at him, you could see the happiness on his face and that makes him the man of the evening!!!
Everyone who loves the old Deep Purple should go out to see these guys, with or without Paicey.
The setlist was: Burn / Ready and Willing / White Room / Sail Away / Emmeretta / Child in Time / The Mule / April~/Hall of the Mountain King / Mistreated / Hey Joe / Smoke on the Water / Soldier of Fortune / Black Night / Perfect Strangers.
review and photos: Peter Rossen.

Would I ever drive twice 230 km to see a Demon's Eye's concert? No. Would I ever go to a Demon's Eye's concert much closer to home? No. Why? Simply, I've never heard of the band before. So it was only due to the fact that Ian Paice was drumming with them at Zoetermeer, we took the chance.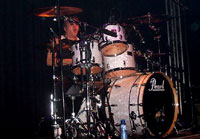 The concert kicked off with BURN. One word: Awesome!!!!!!!!!!!! Even Ian was applauding the band after this one, which he did quite a few times that evening. "Great to be in Holland again… never been here before" (mmmm. Gillanism!) "Are you READY AND WILLING?" I must confess that I did not quite know what song this was; Never been a Whitesnake fan myself. But I must say that Robby T. Walsh sounded a lot like Coverdale. "Here is a song about a bloke… blah blah… a great song called WHITE ROOM". Nice one! Steve Curly, the guitar player: WOW!!! After a bit more chit chat from Robby "SAIL AWAY" Just close your eyes and you could hear Deep Purple Mark III. "Here's a song for ya" (even the same introductions) "this is a thing called EMMERETTA" Nice to hear this one. Paicey was smiling all the time. "I want you to help me sing it" CHILD IN TIME. The intro was a bit different than the original, but what can I say? It was f*%$in' great!!! This band knew exactly what they are doing! They all performed with pleasure and loads of skill. And Ian Paice? Well he simply IS Ian Paice! In THE MULE he took a 6 minute drum solo, and included things I've never seen him do before. But then it also was the first time that I was really really close to stage, only half a metre away. Ian even took off his glasses, because they were falling off.
Ian took a short break, and let Andree Schneider prove that he can alos play the drums. Then… a song which I hoped in vain Deep Purple would play at the Royal Albert Hall in 1999. And here, before my very eyes, and ears… APRIL!!!! Man! WOW! The song was finished off with HALL OF THE MOUNTAIN KING. Next, MISTREATED. I was flabbergasted. The little crowd watched in awe. The song ended with a piece of AIN'T NO LOVE IN THE HEART OF THE CITY. The closing song of the set was SMOKE ON THE WATER. I expected a little more doodling at the beginning of the song; but it was still amazing.
At 22:30 Ian took the mike: "This band made it so easy... We can make a deal: we go backstage; you clap and shout; we come back. But we won't do that, we're gonna stay. BLACK NIGHT included a snatch of the STRANGE KIND OF WOMAN-duel. Then we were treated with a stunning bas -solo. Well, it was over much too soon. I did enjoy the enjoyment of the band; they themselves were having a great time, their improvisations felt like real improvisations.). The band almost felt more Deep Purple than the real Deep Purple nowadays.
Well… now would I drive twice 230 km to see a Demon's Eye's concert? YES. Would I ever go to a Demon's Eye's concert much closer to home? YES. Why? It has always been my dream to see Deep Purple Mark II perform in 72 - 73. Well... this dream came true!!!!! Through Demon's Eye! Maybe one small thing: why didn't they perform Demon's Eye?????? And….. we'll be spreading the word!!!!!! See you next time.
review:Michel De Pourcq (and Johann)