Over The Rainbow
Send your reviews, pics and memorabilia to the dpas mailbox!
(Can you please use both upper and lower case text in your reviews, and include your full name. Thanks!)
February 14th 2009.
Sportspalace, Minsk, Belarus.
updated Feb 21st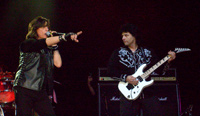 "Although some songs were evidently a bit unrehearsed (the first show, remember?), and except for a terrible glitch in Tony Carey's 'Stargazer' solo, the band played OK. Joe Lynn Turner, although often treated the least diverse singer Rainbow ever had, went through the whole set with a 'take no prisoners' approach, failing only occasionally (just leave 'Stargazer' to Dio, man), while Greg Smith contributed fine backing vocals. All in all, it was a thoroughly enjoyable show. If you didn't mind 25$ t-shirts, or course. A travelling jukebox? We definitely got more...." see full review with photos by Dmitri Shulga
It's quite a strange experience to peer at the pixels doing the  rounds on t'internet and see the various live clips of Over The  Rainbow fans have posted there. With the low-fi quality at times you  would almost think it was Blackmore senior up there, as junior even  seems to have hung on to some of his old shirts (though not the  guitar!). This lot really do start to blur the line between tribute  bands and the real thing, though they seem to have an engaging lack  of on stage razamataz which kind of works. Anyone with the necessary  skills could do worse than hire in some welding gear and see if  they're up for having a replica rainbow gantry arch knocked up as  this one could run and run, depending of course on how the musicians  feel about doing it for the rest of their lives.
Take a peek yourselves - but stand by the Optrex for after [SR] ... . http://www.youtube.com/watch?v=i3HI7Kpniuc
February 16th 2009.
Big Concert Hall, St Petersburg, Russia
See footage from the press conference and gig at www.nevex.tv ny

Set list:

Tarot Woman / Kill the King / Man on the Silver Mountain / Death Alley Driver / Eyes of the World / Ariel / Power / Can't Happen Here / Jealous Lover / Stargazer / Long Live Rock 'n' Roll.

Encores: Since You Been Gone / I Surrender / All Night Long.
February 19th 2009.
Press Release.
"NEW YORK/EWORLDWIRE/Feb. 19, 2009 --- During the first three tour dates as Over The Rainbow, the newly formed band has already played to fanatic capacity crowds in Minsk, Belarus (4,000+), St. Petersburg, Russia (3,500+) Moscow (4,000+). Details about the formation of Over The Rainbow were only released two months ago but the buzz generated by fans and interested concert promoters was so intense that it comes as no real surprise that this tour has been an immediate success.

As for how the Over The Rainbow project was started, Turner respected the fact that Rainbow founder Ritchie Blackmore had found true happiness working with Blackmore's Night. He knew Ritchie was not interested in getting Rainbow back together for a sequel. After meetings, phone calls and e-mails, Turner united members of several Rainbow incarnations from the past with a unique twist: He enlisted a second generation Blackmore on guitar to build Over The Rainbow.
Jurgen states, "I talked to my Dad about this project, and he said, 'Yes, go for it,' in couple of seconds. He gave me his blessing, and that is what I needed to hear. He told me how great all the members were. That was really encouraging."

Although the band's set list includes benchmark songs from all of the Rainbow eras, Over The Rainbow is not trying to do them exactly like they were done in the past. Drummer Bobby Rondinelli explains, "This is not Rainbow - it's Over The Rainbow. It's in the Rainbow tradition, but it's a new band based on this great tradition."

Keyboardist Tony Carey, who also has a lucrative career as an international producer, songwriter and vocalist, adds clarification, "You can play the same piece of classical music with a solo piano or 100-piece orchestra. We are playing Rainbow material but are playing it our way." Carey is also rejuvenated by the enormous fan reaction as he adds, "Right now we're kids in a candy shop, never had this much fun out of bed."
with thanks to Lisa Walker

October 7th 2009.
Yeni Melek G.M., Istanbul, Turkey
Memorabilia from the Over The Rainbow show in Istanbul, October 7th 2009, sent in by Tarik Burcoglu.

Top: Ticket for the show.
Right: Gig poster
Far rightt: The set list, with Gates Of Babylon as first encore!

Click the pics to enlarge.



October 19th 2009.
"If you are playing material originally recorded and performed by Rainbow, then expectations run high. Of course, we didn't have the same expectations for Jurgen Blackmore, who couldn't reach his dad's level, not even with a ladder. JR's playing wasn't the best, and you didn't have to be a guitarist to understand that.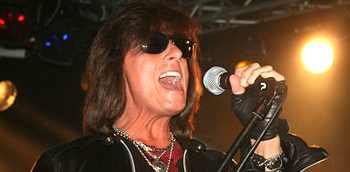 But, the band consists of five members, not just one. It was the other four who made all the difference in a concert which quickly turned into a party, with a set-list balanced between every era of Rainbow, which was a bit surprising (they played "Jealous Lover", but not "Street Of Dreams" and "Stone Cold".) Joe Lynn Turner was pretty good, carrying a bit less weight from the last time I saw him, but as always was larger than life on stage. He did pretty well with the Dio songs, struggled with "Eyes Of The World", but kicked serious ass on his own.
Bobby Rondinelli was a true king behind the skins. Every time his arms crossed, the crowd roared with awe. He took a six-minute drum solo just before "Stargazer". Paul Morris and Greg Smith did a great job, especially the latter with his backing vocals and thunderous bass guitar." You can read Yiannis Dolas' full review at rockpages.gr

Setlist: Tarot Woman / Kill The King / Can't Let You Go / All Night Long / Death Alley Driver / Paul Morris Solo – Eyes Of The World / JR Blackmore Solo – Ariel / Wolf To The Moon / I Surrender / Man On The Silver Mountain / Jealous Lover / Bobby Rondinelli Solo – Stargazer / Long Live Rock'n'Roll /Gates Of Babylon /Since You Been Gone / Can't Happen Here / Spotlight Kid

with thanks to Sakis Nikas. Photo: Νικος Αγγελοπουλος

October 21st 2009.
Cultural Center, Ioannina, Greece
new November 1st
Mike Kanakis reports that Over The Rainbow performed in an all-seater venue, which lead to serious discontent in the audience, having to sit down at a rock concert not being the norm!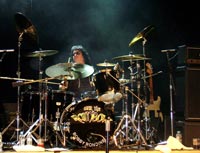 "When George Gakis with the Troublemakers opened the concert, we were seated! The grumbling was unprecedented, and we were quickly allowed to stand in the space between the first row of seats and the stage! Gakis and Troublemakers played just over half an hour, covering many classics such as Kashmir, and a small tribute to Deep Purple.
Over the Rainbow came on stage at 10.30 pm and played for over one and three quarter hours, kicking off with Tarot Woman and Kill the King. A highlights of the show was Paul Morris' keyboard solo, in which he included "Children of Piraeus", and Bobby Rondinelli's drum solo. Bobby was incredible throughout the concert (playing part of his solo with his hands). Son of the Supreme (Ritchie Blackmore) Jurgen was satisfactory, while Turner was in form, which surprised me!"

review and photos: Mike Kanakis

October 24th 2009.
De Pul, Uden, Holland
"I have a confession to make for which I will probably get stick from some corners: last night I went to see "Over The Rainbow', and.... I enjoyed it as well!!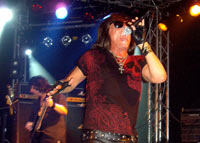 As some might know, I moved from Holland to Cornwall about 15 years ago and I occasionally go back on family visits. Before going over this time I'd asked my brother to keep his eyes open for any interesting gigs while I was going to be in Holland. I used to go with him to many concerts and festivals in the 70s - 90s including quite a few Purple and related - the first being Rainbow in The Hague in 1976. As it hapenned ´Over The Rainbow´ played in a town called Uden last night, so, for old times sake - but with slight reservations, we decided to go.
So, this is how I ended up lastnight in 'De Pul', a small but cosy club in the south-east of Holland, capacity about 500. I wasn't the only 'foreigner' present either; quite a few people came from Belgium and Germany and next to us in the parking lot there was even a French car. I didn't want to get drawn into the discussion about the validity of 'Over The Rainbow'', how OK it is that Blackmore Jr.is playing etc. etc. and instead decided to approach the gig on its own merits. The last time I saw JL Turner live was in 1991 in Rotterdam fronting a certain outfit so it had been a while. Bobby Rondinelli I'd only seen on the 1980s Rainbow tour and I'd never seen Paul Morris or Greg Smith live before.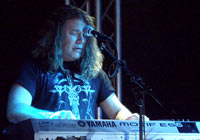 The show started with a Cozy Powell track called 'Dance with the Devil' being played over the PA - a song which had been a hit in Holland in the mid 70s - which was a fitting tribute. Then the band kicked in with 'Tarot Woman' , followed by 'Kill The King'. After the initial novelty value of seeing Backmore Jr. on stage had worn off a bit - yes, he does look a lot like his dad and yes, he plays very decent guitar, but lacks his charisma - it became clear who was the main focus of this band: Joe Lynn Turner. And I must admit - like it or not - the guy still sounds amazing and he tackled the cross-section of material from the various Rainbow line-ups very well. Where in 1991 I thought he struggled with some Deep Purple classics, he felt really at home in the Rainbow songbook, including the songs he sang on originally of course.
Nice touch was to play a few tracks that never made the live shows in the old days like 'Jealous Lover' or 'Gates of Babylon'. And in general I couldn't fault the song choice. Mr. Turner's mannerisms haven't changed a bit - he is still as in-your-face as 30 years ago, but his enthusiam really carried the show. The rest of the band sounded great to these ears - I was paricularly impressed with Bobby R., who did a nice drum-solo, including his early 80s show-piece of playing the drums bare-handed.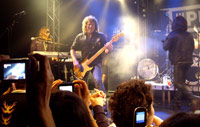 There was a great atmosphere in the club, resulting in the band playing a longer than normal set - including 3 encores, and the gig clocked in at about 2 hours. One thing clicked at some point during the show. Having lived for so long in the UK myself I can now see why Turner got crucified over there. He is so very un-English and over the top American. However in non-native English speaking countries like Holland, Germany or, say, Japan, all of that is a lot less important. To non-English people in general English sounds English - Amercan or UK English doesn´t make much difference. From this slightly different perspective it´s possibly easier to appreciate Joe Lynn as the very melodic singer he is, with a powerful voice and a great range.
(p.s. On a personal note it was very nice to run into an old mate called Frans van Arkel who used to run the Dutch Rainbow Fanclan in the early 80s and has developed into a great photographer. Check out some of his shots at www.rainbowfanclan.com)"

review and photos: Tonny Steenhagen

"Man, what a evening we had! Everybody was back in their childhood, singing along the whole evening. Everybody knew every word and every note. This kind of concert makes hours of travelling, waiting outside and so on well worth it.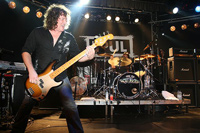 Jurgen, as everybodys knows, looks a lot like his father but can't play guitar like him (no blame there!), but with the support of Paul Morris on the keyboards he helped put on a great show. It was nice to have part of Still I´m Sad in the middle of Eyes of the World.
I have always liked Greg Smith's bass playing, and his part in the show was really huge. Every note was powerful and spot on. The same goes for Bobby, who even found the time to play and joke around with the roadies, and Paul Morris. Joe is certainly not my favourite singer, but for this kind of evenings he is perfect. The band had a lot of fun on stage and kept coming back for encores. The last song, after two hours, was Spotlight Kid, which wasn´t even on the set-list."
review and photo: Peter Rossen.
DPAS photo gallery: Over The Rainbow, Uden, 24th October 2009
October 25th 2009.
Aladin, Bremen, Germany
new November 1st
" It was WOW !!!!!! After a long history of attending actual Rainbow concerts featuring Ritchie Blackmore in person, I was very curious about this event. There was a crowd of only 250 - 300 at a Rock-Club venue and ... it was very loud !!!
I gave JR Blackmore my full attention, and found he's rather like a well below par version of his father, but he was OK... nearly brilliant! But because of his genes and the heritage of the Rainbow music, JR. was a worthy replacement. In his playing, you can still hear Ritchie. Physically he is very similar to Ritchie, but with a much friendlier and warmer presence than the great shadow who was hovering over him.
Back to the show... Anyone who likes Rainbow, will like Over The Rainbow. They put on a great professional performance. Still like the original, clearly better than the studio-recordings. If the rumours are true, these guys may well write some new songs and the story will start over.
The set list: Tarot Woman / Kill The King / Can't Let You Go / All Night Long / Death Alley Driver / Paul Morris Solo ~ Eyes Of The World / JR Blackmore Solo ~ Ariel / Wolf To The Moon / I Surrender / Man On The Silver Mountain / Jealous Lover / Bobby Rondinelli Solo ~ Stargazer / Long Live Rock n'Roll. Encores: 1.Gates Of Babylon 2. Since You Been Gone / Can't Happen Here 3. Spotlight Kid
JR used what looked like a very special Stratocaster for Gates Of Babylon. The body was vintage olympic white. It had three single coils with white covers (like Ritchie´s dummy pick-up in the middle position) and without an inscription. It had very nice Startocaster neck with golden mechanics and an inscription: "Fender" (? not sure) "J.R.Blackmore" (instead of the Stratocaster inscription). The neck had an unusual dark colour (rather like cherry wood), a maple fingerboard with pearl ornaments."