"Seeing as I've seen almost every line up of the proper Rainbow I thought I'd go along and see Ritchie's wee lad in action. The Rock Temple itself is small, but from looking around me it was a sold out show, roughly 250 people. I enjoyed looking around and seeing faded old Rainbow shirts being worn, it's good to see that they're still missed.
The show started directly after Dance With The Devil over the PA, and then the band were on. Hearing the keyboard Into to Tarot Woman made the hair on the back of my neck stand up. I wanted to see Ritchie himself jump on with that great riff but no, we had his wee lad.
I'm not going to start comparing the two, as you simply can't. Blackmore Snr is the Master while Blackmore Jnr is ok. I know they need a Blackmore in the band, and when you look at Jurgen he has a lot of his father's facial expressions while he's playing. His playing itself was not as bad as I thought it would be.
Joe Lynn Turner had his moments as well, I haven't seen him since the Slaves and Masters tour, though in the end he was starting to be Mick Jagger.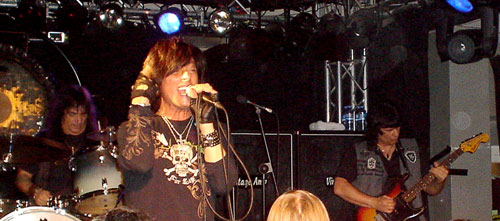 Gregg Smith is a great bass player and backing vocalist. I would rather have seen Tony Carey than Paul Morris as he didn't really bring anything to the show, apart from playing the intro to one song in the wrong key. When the band kicked in you heard the mistake. The look on their faces said it all. Bobby Rondenelli is a great drummer, but I saw him using his bare hands on his kit in 1981 and kind of got bored with it..
I have no idea how far they are going to take this but if you want to have a great evening of Rainbow songs then this is the band to see."
The Set List:
Tarot Woman / Kill The King / Street Of Dreams / All Night Long / Death Alley Driver / Eyes of the World / Ariel / Wolf to the Moon / I Surrender / Man on the Silver Mountain / Can't Let You Go / Jealous Lover / drum solo (yawn) / Stargazer / Long Live Rock' n' Roll. Encores: Since You Been Gone / Can't Happen Here / Spotlight Kid.
review, set list and photo: Steve Hall