"Hello? That's an interesting sticker on my copy of this 3CD box set. "Three never before released albums". Hmm. Someone had better tell my record collection that there are imposters in their midst. However, they didn't get a particularly widespread release first time out, living under the cloud marked "Big In Japan". So having all three in a box at a bargain price is fair enough. It's a no frills reissue of "Mother's Army" from , "Planet Earth" from , and "Fire On The Moon" from.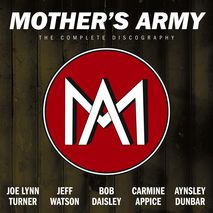 If you don't know, the band came about after ex Rainbow bass player Bob Daisley worked with Night Ranger guitarist Jeff Watson on the latters solo album. They brought in legendary drummer Carmine Appice and ex Rainbow / Deep Purple vocalist Joe Lynn Turner (to replace former Ted Nugent man, Derek St Holmes), and Mother's Army was born. Ish. See, it was more of a project than a band, and on the first two albums, Joe Lynn Turner was merely a singer for hire, something that was rectified by the time "Fire On The Moon" appeared.
The first two albums are competent enough, but there isn't really a killer song on either of the albums. The playing is straight out of the top drawer, as you might expect with musicians of their calibre, but the debut doesn't really seem to know what it wants to be, as they experiment with sounds to little avail. However, when they crack on and write a proper song, as they manage on 'Darkside' and 'By Your Side', then you get a hint of what could have been. "Planet Earth" was more of the same, but with added hippy, as they embarked upon an almost concept album on the theme of ecology that satisfied no-one, including Carmine Appice who quit, to be replaced by another drumming legend, Aynsley Dunbar.
Which brings us to "Fire On The Moon", the ace in the pack. This time around, Joe Lynn Turner took a hand in the songwriting process, and it was no surprise when it turned into a more accessible, melodic rock album. There are some really good songs on offer here, with 'Way Of The World', 'The Code' and the title track falling into the category of lost gems. It's a little bit rougher around the edges than most of the records Turner has been involved with, and it's a record worth owning for fans of his style.
The first two records are play once and file away, but the "Fire On The Moon" release is worth the price of admission alone, especially at a budget price."
review: Stuart A Hamilton (aka Mr H)
Links to stuff Mr H writes are at http://www.stuarthamilton.co.uk
See also our Joe Lynn Turner family tree