Moonstone Project mainman, Matt Filippini, released his first album, "Time To Take A Stand", back in 2006, highlighting his love of seventies classic rock, particularly the likes of Uriah Heep and Deep Purple. It emerged again in 2008 under a different title and with new artwork, as "Hidden In Time", along with three bonus tracks featuring Deep Purplers Ian Paice and Glenn Hughes. It was a good album, no doubt about it, albeit one that seemed a bit higgledy-piggledy, living up to its 'project' status.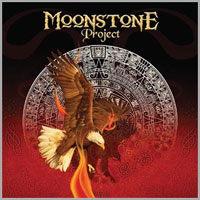 Now, the second album proper has arrived, and there are some big steps forward, for "Rebel On The Run" is an excellent album. There's a few reasons for the progression, and the big one is the fabulous performance from House Of Lords vocalist James Christian. He sings lead on nearly all the tracks (unlike the first album which featured no less than ten different singers), and as a long time fan of his work, I can safely say that this is some of his best. He's even brought the missus along to sing backing vocals, so fans of Robin Beck can take pleasure here as well.
Most of the songs are better, and Filippini has brought in some fine musicians to augment the basic band of co-writer / keyboards player Alessandro Del Vecchio, Nik Mazzucconi on bass and drummer Francesco Jovino , so you'll get to hear the likes of Ian Paice of Deep Purple and Clive Bunker from Jethro Tull on drums, as well as an appearance from Uriah Heep / Blackfoot man Ken Hensley. Most of the material is self-penned, although there is room for a cover of the James Gang tune 'From Another Time' (a Tommy Bolin song from their 'Bang' album) and 'Closer Than You Think', written and sung by former Deep Purple man, Glenn Hughes. Oddly, the latter is the weakest number on the album, with originals like 'Shooting Star' and 'Cosmic Blues' streets ahead, with a lot of the material mining a groove similar to Trapeze.
It's an excellent offering, one that fans of funky, seventies hard rock should definitely check out. They're also going to be playing live shows this year, although sadly without James Christian in tow. However, they have signed up Glenn Hughes for some summer shows, with the autumn dates featuring featuring former Rainbow / Yngwie Malmsteen vocalist, Doogie White.
review: Stuart A Hamilton
Rebel On The Run is available from DPAS mail order