DPAS REVIEW
Steve Morse
Major Impacts 2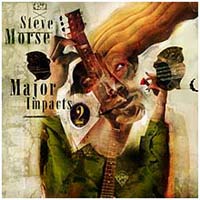 Steve Morse will be 50 this year. So what, I hear you cry? Well, 50 years has allowed Mr Morse plenty of time to investigate as many musical genres as there are days in the year, time to whittle those down to his favourites, immerse himself in them, and adapt them to his own way of thinking and playing.
Which is what brings us to "Major Impacts 2", the cunningly entitled follow up to "Major Impacts". Rather than do it the easy way, and release a covers album, Steve instead set out to create original compositions in the style of his influences. Which include The Who, The Yardbirds, Bach, Lynyrd Skynyrd, ELP, ZZ Top, Crosby, Still, Nash & Young and Enya, amongst others.
Surprisingly, for someone known for his work with Dixie Dregs, Kansas and Deep Purple, it's the acoustic inspired numbers that delight most. Mind you, he had me at hello, with the opening CSNY influenced "Wooden Music"! However, there's plenty on offer for the more traditional minded prog/metal fan, especially on the Genesis influenced "Abracadab" and the ELP-alike "Organically Grown" which parps along merrily with a raft of B3 samples.
One of the joys of this release is the sheer pleasure Steve seems to be getting from his playing, something I've found lacking in his day job over the last couple of years. Maybe Purple should give the man a bit more leeway for his inventiveness. A thoroughly excellent release, recommended to anyone who likes to experiment a little with their classic rock.
Review: Stuart Hamilton,
c/o Zeitgeist Magazine