LIVE REVIEW

M3
The Borderline, Diest, Belgium
May 7th 2003
The band had to play without any keyboards tonight. It seems the player was afraid to fly with Aeroflot after a show in Russia...! Maybe that wasn't such a band thing, as the stage at the Borderline was already overcrowded. Apparently Don Airey would have come over as a replacement if he had had a passport.
The club was full, and a tent extension also became crowded. At 21.20 hrs the band took their places on stage and started a 'Classic Whitesnake' set. While copying their setlist I noticed some 'rare' Whitesnake songs were also due to be performedl. Of course you can't think of a better opener than Walking In The Shadow Of The Blues. It instantly got everybody into the right mood.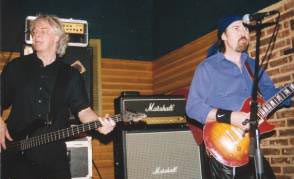 Like Roger Glover, Micky Moody has replaced his hat with a bandana, and though his moustache is still intact he now only sports a small beard. Bernie is as slim as I am these days (it struck me there were only water bottles on stage, not the usual beer). Bernie said they'd be playing some old and some very old songs as well as some 'new' material from 1982.
I've always thought that Don't Break My Heart Again should have ended up much higher in the charts at the time, now it was a first opportunity to let the audience join in. Tony Martin cut a remarkable figure; with shaven head and a kind of fish drawn on both sides of it. Add to this the way he moves on stage (his hands up his sleeves, gesturing like the wizard on the Uriah Heep album covers). I wouldn't be surprised if Black Sabbath hired him just for his looks. What a difference with Neil Murray. He has developed a beer belly and barely moved all night in front of his amplifiers (not that there was much room to move!). Marsden said the musicians were all 150 years old, and when Tony didn't seem to agree he replied: "Oh yes, you're only 130."
Trouble became a showcase for both guitarists. Ready an' Willing brought back the 'schwung' (where have I heard that word again recently?). Firstly it was Micky's turn for a 'moment de gloire', then Bernie's before they joined forces. Lonely Days, Lonely Nights was the first song of the evening that Whitesnake didn't play live. It got kind of lost among its 'bigger' brothers.
The slide guitar is not my favourite instrument, but I can appreciate it in small doses, such as Micky's intro to Lovehunter. The audience screamed its lungs out during the chorus. Crying In The Rain is to Whitesnake what Child In Time was to Deep Purple. You don't get tired of listening to it and the instrumentalists can use it to solo as much as they like, and treat it with as much bombast as they like. It's mostly Bernie's baby, so he did the honours. I remember being heavily impressed by Mel Galley's solo in 1983 in Brussels. The way he built it to a climax was a class apart. Almost comparable to what Ritchie did on Catch The Rainbow.
The 3rd and 4th unusual live songs were Would I Lie To You and Child Of Babylon: they were less striking on the album and it was the same on stage tonight. But that was perhaps because they had heavy competition from a lady in the front in mini-skirt who was dancing on a barstool. "I see this every morning when I wake up", commented Bernie, "...or I'd like to see that," he added.
Next was the famous intro to Fool For Your Loving (in its original version a big hit for the band, less so for the Vai-incarnation) followed by immediate recognition. Another old uptempo song was Take Me With You. "We now normally leave the stage", said Bernie "but as you stand so close we'd better stay." It would indeed have been silly to try and get past the people at the front of the stage, as there was literally no other way to reach the stage! The band were joined for a brief moment by the afore-mentioned lady for a picture of Bernie and Tony lifting her up.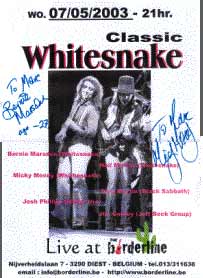 Here I Go Again brought fame and fortune to Whitesnake twice and forced the big breakthrough in America. In Diest we heard a different, rather unusual version with unexpected guitar arrangements and an uptempo finishing touch. In that in the closer Ain't No Love In The Heart Of The City there was plenty of opportunity for the audience to go hoarse.
Sometime later the band came out (in the street) for autographs, and answered some questions as well. When I told Bernie it was me who had loaned the picture for tonight's concert poster, he invited me over to his hotel for a chat. Although I see the hotel at least once a week, I always found it a strange place as nobody ever seems to stay there! It was the first time I've ever entered a hotel where the reception was closed, no bar in sight, no other guests, no -one. We found a deserted dining room and talked until Bernie thought it was time for me to go home if I didn't want to be out of a job the next day!
Review: Marc Brans
The Bernie Marsden interview is coming soon at Marc's
Belgian Deep Purple Fan Club site