DPAS LIVE REVIEWS

Jon Lord
The Basement Club, Sydney
7th February 2003
Firstly let me make two declarations: one/, I'm not a huge fan of rootsy blues, and two/ I'm not a huge fan of Jimmy Barnes. These prejudices, especially the first one, meant that for me Jon and the Hoochie Coochie Men were already starting at a slight disadvantage.
Having seen Jon with george and the Sydney Symphony at the Opera House a couple of weeks earlier, I was very much looking forward to what was to have been the original Basement show, with a ten piece band including a string quartet, and Miller Anderson thrown in for good measure. The original notion was to perform a Pictured Within show: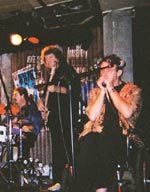 however as most of you probably already know, these plans were shelved when Jon injured his thumb at the final 'george' show, rendering him unable to play classical piano. However still being able to play (or should that be 'tame') The Monster - the Big Bad Hammond - hurried plans were made to salvage the shows with a blues-based set featuring Jon supported by Australia's own Hoochie Coochie Men.

The set consisted almost entirely of roots blues covers, featuring the work of people like Willy Dixon, Howlin' Wolf and a lot of Muddy Waters. The band was super tight, with Bob Daisley's bass providing a solid - well, base! - for the band to work off. His playing is very fluid and measured, almost melodic (if a bass can be such a thing!), though like Roger Glover he stays fairly low in the mix. He's obviously a very competent player, having
played with the likes of Gary Moore, Ritchie Blackmore and Steve Vai, but his playing on Friday night was definitely more laid-back than flashy. I guess an unobtrusive bass style suits this kind of music, though in another context I'd like to hear him cut loose with a more upfront, chunky sound. Bob looks for all the world like a genetically-engineered cross between Tony Iommi and Geezer Butler, with a bit of Blackmore curly-locks thrown in for good measure. (Not to mention his way cool white leather boots with the black zebra stripes!) He has that air of someone who's been round rock'n'roll for an awfully long time DOWN!

The rest of the band does too for that matter, mainly because they HAVE! And that's another of my abiding impressions of the show: here is a bunch of superlative musos, each of whom knows his craft just SO well, but most of them - I guess with the exception of Jon and maybe Bob - just don't get the recognition they deserve in a world run by accountants and a music industry run by marketers and PR people. Guys of this vintage and this calibre deserve to make a good living out of music, but most - at least in Australia - find it very hard to survive off music alone. Hence we have a lot of famous, or once-famous, musicians working as landscape gardeners or computer consultants, while pubescent kids who may have been on a soap opera often get the exposure and all that comes with it.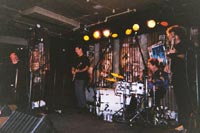 Anyway it's a great pleasure to see seasoned professionals like these guys enjoying playing together so much! I guess that's one reason I've also enjoyed seeing Deep Purple's live shows in the Morse era too; the smiles you see between the band members as they play are just so infectious. They are obviously getting such a buzz from playing together, and that is somehow reflected in the music. Often during Jon's solos in particular, the rest of the band would be just beaming with admiration and joy as they watched the master at work!

Seeing Jon play with Deep Purple was always a pleasure, but seeing him as the band leader, as the driver of the music, the showcase, was another experience altogether. And especially so in a small, intimate venue like The Basement. The sense of closeness, the personal contact one feels with the band and the music, is something that just can't be captured in a big hall.

When Jon cut loose on that Hammond, the place was just abuzz! My God he can make that beast sing! And it was also nice to observe how diverse an audience it was: people from their late teens to their sixties all shared in the excitement!

Jon's between-songs banter was relaxed and jovial, with lots of funny little quips and anecdotes from a musical career that's getting on to some forty years (as he observed at one point). One line was about the pleasure of
playing music by the great composers, and in particular "the three Bs - Bach, Beethoven, and Black Sabbath!" There were also some great throwaway lines about Purple and his career in general. For example he spoke
admiringly of Ritchie Blackmore in the 70s, then corrected himself saying, "Oh no, that was Honor Blackman wasn't it". (For those not in the know, she was a Brit tv star from the era who was in The Avengers among other things.) (Pussy Galore in Goldfinger!)

At one point he played what I think was a song from his "holiday with Whitesnake"; it's not one that I really recognised but others can probably fill-in the missing piece.

As others have observed, there was a cover of the Willy Dixon song that Plant / Page supposedly stole and turned into Whole Lotta Love. It was definitely recognisable as that, but with a totally different feel, much more cruisy and laid-back. Very nice stuff.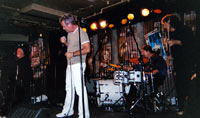 Then there was the 'surprise guest' Jimmy Barnes, who was once considered as a possible replacement for Gillan in dp, around the time of the Joelene Turner era. Maybe he would have been a better choice? Anyway as stated at the beginning, I'm not a huge fan because, as others have said, Jimmy 'only has one gear' as a singer. That aside, his without doubt one of the great rock n roll screamers. Barnsey's voice is what Brian Johnson's aspires to be, but Brian's ends up sounding more a cartoon character - Donald Duck on speed as others have opined. Whereas Barnsey can actually pull it off, and manages to get the power behind the scream. What's wearing about listening to him though, is that that's all he does, which ends up leaving the impression that that's all he CAN do, that he's not at all capable of subtlety.

Well I've got to say that on Friday night he showed that he really can sing. In a smaller venue, without the expectation that he'll sing the 'bit hits', he managed, at least for a time, to drop down a gear and allow the songs room to breathe. Not so much in Muddy Waters' Hoochie Coochie Man though, which was one of the highlights of the night! That song lends itself to a bit of screaming and Barnsey sang it superbly. But in the one Purple song of the night, When a Blind Man Cries, he sang with considerable feeling. Very nice to hear an alternative take on this song, and that was also a standout for me.

Apart from the blues standards, there were a few bits n pieces that Jon had dug-up from the 60s. There was Green Onions featuring the Hammond as the main instrument, originally done by Booker T and the MGs. There was also the majestic intro on the Hammond that featured bits of Lazy and a couple of other Purple snippets.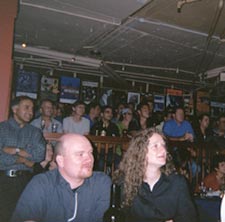 In the 'powder room' a lady asked my wife Tracey what she thought of the show. Turned out she was Bob Daisley's sister and she said "we're all very proud of him"! Tracey said that, as much as she loved the show, she was a bit disappointed not to have seen the originally-intended show with the string quartet etc. Bob's sister said Jon was disappointed too, but that he'd had such a great time he said he'd like to come back next year and would like make it an annual thing! That would be very nice indeed for we in Oz! though EVERY year might be a bit TOO much to hope for! Then again, he seemed so relaxed and effusive after his time here that, who knows, maybe he'll move out here!

He's obviously been enjoying the change of pace (paice?) and mentioned that his wife and daughters were at the show too. It was a great night, and a real treat to hear the master of the Hammond at such close quarters. Very much looking forward to the next chapter in what's looking like a whole new creative era for Jon Lord.

Cheers chaps.
review: Paul Hogan, photos: Tom Bradbury

Suffice to say that Mr Lord has really kicked on since leaving Deep Purple. Sad to say in a way, but it was probably the best thing he could have done. He really seemed happy and was on fire, as were his backing group The Hoochie Coochie Men.

This was as good a concert as any I have been to and they covered so many artists, as well as their own stuff, that it was amazing to think they probably have had bugger all practice/rehearsals.
The gig was really first class with the choice of music and the overall standard of musicianship. There were 1 or 2 fluffed cues but they've only been together for a week or so. And if anyone likes the blues - The Hoochie
Coochie Men deliver. Because of my love for the blues (and Deep Purple, Jon Lord, Time Gaze, etc) maybe I'm a bit biased - BUT WHO BLOODY CARES!!! It was one hot gig. I'll make a few short, sharp (I hope) comments.

The guys they covered on the night - Cream, Willie Dixon, Peter Green, SRV, Johnny Winter and more. And I'm pretty sure those guys would have been proud. Just think that Jon didn't have his own original Hammond and yet he dragged some sounds out that were awesome.
Hoochie Coochie Men - what can I say. I think that if anyone who was there at these concerts doesn't go to see them if they are nearby needs their heads read. How much practice/rehearsal did they all have? I liked Jon's comment that an hour before the show he said to Jim Conway "If I nod to you can you do something". Jimmy Barnes - that version of Hoochie Coochie Man was bloody good. If Jimmy sang that type of music I think I'd be a fan of his. When A Blind Man Cries - he (Jimmy Barnes) did a passable job but he just doesn't suit the song.
Highlights - Strange Brew (with washboard and Dobro yet!!!), 24/7 Blues, You Need Love, Dallas, Green Onions (from his first ever pro gig with Redd Bludd according to Jon), Jon's solos. Whenever I looked at Tim Gaze watching Jon play he had this silly grin as though he couldn't believe what he was seeing and hearing. And Jon seemed suitably impressed as well. I also loved Jon's little asides and jokes. They showed he was really relaxed and in the groove.

Dud notes - (none really) - there may have been a few missed cues or notes not quite right (I'm no expert but anyway a live gig is supposed to be warts and all) but the overall feel of that concert was incredible. Thankfully no one called for Smoke On The Water. Too bad they didn't do Crossroads, that would have been a kicker.

Cheers all.

review: Colin Hadden