Jon Lord with the Trondheimssolistene, two choirs, and special guest Jørn Lande, performed an outstanding concert in the Nidarosdomen Cathedral on Sunday 1st July to around 1,000 people. The concert was the conclusion of the Hell Music Festival 2007, and started at 9pm. The programme was as follows: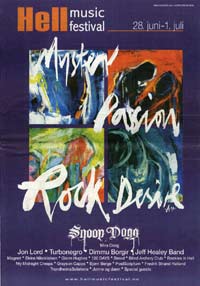 1. I'll Send You A Postcard (A Pavane for Tony)
2. One From The Meadow, with Jørn Lande on vocals – great!
3. Miles Away
4. Pictured Within, with Jørn Lande again on vocals – one of the highlights of the concert. Surely one of Jon's classic songs.
5. In Beautiful Moments. Composed by Johannes Rusten of the Trondheims-solistene, and performed as a present to Jon during the concert, not originally listed in the original programme. A great piece of music.
6. Music for Miriam, with Sveinung Lillebjerka solo on violin and Øivind Gimse on cello. Just fantastic!
7. From Darkness to Light (A Prayer for the Millenium). The main part of the concert. Difficult to describe really, it has to be experienced, but it was Jon Lord at his best. After the concert, Jon introduced Paul Nicolson (who wrote the text for this) to the audience.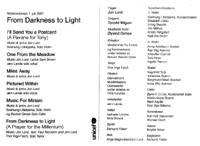 Jon left the stage with his friends to a long, standing ovation from the audience.
The concert preparations were given local attention in the news and television channels, including a short interview with Jon Lord by NRK . The concert was also given a brief news-spot on NRK's channel 1's evening news the same day, with some footage shown from the concert. Local newspaper Adressavisen had a very good review in their Tuesday edition, highlighting Jon's ability to compose and perform music that is personal and speaking to the audience in a warm and heartfelt way, whether it is soft or powered by an orchestra.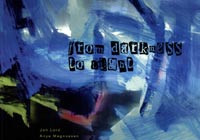 As always, Jon is both serious and humorous about what he is doing, and seems to have established a very good working relationship with the Trondheims-solistene. He has said in an interview something like ' - they are great musicians, very passionate and deeply engaged in what they are doing, and they like to go to a bar afterwards –'. Also, Trondheim seems to have fallen in love with Jon. It was a great weekend.
Everyone who attended the concert receivde a copy of a great art book made by local artist Anya Magnussen, created specifically for the concert, with some pictures of Jon in it and some extracts of the music and lyrics to some of the songs. The ticket sales for the concert were donated to UNICEF.
review and scans: Hans Peter Jenssen