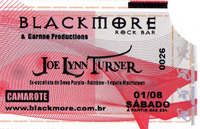 "The show only began at 2:23 a.m. so the correct date was actually August 2nd, whixh happens to be Joe's birthday. (In the middle of the show the audience sang Happy Birthday to him). It was a special concert, with Joe in great form. A few minutes after the end of the show he returned to the stage with some Brazilian musicians:

João Luiz (on vocals from King Bird), Daniel Latorre (keyboards), Paulo Zinner (drums), Fernado Piu (guitar) and his guitarist Beto Peres on bass. ( Latorre, Zinner and Piu are members of the band who backed Graham Bonnet on his recent Brazilian Tour). The improvised band jammed for around 45 minutes. Joe played guitar, performing some solos, including a duel with Fernado Piu.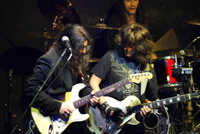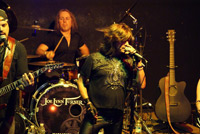 Set List: Highway Star / King Of Dreams / I Surrender / Blood Red Sky / Stone Cold / Love Conquers All / Devil's Door / Street of Dreams / Divided / Death Alley Driver / Jealous Lover / Hush / Perfect Strangers. Encore: Burn / Smoke on the Water.

Second encore : Deep Purple medley : Black Night / Lazy. Jimi Hendrix medley : Hey Joe / Purple Haze / Voodoo Chile. Long Live Rock´n Roll / improvisations and guitar duel.