DPAS REVIEW
Joe Lynn Turner
JLT
Joe has been hitting a rich vein of form over the last few years with the dark "Slam" and the HTP records highly recommended. Now it's time for another solo effort, and he's roped in some quality musicians to help out including Al Pitrelli (ex- Megadeth / Savatage), former Rainbow man Paul Morris (although naturally they weren't actually in the band together) and another ex Savatage man, Chris Caffery amongst others. However, it is often the case that excess special guests can lead to a disjointed and fractured release. But from the off, you can put your fears aside.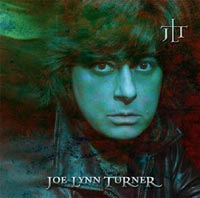 Opener ĎIn Cold Bloodí, comes on in "Straight Between The Eyes" power mode, rocking like a beast. "Jump Start" is fine and funky (some Glenn Hughes influence perchance?) and "Dirty Deal" is an absolute classic, all parptastic Hammond organ. Then it's time for a power ballad. Well, we have had 3 rockers in a row. If this was 1981, "Love Donít Live Here" would be a top tenner Stateside. It's an absolute gem. For some reason JLT goes all southern rock on "Let's Go", which is fine by me, and if HTP decide to emulate Deep Purple and tour with Lynyrd Skynyrd, then this is one tune that will get the good old boys rocking.
There are a couple of by the numbers numbers during a small sag mid set, but when we reach the classic "Blood Fire" and JLT's Paul Rodgers impersonation, it's quality all the way to the finish line. There's even some old school heavy metal on "Hit The Switch", one of the heaviest numbers JLT has committed to disc.
Much like fellow ex Purple warbler, Glenn Hughes, Joe Lynn Turner has handed in an exemplary classic rock CD, moving on from the moody "Slam", taking in all his influences from blues to rock to a touch of soul, and produced what might be his finest solo album to date. If JLT and Glenn can keep on producing the goods, then roll on the next HTP album!
Review: Stuart Hamilton,
c/o Zeitgeist Magazine