01. Death Alley Driver / 02. I Surrender / 03. Power / 04. Street of Dreams / 05. Power of Love / 06. Can't Let You Go / 07. Jealous Lover / 08. Your Love is Life / 09. Blood Red Sky / 10. Stone Cold / 11. Can't Happen Here / 12. Spotlight Kid / 13. Burn

Here we are, thirty years into his recording career, and it's the first solo live CD from the erstwhile Rainbow / Deep Purple man. Since his heyday he's kept himself busy working with Yngwie Malmsteen and Glenn Hughes, and if there's a tribute album or rock opera out there without some added JLT, then I've still to find it.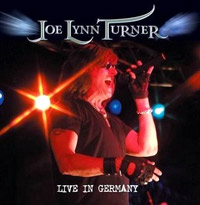 But at the United Forces Of Rock Festival in Germany last year, the tape was rolling, and thirteen tracks have now found there way onto this release. Now I'm not saying that our man is living in the past, but nine of the tracks are Rainbow songs. Add on his version of 'Burn', and you're left with a grand total of three solo tracks, two coming from the album he was then promoting "Second Hand Life". I'm a man who likes his Rainbow, and there is no such thing as too many versions of 'Stone Cold', but I couldn't help but feel a little sad when I scanned through the tracklisting. I've not really been keeping count, but take away the covers albums, and JLT must have eight or so solo releases out there. Add on his Fandango, Mothers Army and Brazen Abbot albums and that takes you up to near twenty albums he could have picked from. I'll think kind thoughts and blame the record company.
Over on the record itself, I had an absolute blast. With an opening salvo of ''Over The Rainbow' (!) leading into Death Alley Driver', 'I Surrender' and 'Power', it's a melodic rock wet dream. JLT is one of the vocalists from back in the day who has managed to keep all the resonance of his youth, something best demonstrated on the actual solo material - 'Power Of Love' and the two "Second Hand Life" tracks - 'Your Love Is Life' and 'Blood Red Sky', with the latter a particular standout.
If there is one criticism, it's that it doesn't actually seem much like a live album. I'm no fan of overpowering audience noise, but it would be nice to think that there was someone there. The between song banter is also kept to the bare minimum. The band all put in a good shift, as they should, with latter day Rainbow man Greg Smith on bass, alongside Blackmore's Night alumni Mike Sorrentino on drums and keyboard player Carmine Giglio. Have you spotted the theme yet? Guitar duties are handled by Karl Cochran whose been with JLT for a good few years now.
For a Rainbow fan like me, this was a complete delight, but once it's filed away, I suspect I will return to it less than I have the Hughes Turner Project live album, "Live in Tokyo". Oh, and while I'm here, can someone please find the time to come up with some better titles for live albums. Please?

review: Stuart Hamilton
Joe Lynn Turner / Live In Germany is available to buy from the dpas online store