Having seen various adverts for this range of DVDs and reading a warning on here about the potential lack of provenance, parting with money for it seemed risky so I rented it through www.screenselect.co.uk (a great service, like an online video shop), a good decision!!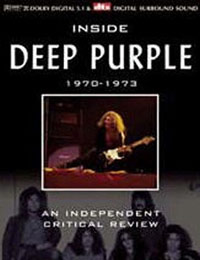 As per the title the DVD basically covers Mk 2 but there's no context at all, in fact when you press play the DVD crashes straight into discussing the Concerto, which is a bit odd, then goes through each of the albums up to Who Do We Think We Are.
The format is a bit like the Classic Albums series with musicians, journalists etc commenting on a particular topic linked through with video clips. However unlike Classic Albums no band members appear, instead we have some session musicians, Doogie White noted as "Singer - Rainbow" which seems a bit shameless given that was a few years back now, Neil Murray - Whitesnake / Black Sabbath - but not M3!! - you get the idea of a desire to build credibility here, Malcolm Dome from Total Rock, the editor of the Ritchie Blackmore fanzine 'More Black Than Purple' , and the guitarists from Mostly Autumn and Procol Harum.
The best way I can describe this is as a bunch of fans talking about their favourite band. If you video'd a conversation in a pub before a Purple gig you'd get the same thing in essence.
Unfortunately given the lack of Mk 2 footage this ends up driving the direction of the conversation so the only tracks discussed are those that there is footage for; so off In Rock we get 'Speed King' and 'Child in Time', Fireball 'No No No', 'The Mule' and the title track, Machine Head 'Highway Star', 'Smoke..', 'Space Truckin' and 'Lazy' etc.
In terms of the commentary, as you can imagine from any such group it's a very subjective viewpoint. There are also some silly factual errors which is sloppy. and I have to say most of the commentary is less than incisive, which makes you wonder who its aimed at. It's an OK introduction to Mk 2 but it seems unlikely your average "Purple Rainbows" purchaser will buy or rent it and there's nothing there for anyone who ever visits this website. It seems like something that will catch fans once, which is exactly how many times theyll play it!
So what of the footage. Well it's pretty much what youd expect... Beat Club, Doing Their Thing, Concerto 69, and Denmark 72. Most bizarre is a clip of Mostly Autumn playing 'Smoke...', just coz they had the clip I fear!
All in all give it a miss, unless you like arguing with the TV screen over solos and such. However I think you'd be better getting to a gig an hour early and doing it in the pub round the corner!
review: Allen Gibbons
NEW REVIEW....
It's rare that I feel compelled to pick up a pen and write about things Deep Purple these days. But after just watching the DVDs 'Inside Deep Purple 1970-1973' and 'Rock Review 1969-1972' my first thoughts were to pick up my computer keyboard and hurl it through the TV.
First point: "Rock Review 1969-1972" on the cover. On watching the disc, "Rock Review 1970-1972" appears. Trades Descriptions Act anyone? To add insult to injury, much of the footage is the same as 'Inside Deep Purple 1970-1973', the only difference being the lack of letterboxing on one. (the letterboxing is achieved by simply stretching, and therefore distorting the footage. DB).
Secondly: What artistic merit is there in butchering previously available footage, and then talking over it?
As the cost of producing DVDs falls, this type of recycling is likely to mushroom. I'm sorely tempted to rent a few red lights, perhaps a few old beds, certainly a few gold discs, and make a place to knock up a critique myself over the weekend. By Monday I should have quite a few versions to sell under different titles.
Best regards, and please keep up the good work; somebody has to!
John Ion
................
All the Deep Purple clips used are less than 90 seconds long.
The DVD is the latest Deep Purple related release from the same company responsible for recent DVD titles such as 'Masters From The Vaults', 'Deep Purple - The Ultimate Anthology' (a mix of tracks from Beat Club, Doing Their Thing and Ian Gillan's 1990 Naked Thunder tour!) , ''Stadium Rock - The Ultimate Anthology', 'Heavy Rock Masterpieces: The Ultimate Anthology', 'Classic Rock: The Ultimate Anthology' (the previous three all feature the same DP performance - 'Child In Time' from Doing Their Thing!) , 'Keyboard Wizards - The Ultimate Anthology' , 'Guitar Legends - The Ultimate Anthology' , ad nauseam.... All contain previously released archive footage, often edited. We'd strongly recommend you approach all of these titles with caution, or not at all.