(This review is adapted from one for the mail-order only Ian Paice 'Not For The Pro's'. T2's 'On The Drums' is the same DVD, smartened up for the European retail market. There is a new cover, and an excellent full colour booklet which was previously lacking. The DVD contents are the same. If you can play PAL discs 'On The Drums' is certainly the one to go for.)
Like Thames / Thompson's Deep Purple 'New Live & Rare' collection, 'On The Drums' is a mixed bag, but the sheer volume of worthwhile material means it gets a big thumbs up.
'Ian Paice's Drummers Guide' is a very informative 50 minute presentation, with Ian firstly linking short films showing the construction of everything from the drums to the drumsticks. He's both relaxed and engaging throughout, starting off with a visit to the Pearl drum factory in Japan (the only film in which he is seen at a factory). He narrates the other shorts (promotional films produced by the companies?) in a likeable manner which reminds me of children's programmes that visit factories to show how things are made. Eminently watchable! Live Deep Purple inserts include drum solos from Alpine Valley in 1985 ( where Space Truckin' on the New Live & Rare dvd came from), and Sydney 1984. The latter recording is screaming out for a full release. Fabulous stuff.
Following on, Ian demonstrates some basic (to him maybe!) drum rudiments in an interesting tutorial, and covers plenty of drum and drumming topics. Much like a compilation of answers for the less mundane questions posed at his clinics. Ironically, a talk from Deep Purple sound man Moray Macmillan on achieving a good live drum sound is spoilt by bad sound recording....he's sat on an outdoor stage with the wind hitting his microphone. D'oh.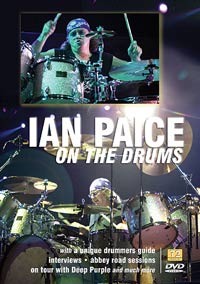 The two Abbey Road studio jams (recorded in 2001 with Miller Anderson and Colin Hodgkinson) are musically very good, sounding rather like Cyril Davies' mix of blues and jazz. The camerawork is deadly dull ... from both angles covered. An alternative is a weird 'Retro Mix' _ camcorder footage and low grade tv clips featuring Ian, with the 'Paicesetter' jam as a soundtrack. The joys of choice on the dvd format..
The Roadie's Eye View tracks are neat, just a single camera set up beside the drum kit, letting us watch Mr.Paice giving it some on the 2001 US Tour at various outdoor venues (nb. none of the shows are previously released). An enjoyable perspective, rather like the player cam in Sky football matches. Ted The Mechanic, Lazy, Knocking At Your Back Door (a rare latterday airing on dvd) and Highway Star are presented in their entirety. Fools is listed as a drum solo but is nothing of the sort; it's the track's hypnotic middle section. Speed King contains a real drum solo, and a piledriving one at that, while Monitor Problems (a useless clip) and Dropped Drumstick are very short, and not worthy of listing on the dvd case.
And that, for me, is effectively that. Plenty to enjoy. There is more on the disc; a rather useless three minute Australian TV report from one of Paice & Morse's 2001 clinics, complete with commentary and audience vox pops. The interview listed on the dvd box is related to the clinic footage, and repeats some of it. The most interesting chat from Ian is certainly contained in other parts of the disc. Deservedly finishing on a plus, the onscreen menus are clear and well presented.
---
Various past members of Deep Purple are credited as 'players' , which is true, but could disappoint buyers expecting to see anything beyond very brief glimpses of, for example, Hughes, Coverdale, and Blackmore. (they are all present in a short clip of 'You Fool No One' from the Cal Jam). So, although the collection fizzles out at the end, there's more than enough in the two hours for me to wholeheartedly recommend it to all Paice fans; non-drummers, amateur drummers, and even pro's..
review: David Browne

The picture quality is for the most part absolutely fine. It is 4:3 aspect except for the Australian TV clips, which are slightly wider. The sound is excellent (though the Roadieview tracks sound a little thin), with a choice between Dolby 5.1 Surround Sound and 2/0 PCM Stereo for most of the disc.
'On The Drums' is all regions,
and is available as PAL.
'Not For The Pro's' (pictured below) is all regions, and is available
as both PAL and NTSC.