DPAS LIVE REVIEWS
GLENN HUGHES & CHAD SMITH
De Boerderij, Zoetermeer, Holland
June 12th 2005
This was Glenn Hughes' first full show in Holland for around five years. Together with Red Hot Chili Peppers' drummer Chad Smith they performed in the ´Boerderij´ ('The Farm') in Zoetermeer.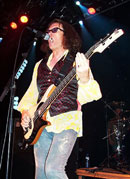 At the very moment when the musicians arrived it started raining, it was unbelievable just how much water came down. The only thing Glenn said was ´get Chad, get Chad´. Chad was the only one who waited a few moments. Inside they started immediately with the soundcheck. Later on they came out for some questions and photos. Glenn said that they were willing to play for 2.5 hours and that there were 18 songs on the setlist.
They opened with Soul Mover, a very powerful song, to my opinion the best song on the new album. Next was Orion. During this song the keyboards failed, meanwhile the keyboard player kept on going as if there was no problem. Luckily the problem was solved before the following song, because that was Might Just Take Your Life. The audience was already warmed up and everybody started to sing. They continued with songs everybody knew, some covers, some Deep Purple songs, some Trapeze songs and High Road from the Chile Peppers. Surprisingly they played Sail Away, maybe one of the first times this song has been played live (Or am I wrong?)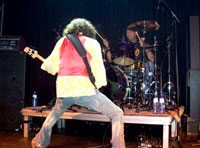 Going by the interaction between Chad and Glenn you could see that they are very good friends. They joked constantly, and Chad took the opportunity to say that a new RHCP album will be out in October. Glenn recalled his old Deep Purple days with quips such as ´here´s a song for ya, as my old mate used to say´.
J.J.´s solos were absolutely brilliant; quiet pieces and heavy rhythm work, he can play it all. The solos in Mistreated and You Fool No One were particular highlights. The promised 2.5 hrs. were easily filled, and the encores Stormbringer and Burn made the show even longer. The setlist showed Foxy Lady but that was replaced by Stormbringer. Lucky me, because that is one of my all time favourites.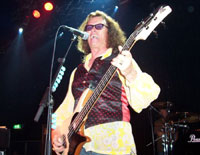 The whole evening was sensational, especially for Deep Purple fans. The few RHCP fans might have been a little disappointed, but the two girls behind me were happy with Chad's drumsticks which I caught for them.
The complete setlist: Soul Mover / Orion / Might Just Take Your Life / American Woman / Higher Ground / Can´t Stop The Flood / Mistreated / Land Of Living / Don´t Let Me Bleed / Stone Free / High Road / Sail Away / Gettin´ Tighter / Sunshine Of Your Love / Medusa / You Fool No One / Foxy Lady - Stormbringer / Burn.
review & photos: Peter Rossen