GLENN HUGHES
Live In Wolverhampton 2: Official Bootleg DVD
Thompson Music
"I held on to this for a week or so after it's arrival, as I wanted to give it some undivided attention. Now it wasn't easy for me to resist the temptation, but after spending three and a half hours in its company, I'm glad I held off.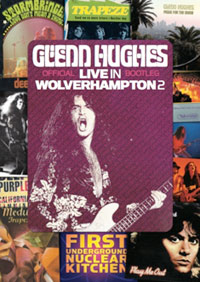 I'm happy to admit that it was the second of the two shows that had me hitting the pre-order button. After all, how could I resist Glenn Hughes performing a full Trapeze set, his first since, well, Trapeze! However, I decided to be a good boy and play it in sequence, starting with the full band show that took place on June 6th, 2009 at The Robin 2 in Bilston, Wolverhampton. And it was a good, if short set, which packed in some excellent performances of tunes spanning his career from Deep Purple - a strangely subdued ''What's Goin' On Here' and the obligatory 'Mistreated' through the Hughes/Thrall tune 'Muscle And Blood', on into his solo career with 'You Got Soul' and 'Crave' the highlights for me. The band this time around comprised Jeff Kollman, Steve Stephens and Anders Olinder, with Stephens' drumming a particular treat. My own gripe, apart from the running time, was the backstage shots which interrupted the flow of the music.
Then it was on to the second night, and the one I'd been looking forward to ever since the DVD was first mooted - Trapeze night! I've been a Trapeze fan since first encountering their music in the post Hughes era, and their albums have become well worn over the years. So the chance to see Hughes perform them was one I never thought I'd get. But here they are, and they're performed in fine fashion. Hughes dedicated the performance to the memory of his friend and former Trapeze guitarist Mel Galley, who passed away in July 2008, and I'm sure Mel would have been smiling throughout. From the opening 'Way Back To The Bone' from "You Are the Music... We're Just the Band" onwards it's musical bliss with the whole of "Medusa" bar 'Makes You Wanna Cry' getting an airing.
There's nothing from the debut album which is a shame, if understandable given it's hippyish flute and trombone parpings, but at least 'Good Love', one of the new tracks on the '74 compilation "The Final Swing' gets an airing. If only 'Dat's It' or one of the Trapeze tracks that appeared on "Play Me Out" had been included as well! But it's a minor gripe on what is a truly excellent DVD. The audio is excellent, and there's none of that fancy schmancy arty farty camera work that so many DVDs suffer from. It's "here's the band playing", as it should be.
There are a couple of bonus features, one essential and one inconsequential. No-one will watch the visit to Molineux Stadium more than once, except Hughes himself and the dwindling number of Wolves football supporters. However, the interview with Trapeze manager and Hughes himself is genuinely interesting, something of a rarity in DVD circles!
Definitely a DVD worth buying."
review: Stuart A Hamilton