DPAS LIVE REVIEW
The Hughes Turner Project
EUROPEAN TOUR 2004
Zingonia, Italy. March 8th 2004
Almost two years after the You Can't Stop Rock'n'Roll Tour, Glenn and Joe have come to Italy again, this time for one night only. Still, it was a great night: a great set of songs, a tight band and a great overall show.
The new band is probably better than the previous one: J.J. is still a delightful player, the drummer proved himself powerful and talented, and while I really couldn't hear much of the keyboard player, he seemed to do a good job on Jon Lord, Don Airey and Dave Rosenthal's solos. Of course, the spotlight was mainly on the two singers, and Glenn was the real star of the night. Joe's voice was not at its peak: he may have had some health problems, because he struggled a bit in performing his vintage material... but I nevertheless appreciated the fact that he put his heart into every note, looking and sounding like he was giving out 100%. In my opinion, Joe is not, and will never be, in the same league as Glenn, but he is a good singer, a good performer, and an decent rhythm guitar player.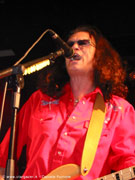 The concert, as I've already said, was really really good: it started with Hold On (not the classic Stormbringer tune, but the one on HTP2), which was immediately followed by You Can't Stop Rock'n'Roll, both songs proved to be excellent live. I Surrender was the first classic of the show, and though it showed Joe's imperfect condition, it was greatly welcomed by the audience. Losing My Head (J.J.'s solo was better than Steve Vai's, for my tastes) and Alone I Breathe, both from HTP2, were good tunes, but they just sounded like appetizers for the real highlight of the night: a wonderful rendition of Mistreated! Though I still think that this is David Coverdale's song, and nobody will ever sing it better than him (so desperate, so intense!), Glenn's version amazes me each time, leaving me absolutely breathless. The soul thing that he did at the end of the song was something that just cannot be described by words.
Next came the only disappointment of the night: Joe came out and did a kind of "old crooner" thing just before Street Of Dreams (which, by the way, he sang awfully)....it just sounded out of place, and didn't work at all. It would have been much better if they had just started the song. Now it was Glenn's time again, and, again, it was pure magic: Getting Tighter interpolated (Glenn's interpolating again mk3 fans!...) some California Jam bits (including the famous You Gotta Dance To The Rock'n'Roll) while You Keep On Moving was the second best moment of the night. Actually I had expected Joe to came out and do the vocal harmonies with Glenn, but he remained backstage. Again, the tune was really wonderful: there was no Burning Japan Live intro... just a bass jam, but it sounded perfect. Glenn played the heavy parts of this song so vehemently, that he actually broke his Fender's bridge and he even didn't realize it!
Fortunately, my friend Matteo was right in front of him and told Glenn what had happened... otherwise the next songs would have sounded very very bad! So, time for an instrument change and the ending of the set: Death Alley Driver and Stormbringer were magnificent as always, though Joe had some trouble remembering the lyrics of the Purple tune and Glenn's other bass was not as powerful sounding as the classic, broken, Fender.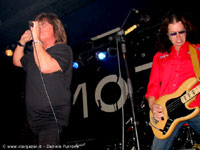 The encores were, of course, great: Devil's Road (from HTP1) may sound a bit predictable, but it is a good fast-paced song, while Spotlight Kid and Burn are timeless classics... the band was probably a bit tired at this point, but it's always a thrill to hear those songs live! No time for Highway Star this time, and even though the song is one of my all-time faves, I'm really glad they didn't do it: that's Big Ian's song, not Joe's or Glenn's, and it never really make sense to me, that they'd do it.
Overall I really loved this concert: Glenn proved himself a gaint of a singer... he's charismatic, and a great bass player. Joe, as already mentioned, was not at his best, but it didn't really matter. I'm really looking forward to see the guys again in Pratteln, Switzerland, next Thursday!
review & photo: Daniele Purrone, see more photos from the show in the d-p.net gallery