DPAS LIVE REVIEW
The Hughes Turner Project
Tokyo Shibuya Quatro, Japan. May 19th 2002.
The venue was a complete sell-out, and getting very hot by the time that Glenn Hughes and Joe Lynn Turner took to the stage in front of a very expectant audience. Both singers arrived complete with matching sunglasses (very Blues Brothers!) to thunderous applause.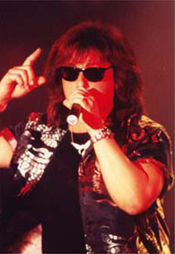 The first two songs followed the track listing of the Hughes Turner Project album,"Devil's Road", and "Can't Stop Rock 'n' Roll" . Rainbow tunes "Death Alley Driver", and "I Surrender" followed, accompanied by a mass singalong from the audience. We then had "Stormbringer" with Joe on slide guitar (!). In a slot dedicated to Joe's solo career he sang "Challenge Them All", (a tune used in a TV commercial for a famous brand of Japanese beer) and then "Dark Days", a bonus track from the Japanese edition of his 2001 solo album "Slam". I particularly enjoyed hearing it played by the Highes Turner Project band.
Now it was Glenn's turn to take centre stage. First he hit the audience with "Mistreated", with Joe in support on backing vocals and slide guitar (he even took a short lead break). "No Stranger To Love", a track co-written with Tony Iommi for the 1985 "Seventh Star" album was also warmly welcomed. During "Can't Stop The Flood" (from Glenn's last studio album 'Building The Machine') the audience took the opportunity to sing along with the song, while I heard others scream out "Voice of God !!"
The band line-up:
Vocals_ Joe Lynn Turner
Bass_ Glenn Hughes
Guitar_ Akira Kajiyama
Keyboard_ Toshio Egawa
Drums_ Yoshihiro Kudo
I was struck throughout by Akira Kajiyama & Joe Lynn Turner's twin guitar work, and by Glenn & Joe's harmony vocals. It was immediately obvious that the superb backing vocals provided behind each other's lead singing was an integral feature of the band's sound. This was especially evident in the Hughes Turner Project track "Better Man" a personal favourite from the album. The harmonies were wonderfully soulful on this track (which is basically a very successful remake of 'Sail Away') and Joe once again played guitar as well as singing.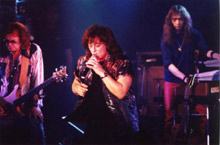 Another HTP track, "Ride The Storm" wrapped up the first half of the show, and lead in to some slower tempo material, beginning with the 'Slaves & Masters' opener "King Of Dreams". Joe continued with "Street of Dreams", one of the most popular Rainbow songs in Japan, accompanied by an audience who seemed to know all of the words!! It really showed how much the fans love the song.
Joe and Glenn pointing out a spotlight on the ceiling introduced, wait for it.. "Spotlight Kid" (pure cheese!...) The track drove the crowd wild! We were exhausted by the time that Joe ended the show with a few words in which he introduced the tour entourage, and thanked the promoter and record company. The five band members then joined hands, bowed and left the stage.
The 2002 HTP Japanese Tour
May 11th, Drum Logos, Fukuoka
May 12th, Club Quatro, Hiroshima
May 13th, Big Cat, Osaka
May 15th, Bottom Line, Nagoya
May 16th, Junk Box, Nagano, Japan
May 17th, Club Quatro, Tokyo
May 19th, Club Quatro, Tokyo
After some deafening audience noise calling for an encore, they reappeared, and dived straight into "Burn". The audience participation was almost enough to drown out the band! "Highway Star" followed with a major surprise, Joe Lynn Turner taking a guitar solo! The show drew to a close.
The band didn't come back for a second encore, instead the audience entertained themselves with an impromptu "Smoke On The Water". We simply didn't want the show to end, but 2 hours is planty long enough when compared to other rock shows in Japan these days. On top of that, it was pure undiluted class, with absolutely no wasted space.I hope that all HTP fans around the world get to enjoy this GREAT show. I would lilke to say THANKS to HTP!!
review: Kaoru Hoshino, photos: Pony Canyon Records / Osamu "Tio" Suzuki