DPAS LIVE REVIEW
The Hughes Turner Project
EUROPEAN TOUR 2004
Maslak, Istanbul, Turkey. February 28th 2004
This was the third visit from a member of the Deep Purple camp to Turkey; Ian Gillan in 1992, Deep Purple themselves in 1998 for two nights, and now HTP in 2004! So, it was something very exciting for us. And this time Deep Purple / Rainbow together!
SET LIST
Hold On / Can't stop Rock'n'Roll /
I Surrender / Losing My Head / Mistreated / Street Of Dreams / Alone I Breathe / Getting Tighter / You Keep On Moving / Death Alley Driver / Stormbringer.
Encores:
Devil's Road / Spotlight Kid / Burn
And after some very satisfying albums, the HTP gig was a most important event. Sunday was also the date of our biggest soccer derby, and the concert promoter arranged a wide screen TV for the game. So the gig delayed due to the match. There was also a support act featuring a talented guitar player from a local band. He played an all-intrumental Satriani / Malmsteen style half an hour set.
After some time arranging the stage, Hughes & Turner started with Hold On, followed by Can't Stop R'N'R. The audience sang along with the chorusses, which really motivated the boys! They played everything which we expected from them. The Purple/Rainbow songs were played much like their original studio or live versions except for Mistreated. Its intro was very much like the Difficult To Cure intro from Finyl Vinyl, the middle solo section was similiar to the On Stage version.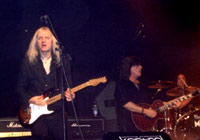 As for Glenn Hughes and Joe Lynn Turner, we especially waited for Glenn Hughes. He amazed us. What a voice! What a performance. He shone especially through Mistreated, Gettin' Tighter and You Keep On Movin'. As for JLT. I've always had doubts about his live performances, but his singing was excellent. He also amazed us. I do not have much to say about the drummer and the keyboard player. But J.J.'Blondemore', is quite a good choice to play Richie's part.
As for the downpoints, they are still playing basically the same set after two years. As this was their first visit to Turkey we were ready for anything, but for the next time they'd better change the setlist_ perhaps including Sail Away, Can't Let You Go, Stone Cold, and Hold On (From Strombringer). Also, their playing was little bit under rehearsed, and lacked improvisation. The role of the keyboard player was minimal.
So, we enjoyed listening to them and they enjoyed playing to us. Thanks boys. Hope to see you on your next tour.
review & photo: Tarik Burcoglu, see more photos from the show in the d-p.net gallery