DPAS REVIEW


Aina / Days Of Rising Doom
['Metal Opera', Transmission Records]
Sascha Paeth, guitarist in Heaven's Gate, and producer of Rhapsody and Kamelot amongst others, is the guiding light behind this project. Which may make you think it's just going to be another overblown power metal outing, but that is far from the truth.
A story of love, hate and sibling rivalry, "Days Of Rising Doom" is a classic fairy story set to music, a rocking Rapunzel, if you will. "Days Of Rising Doom" is a double album plus DVD, made up of three parts. The first is the "Days Of Rising Doom" opera, the second disc, dubbed "The Story of Aina", is a combination of alternate versions and an accompanying background story to the first disc. In addition, the limited edition contains a DVD, which contains making of footage, artwork, photos, and a video clip for "The Beast Within". The beautifully drawn 34 page booklet is also an absolute delight.
Aided and abetted by Miro (keyboards, orchestral arrangements), Roberto Hunecke- Rizzo (drums, all guitars and bass) and Amanda Sommerville (vocals) they have set out to create something new and unique, and to a large extent have succeeded. The problem with projects like this is that the influx of guest musicians overwhelms the songs. However, this time, a fully scripted storyline and well drawn character parts has drawn the best out of the many guests, and created a tremendous hybrid of power metal, rock opera and musical theatre. Not a mix that will appeal to all, but for those who hanker after swooping vocals, shrieking guitars, massed choirs and all things Wagnerian.
Strangely enough, considering the environment, it's the ballads and more delicate numbers that shine brightest. The "Rape of Oria" with Candice Night from Blackmore's Night, "Serendipity", where Michael Kiske impresses me for the first time, alongside a boys' choir.
More metallic peaks arrive with "Rebellion", which has the 'Voice Of Rock', Glenn Hughes in magisterial mode, and "Oriana's Wrath", where Sass Jordan comes back into the limelight to play the competition away. The first single, "The Beast Within" is slightly misleading, as it's a fairly standard speed metal tune, but "The Siege Of Aina", apparently single number 2, is a more obvious candidate with keyboard flourishes from Derek Sherinian.
If you know me, you won't be surprised to hear that, for me, Glenn Hughes is the star of the show. Taking on the pivotal role of Talon, he manages to subsume himself into the character, sounding weak and frail, amongst the maelstrom. Which is what makes "Rebellion" such a powerful track as Glenn reaches deep within to find his inner power leading to a spine tingling cry of "Stand up and fight!". Awesome.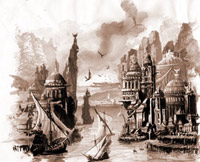 The concept is convoluted, conceited and overblown, and should have fallen at the first hurdle. The notion of inventing a new language and trusting the listener enough to look beyond the obvious could have been a nightmare. Instead we have a contender for album of the year.
The second CD is especially worthwhile, as the alternate versions are sung by Amanda Sommerville and Roberto Hunecke-Rizzo, presumably as guide vocals, but instead provide an alternate viewpoint to the main vocal versions.
The best part of the second CD is the "The Story Of Aina", 15 minutes of classical splendour with a symphony orchestra.
Among the many (many) guests appearing are; Glenn Hughes (DEEP PURPLE, BLACK SABBATH) Candice Night (BLACKMORE'S NIGHT) Tobias Sammet (EDGUY, AVANTASIA) Marko Hietala (NIGHTWISH) Michael Kiske (HELLOWEEN, SUPARED) Andre Matos (ANGRA, SHAMAN) Jens Johansson (STRATOVARIUS, YNGWIE MALMSTEEN) Thomas Rettke (HEAVEN'S GATE) Olaf Hayer (LUCA TURILLI) Damian Wilson Simone Simons (EPICA) Emppu Vuorinen (NIGHTWISH) Thomas Youngblood (KAMELOT) T.M. Stevens (STEVE VAI, TINA TURNER) Derek Sherinian (DREAM THEATER) Erik Norlander (LANA LANE).
Review: Stuart Hamilton,
c/o Zeitgeist Magazine