"As a tribute to the late guitarist Mel Galley, Glenn Hughes and band played a full set of Trapeze material last night (first time since 1994 for Glenn, I reckon) - and mighty fine it was too! I must admit, I had doubts about guitarist Jeff Kollman's ability to emulate Mel's feel prior to the show (great guitarist though Jeff is, it was his style I was uncertain of).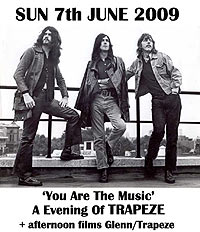 Anyway, any such doubts were dispelled during the opening moments of the first song Way Back To The Bone - Jeff was great, as were drummer Steve Stephens and keyboard player Anders Olinder. As for Glenn - wow, what can you say. Clearly an emotional night for him - I was close enough to see a tear in his eye as he kissed Mel's 'Black Beauty' guitar after playing 3 songs on it (and he brought a tear to mine with Coast To Coast).
The set-list was something like this (*Glenn on guitar):- Way Back To The Bone / Touch My Life / Jury / Keepin Time / Coast To Coast* / Seafull* / Good Love* / Your Love Is Alright / Medusa / You Are The Music. Encore: Black Cloud Good Love (from 'Final Swing') was a nice surprise, with Glenn managing the edgy guitar licks with seeming ease. Keepin Time just exploded from the speakers. Other highlights included a couple of extended jam sequences, with the band going wherever the mood took them (and clearly impressing Glenn - and the audience - in the process).
Oh yes, and I even got one of Glenn's plectrums too. A great concert."
review: Tim Summers

Glenn also played a show at the Robin 2 on Saturday, June 6th, consisting of solo material interspersed with Deep Purple tracks. According to Ian Prentice "it included both 'Sail Away' and 'What's Going on Here' from 'Burn'. Interesting bit is that the show was recorded for mixing and - they said - a free download!"
Drew Thompson from Thompson Music has been in touch to explain a little more about the download system :
"GLENN is encompassing some brilliant new tools that will see a link between the official Glenn Hughes site, a fully functional DIGITAL ONLINE STORE and the (NFF) ALIVE DRIVE. The ALIVE DRIVE will go on sale at Glenn's ROBIN gigs from 6th June. The exciting mechanism here is that the live shows will be made available going forward, utilising the drive as the operating system. The ALIVE DRIVE will provide users with 4-6 free concert downloads per year as well as news and special features -making it an incredible package , and unparalleled value for money, for all fans."
Make of that what you will!