June 6th 2008. The Robin 2, Wolverhampton
The recent gig in the Black Country was fabulous - very much a 'home turf' concert for Glenn; he was very chatty and clearly in a good mood (and GREAT voice).
With a band that is surely the strongest solo band he has thus far assembled (twin lead guitarists the 'old-faithful' JJ Marsh and new boy the impossibly young-looking Luis Maldonado, are joined by the keyboard player from the last tour - Anders Olinder and new drummer Matt Goom) Glenn sailed through a set based around his new album 'First Underground Nuclear Kitchen' wringing every drop of emotion from the material. The
set-list then: Crave - First Underground Nuclear Kitchen - Never Say Never - Oil and Water - Mistreated - You Got Soul - We Shall Be Free - Don't Let Me Bleed - Love Communion - Steppin' On - Soul Mover - Burn. Having seen Glenn on every UK tour since 1994, this concert is definitely in the top 3 - it may well be the best I've seen from him, with a performance in which he was clearly giving his all. The packed venue was treated to many highlights finishing off with a very lively version of Burn which had a nice guitar dual in the solos and also saw Matt the drummer incorporating a nice Paicey-swing with seeming-ease. With the whole band clearly enjoying themselves, it was difficult not to get caught-up in their enthusiasm. There was a moving moment where Glenn got the audience to send their love to Mel Galley, saying
that he would be watching a video of the show the next day (audience-shot footage, presumably - sadly I didn't see any sign of professional filming...). After the gig Glenn did a lengthy meet-and-greet, happily signing everything that was shoved under his nose - even including somebody's old shoe!
review: Tim Summers
June 7th 2008. Liverpool Academy, Liverpool
See the DPAS photo gallery for a fabulous page of shots from Glenn's show in LIverpool, taken by Simon 'New Camera' Robinson.

Click the pics to see the full gallery.
June 10th 2008. Astoria 2, London
The last time I saw Glenn on stage was at Wembley Arena on March 12th 1976, enough has been said about that tour, so I was really looking forward to this show . Sadly the last few times Glenn has played in the UK it's been on a night where I couldn't make it. I was delighted to be able to make it to the downstairs venue at The Astoria for this one.
Having plenty of boots from Glenn's tours during the 90's and noughties I knew he could cut the mustard live .To say I wasn't disappointed is an understatement, it was bloody marvelous. The venue is small, and so unfortunately was the crowd, maybe 300-400 strong, but that didn't prevent Glenn and the band putting on a storming show.... see the full review by Steve McGrath
Septemeber 20th 2008. The Robin 2, Wolverhampton
new, Septemeber 22nd
A very different gig to the one at the same venue 3 months previously - this one was to celebrate The Robin's 10th birthday. Glenn played an acoustic set, followed by a Q&A session and rounded off with an electric set. It was great to hear a few songs I'd not heard done live before and to witness a pretty unique gig - the set list went something like this (not necessarily quite in the right order!)


Acoustic set: - Black Cloud (just Glenn & acoustic guitar) - Anders Olinder then joined in on keys for the rest: - I Found A Woman
- It's About Time - Satellite - Will Our Love End - Imperfection - Seafull - This Time Around - It's Only A Dream (from 1st Trapeze album) - Holy Man

Each song was followed or proceeded by an often quite lengthy chat from Glenn about its origins

Then there was a Q&A session where a microphone was passed into the audience - it was limited to 10 questions overall (although I'm not convinced we got the full 10!) - some interesting snippets emerged, including Glenn's thoughts on growing up in a working class family in Cannock...

There then followed the electric set with new guitarist Tony Remy & drummer Matt Goom joining the fun(k).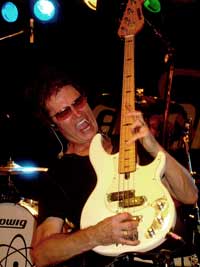 Glenn played lead guitar for the first 2 songs - and was remarkably good, doing a great solo on 'Coast To Coast' - maybe he was channeling Mel, as he was playing his 'Black Beauty' guitar - the only one Mel played throughout Trapeze & Whitesnake, apparently. Glenn brought Mel's widow on stage too, to introduce her and present her with a bouquet of flowers. The electric set then

- Superstition (great funky version & great for me to see it done live at last!) - Coast To Coast (Glenn reverts to bass) - Mistreated - Gettin' Tighter (extended version) - Both good versions, although there were a few technical issues with Glenn's delay and bass lead - luckily he just shrugged then off and let the technicians deal with it rather than getting mad! The songs did gain a few added lyrics though, such as 'It's gone again' and 'I'm back'!) - You Keep On Moving

There was a meet and greet afterwards, but it had been a l-o-n-g gig & I knew there was a 2 hour drive home, so I gave it a miss. All in all a very nice and unique gig.

review: Tim Summers . photos: Tim (Moth) Clark
DPAS Photo Gallery: Glenn Hughes / Wolverhampton, Septemebr 22nd 2008