Unless you have actually been living under a stone for the whole of 2007, you will know that Heaven & Hell is Ronnie James Dio era Black Sabbath under a different name. Following on from a Dio era compilation, they headed out on tour (and will be coming to the UK this winter), sticking strictly to their original three albums plus the new songs recorded for the compilaiton.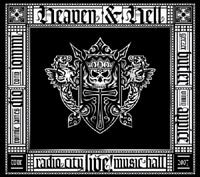 Which means it's wall to wall classics from the "Mob Rules" and "Heaven & Hell" albums, middling to pants tunes from "Dehumaniser" and surprisingly good new tunes. By the time they reached Radio City Music Hall they'd rejigged the set somewhat from the early tour boots (shhh) that were floating about, which means they kick off the DVD with one of the new tunes instead of 'The Mob Rules'. Which is a bit daft. But once things are up and running, it's nigh flawless. Apart from 'Computer God'. Oh, the pain.
I'm one of those folks who think that the original Dio era knocked Ozzy into the proverbial cocked hat, so this is manna from heaven, The concert lasts close to 2 hours, and at the end I simply hit the play button again. It's that good. Over in DVD land, you get a choice between 2.0 stereo and 5.1 surround sound, which might make sense to those of you who haven't spent decades with their ears next to Lemmys bass bins and four lots of extras. They are;
• "Radio City" - which gives you a guided tour of the venue. Nice but inessential.
• "Meet the Mob" - fan interviews - "woah, you rock dude, yeah, metal" - three minutes wasted.
• "Hail the Gods of Metal" - 5 minutes of background on the group and snippets with the band, just in case you bought this accidentally and wondered who they were.
• "Heaven and Hell Road Movie" - The meat of the extras is the obligatory tour documentary. Close to 20 minutes talking about the reunion, album, tour etc. Worth a viewing, unlike the rest.
This is an essential purchase for people who like their rock hard, and the best Sabbath related item since, ooh, 1982.
review: Stuart A Hamilton, Zeitgeist, PO Box 13499, Edinburgh EH6 8YL, UK