I've been living with these songs for a few months now thanks to that nasty, nasty internet, but I really wanted to have the finished product in front of me before putting pen to paper. You see, it's hard for me being a Whitesnake fan. They were the first band I really regarded as mine, back when I was teenager, and the musical markers that would define me for life were falling into place. As the grey whiskers will attest, it was the Whitesnake of "Lovehunter" and Bobby 'Blue' Bland covers that grabbed hold of my heart. To this day, I will happily start a fight if anyone disputes "Come An' Get It" as one of the Greatest Albums Ever.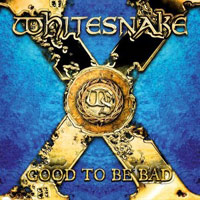 But the late eighties weren't particularly happy times for me, as I saw my band turning into another big haired MTV band. Sure, they still managed a few good tunes, but the nadir of "Slip Of The Tongue" still pains me. Even worse, I made the mistake of going to see the touring band that had Warren DeMartini of Ratt on guitar. That still causes me to wake up screaming in the middle of the night. However, Sir David of Coverdale redeemed himself completely in my eyes with his solo album "Into The Light", which remains ludicrously under appreciated. Add in a healthy batch of excellent live shows, awful solo spots aside, and Whitesnake were firmly back in my good graces. But a new studio album?
Well, the good news is, it is far, far better than I could have hoped for. Something I didn't think was going to happen twenty minutes into the album. Because Sir David has gone out of his way to try and please everyone.
Which means the first half of the album is chock full of the glossy American rock that made him his millions, and saw an entire generation of young boys drool into their TVs as Tawny Kitaen draped herself over the bonnet of a car. However, musically, that doesn't really rock my boat, despite the pleasure of hearing that voice, albeit with more gravel than in days of yore, draped over a set of new songs. But once you get past the title track, you hit the motherlode. Time for the track by track;
'Best Years' - an odd choice to open the album, it's a mid tempo rocker that would have fitted happily on to "Slide It In", with some fine keyboards. 'Can You Hear The Wind Blow' - now this is much better as the guitars bite hard in finest 1987 style. 'Call On Me' sees Sir David indulge in some fine cliches as the band revisit the high sheen glossy metal of the MTV years. 'All I Want, All I Need' is the big, radio friendly ballad, with a guitar sound that will really upset John Sykes! This albums 'Is This Love'. Next up is the title track and, for me, the weakest song here. It's the one place where Coverdale seems to forget he can't hit the big notes anymore, and the whole song is just, to use a technical term, screechy. But then it's time for 'All For Love', the song where the album really takes off. It has a slightly different tone to what went before, the guitars harmonise and Timothy Drury makes his presence felt for the first time since the opening number. A prelude for what is to come.
Because then we get a clutch of songs that are amongst the best of Whitesnake. 'Summer Rain' takes me right back to the halycon days of 1980 / 1981 where ever Snake albunm would have a couple of simple and beautiful acoustic ballads - 'Till The Day I Die', 'Carry Your Load' etc. 'Summer Rain' can happily take its place among that pantheon of greats. I LOVE LOVE LOVE 'Lay Down Your Love'! It's the obligatory "I'm a hundred times better than that walrus Robert Plant" number, where Coverdale shows all the naysayers who's the boss. Easily as good as anything on the splendid "Coverdale / Page" album, this will be a highlight if they play it live. 'A Fool In Love' lives up to its incestuous title, as Whitesnake get the blues. You can trace its history back to 'Cryin' In the Rain', but this one is a little more rough and ready. 'Got What You Need', a straightforward rocker, lets the side down a bit, although it's worth it to hear the "Ey Oop" at the beginning from the least Yorkshire sounding Yorkshireman ever. Last up is 'Til The End Of Time', and if it turns out to be the last Whitesnake song ever, then it's a fantastic way to bring things to a close. A huge, soulful, bluesy song in the tradition of the best Coverdale ballads, it has the best vocal on the album, and could easily have sat on "Into The Light". The best song here by a mile, and already firmly entrenched in my 'Snake Top Ten.
I honestly didn't think Sir David had this in him, especially as I was no fan of the way Doug Aldrich performed the old Whitesnake material live. But, credit where credit's due, as co-writer of all the songs, he's done a mighty fine job. The rest of the band do what they're told in unshowy fashion, and the second half of the record is as good as anything from days gone by.
review: Stuart Hamilton
Is it really Good to be Bad?
Being as the WS album is online (or was, it isn't now!) ... I'd thought I'd send you a review... It's been ten years since the underrated (and undersold) Restless Heart album appeared. Since then DC has given us a rather good solo album (Into The Light) a resurrected Whitesnake, a spiffing live DVD and a less than spfffing double live CD with 4 new studio tracks (all of which veered from disappointing to OK and if you don't believe me, compare them to Whitesnake's first four songs on the Snakebite EP). So, with some trepidation we get to hear the fruits of a full blown collaboration between Coverdale and new boy Aldrich, in the form of Good to be Bad (I hope DC doesn't come to regret that title, a good job it wasn't used for Slip of the Tongue I say).
First impressions are important and the fact is this CD is very heavy by Whitesnake standards: a veritable wall of sound. Most of the subtle stuff (and there are some nice touches on most of the tracks) is lost in the mix. My own tastes are for music that sounds open, with space for drums, bass and guitar to breath. Not a lot of space here though: this is an aural assault in every sense of the word.
The playing is fine throughout and it has to be said that DC acquits himself rather well in a post-1987 style of delivery that we all know isn't to everyone's taste. However, what he doesn't give us are any "Crying in the Rain" or "Mistreated" style vocal deliveries: so no real blues epics to speak of (save for A Fool in Love perhaps), which is a shame. Opening tune Best Times sets the tone and it has to be said is a rather good introduction, with a lyric that for once isn't obsessed with love and sex. Can You Hear The Wind Blow (only on Friday nights after 6 pints and a kebab, David) and Call On Me continue the sonic assault, although they are both strong songs beneath the production veneer.
Things slow down with All I Want All I Need, delivered in a nice rasping style by Cov. A nice ballad very much in the style of Is This Love. The title track kicks in next and it's rather good, although the "Bad to the Bone" lyric is rather unnecessary by any standards. A classic Whitesnake tune though. All For Love is the weakest song on the opus and is one of those popular throwaway tunes so beloved by Cov. Summer Rain sounds like it might go into Ain't Gonna Cry No More territory but is actually a bit of a departure for Whitesnake, it's a good tune with a great vocal but suffers from over-production.
Lay Down Your Love is a classic Whitesnake single really: the bastard son of Fool For Your Loving in many ways. The opening is excellent and makes Whitesnake sound quite modern: the guitars remind me of Moody and Marsden, produced in a modern, contemporary fashion. The drums are also reminiscent of Paicey at his best. A great song, it needs a cool video really. Next up is A Fool in Love, one of those Whitesnake / blues crossovers, it starts like Seasick Steve trapped in some far off toilet. Actually it's rather good: a strong progressive blues with another trademark DC vocal and a good chorus. Got What You Need starts with an "Aye up" and continues in a Mean Business (Lovehunter) style and the whole affair winds down with Til The End of Time. This is perhaps one epic too far, and although the tune is pretty, it would really have worked as just a guitar and a voice.
So, the final verdict: this is without a doubt a strong album, a mix of both old and new Whitesnake. The production is, for me, over the top, and should have been reigned in on certain songs but it has to be said that, lyrics aside, DC has delivered a very strong set of songs that demand repeated listening. I reckon this could be the biggest rock album of 2008, but maybe that's because there isn't too much competition out there. More than worth buying.
review: Jack Smith