A concert staged for a convention commemorating the 40th Anniversary of the formation of Deep Purple saw The Good Old Boys taking the stage of Esquires in Bedford. In case you don't know, The Good Old Boys feature original Deep Purple bassist Nick Simper along with his former Warhorse / Fandango colleague Pete Parks on guitar. Add in former Strawbs drummer Richard Hudson, ex Renaissance guitarist Simon Bishop and one time Jo Jo Gunne vocalist Alan Barratt, and you've got a fair pedigree going on.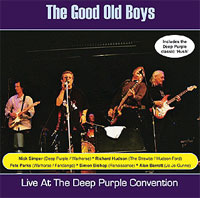 However, nowadays they're largely content to play other peoples songs in the manner of a glorified bar band, as they tackle blues, soul and rock'n'roll chestnuts from the likes of Eddie Cochran, former Simper employer Johnny Kidd, ZZ Top and Fleetwood Mac. They do tip their hat to Deep Purple with their version of 'Hush', and a fine version it is too. It's the sound of a really great night out, and if you stumbled into one of their shows, then you're pretty much guaranteed a good time. My favourite was their take on The Temptations classic, 'Shakey Ground', a tune also covered once upon a time by Whitesnake guitarist Bernie Marsden on his "Look At Me Now" album (as well as being issued as a single).
Whether this translates onto CD is another matter altogether, although the musicians involved do put on a fine performance, and I'm quite happy to have it sitting here in my collection. The CD comes with a 12 page colour booklet with band biographies and photos from the soundcheck and show, including one of Simper alongside his replacement's replacement, Glenn Hughes.
review: Stuart A Hamilton
The Good Old Boys • Live At The Deep Purple Convention is available from the dpas online store