For a set aimed straight at collectors (after all the audio content is something most people will have already purchased on the album reissues), this is a surprisingly lacklustre and perfunctory offering in most respects, and lacks the sparkle of prestige which many box sets aim for.
The clincher for fans of course is the bonus set of promo videos, and here I was surprised at how good technically the quality of image is compared to a lot of vids from that era. Most of the vids are reasonably straightforward clips of the band miming to the track, and only differ in the degree which some production editor has seen fit to mess with the special effects. The best is Long Gone, shot straight in a camped studio, and left alone, and then by degrees we end up with Restless which literally ends up as a sequence of large pixels moving around the screen!
So, nice to get these out officially for the first time, a bit naughty to make fans have to buy an expensive box set just to get them; a separate mid-priced DVD would have been a nice option. Full review DTB 59.
Simon Robinson

Well now, following on from the remastered, bonus track enhanced albums that came out on Edsel earlier this year, the same company are bringing us "The Singles + The Promo Videos". So, what you're getting is a 12 disc box set comprising reproductions of 11 Gillan singles plus a DVD containing seven promo videos. So why would you want it? Well, it's rather obvious isn't it? You get all those Gillan 7" singles you never play in a shiny cardboard box, all ready to play in your CD player.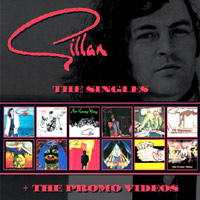 Spanning the three years from "Mr Universe" to the demise of Gillan (the band), the singles are all faithfully reproduced (ish). I mean they don't give you the fancy fold out sleeves or story booklets, and they don't (and this is important) contain any unavailable songs. The remastered albums swept up the single tracks in amongst all the other bonus tracks. Unless you include a couple of single edits. And I don't. So don't start whingeing about "ripping off the fans, man". It's obvious what it is, so don't buy it, if you don't want it. And there are, so I'm told, only 3,000 of them being issued, so you may want to grab one for future Ebay sales.
It's really a collection for collectors, or folks too lazy to buy up the original versions at their friendly, local record fair. And it probably works out cheaper than buying up the vinyl, even if Gillan singles are usually in the pound box. Of course, you also get the promo videos on a handy DVD, to save you all that YouTube downloading. Which is very amusing in a 'my God, was that what passed for a video in those days?', kind of way. I mean, a band looking like Gillan wouldn't get through the door at a record company nowadays.
Mr Gillan has graciously contributed some tales from back in the days to go with the workmanlike booklet, and it did bring back hazy, warm memories of rushing down to Haymarket on the day of release to snaffle them up. Especially with the promo stickers reproduced as well! Was it really a whole £1.15 for the 'No Laughing In Heaven EP'? That was 16p over my budget back then, you know. The B-sides are where the fun lies, and work better in this format than as bonus tracks, and I still remember the bother I got into for singing 'Your Sister's On My List' just that little bit too loudly!
Not for the casual passers by, but Gillan fans should find it a treat, and hardly a bank breaker for the kids to buy you for Christmas.
• 'Vengeance' / 'Smoke On The Water' [live at Kingsway Recorders]
• 'Sleeping On The Job' / 'Higher And Higher'
• ' No Easy Way' [single edit] / 'Handles On Her Hips' / 'I Might As Well Go Home (Mystic)'
• 'Trouble' / 'Your Sister's On My List' / 'Mr' Universe' [live] /
'Vengeance' [live] / 'Smoke On The Water' [live]
• 'Mutually Assured Destruction' / 'The Maelstrom'
• 'New Orleans' / 'Take A Hold Of Yourself'
• 'No Laughing In Heaven' [single edit] / 'One For The Road' / 'Lucille' / 'Bad News'
• 'Nightmare' / 'Bite The Bullet' [live]
• 'Restless' / 'On The Rocks' [live]
• 'Living For The City' / 'Breaking Chains' / 'Purple Sky'
• 'Long Gone' / 'Fiji'

"Bonus DVD: The Videos" - 'Sleeping On The Job', 'No Laughing In Heaven', 'Lucille', 'Nightmare', 'Restless', 'Living For The City', 'Long Gone'
review: Stuart A Hamilton, Zeitgeist, PO Box 13499, Edinburgh EH6 8YL, UK