This triple live CD actually came out about a year back, but there's been so many Gillan releases over the last wee while, that's it taken me this long to catch up. Of course, it doesn't help that there have been so many substandard live albums released from the John McCoy archives, but this one is actually the real deal.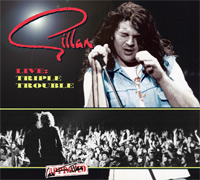 The first disc was recorded at the Rainbow Theatre in London, on 4th March 1981, and features the classic lineup with Bernie Torme on lead guitar. Only one song from the 14 has been previously released, and bar some slight straining from Mr Gillan, it's a cracking set, with a fiery 'Uncahin Your Brain' and powerful 'On The Rocks', the highlights.
Over on Disc two, and it's the band's headlining set at the Reading Festival on 29th August 1981. Naturally, I've had these tracks for years, half on the 1981 "Double Trouble" (do you see what they did there) release, and the rest on an old cassette. By this time, Janick Gers was in on lead guitar, and the difference is noticeable, with the unpredicatable Torme badly missed. A lot of the material is repeated, but then it was only six months later.
Finally, Disc three sees the release of an April 1982 session for BBC Radio 1's "Friday Rock Show". No-one would have weeped had the versions of 'No Laughing In Heaven' and 'Hadely Bop Bop' stayed locked away, but the versions of 'Vengeance' and 'Born To Kill' are, probably, the best Gers era performances I've ever heard. They're awesome! The CD is finished off with five songs from a concert in Nottingham, recorded the night before the Rainbow show from Disc one. in March 1981. The sound quality isn't so hot, but there's a fine version of 'If You Believe Me', with some great Torme guitar.
For no discernible reason, it's come out in a cardboard slipcase, and the booklet, which they trail on the sleeve, turns out to be a rather skimpy selection of backstage passes and photos. There's no sleeve notes as such, but it's still a worthwhile buy, especially for the Rainbow show and the Friday Rock Show tunes.
review: Stuart A Hamilton
Gillan "Triple Trouble" can be ordered from the dpas online store.