PUR 354 A, PUR 354 B, PUR 354 C - CD (limited edition digipak)
Purple Records PUR 355 CD (regular edition)
A digipak has been produced to enable the original artwork to be used. It is available in three different covers: original 1971 UK; 1971 USA; 1973 USA. Each design is limited to 1,000 copies worldwide. DPAS Mailorder has all three different designs listed and will do their best to supply collectors with whichever one they want, but with such a small run we advise pre-ordering. The digipak will have a 12 page booklet like the regular edition. The regular edition has a new cover design based on the original.
After 1969's classical / rock Concerto for Group & Orchestra, Jon Lord was comissioned to write a follow-up. This was GEMINI SUITE, five movements inspired by the members of Deep Purple.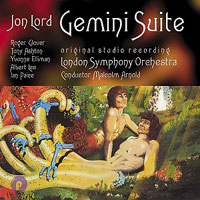 After just one live performance in 1970 (available on Purple Records) it was recorded as a solo project because Ian Gillan and Ritchie Blackmore didn't want to be involved further. The Gemini Suite album was issued in October 1971 with the London Symphony Orchestra, conducted by Malcolm Arnold. To replace Gillan and Blackmore, Jon Lord asked other guests along. The list of tracks and soloists is as follows:
1 - Guitar. Albert Lee (from Heads Hands & Feet).
2 - Piano. Jon Lord (Deep Purple)
3 - Drums. Ian Paice (Deep Purple)
4 - Vocals. Yvonne Elliman (fresh from her role on Jesus Christ Superstar) and Tony Ashton (from Ashton, Gardner & Dyke).
5 - Bass guitar. Roger Glover (Deep Purple)
6 - Organ. Jon Lord (Deep Purple)
Even in the seventies, when experiments like this were seen as a natural progression for many rock musicians (with Keith Emerson and ELP, Rock Wakeman of Yes and Procul Harum all developing their own pieces), Gemini Suite was still a long way from the music of Deep Purple. Challenging as it was it nevertheless can be seen as an important part of Jon Lord's classical career and brought further offers of work. This included WINDOWS in 1974 and SARABANDE in 1976. Today Lord is busier than ever in this area.
Stand-outs on the album are perhaps the vocal movement, arguably one of Jon's finest pieces of writing, and the final movement where the orchestra and musicians trade riffs with increasing rapidity which keeps the listener enthralled for over ten minutes.
Gemini Suite was also the very first album on the original Purple Records label. It has never been issued on CD in Britain, and only fleetingly available in Germany twenty years ago.
The remastering work has been meticulous, with the original 1971 quarter inch production masters located and used. This has been engineered by Nick Watson at his newly equipped mastering studio in London (Nick previously worked on a lot of Deep Purple related projects at SRT Studios in Cambridge).
An illustrated booklet with detailed notes accompanies the set. The gatefold illustration has been digitally restored, and even the original decorative typeface tracked down to use on the packaging.
PURPLE RECORDS is the home of The Gemini Suite Live (PUR 304), Sarabande (PUR 305) and Windows (PUR 322). All these can be pre- ordered from DPASMailorder.
DPAS online discography: Gemini Suite.