When this DVD / CD / LP format bomb was first advertised, many people doubted its legality, but it turned out to be legit, although only intended for the Eastern European market.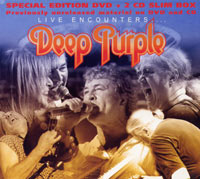 What we get on the DVD is an almost complete show from The Spodek, Katowice, June 3rd 1996, recorded quite early on in the Purpendicular tour by Polish television. When I first saw a copy of the broadcast in 1996/97 (recorded from Czech television) I was a tad disappointed. Seeing it now with better picture and sound quality (though still not particularly good) has changed my mind, but just a bit. The cameras generally keep a distance from the stage, instead preferring spectacular swooping shots over the audience from cameras mounted on cranes (wheeeee!!!... ). Although the crowd are all partying their hearts out, the intensity which permeated the shows I'd attended a few months earlier is not captured, leaving a rather unengaging 100 minutes or so of video material.

The show kicks off with a wonderfully fierce version of 'Fireball', the drums and keyboards punching cleanly through the mix, and emphasising great work from Messrs Paice and Lord. It's also immediately noticeable that the accompanying pictures are not up to scratch. Forget any comparisons with Total Abandon here, or Perihelion, or perhaps even Bombay Calling. The overhead cameras sweep around enjoying themselves and not being much use throughout, leaving it to cameras in the audience to try and show what's happening on stage, with zoom lenses pushed to their limit. The resulting visuals are often soft, murky, and grainy. Still, the music cuts through, and though the soundtrack is less than perfect it has an appealing rough edge, with the band on song despite big Ian sounding at bit hoarse. It all makes for a decent official bootleg in the same vain as Live At The Olympia '96, in fact I marginally prefer this one.

The music is fresh and energetic, way above some of the uninspiring performances presented on the 2001 'Soundboard Series' shows. However, compared to some of the piledriving renditions of vintage material on the 2004 UK tour, tracks on 'Live Encounters' such as 'Black Night' seem a little polite. The one track from the original broadcast that's missing is 'No One Came', which even then lacked the explosive strobe sequence, so it's no big loss, especially as the track is on one of the CDs.

Of real interest is that the set includes soon to be discarded Purpendicular tracks such as 'Rosa's Cantina', which inside a month had gone for good. Other notables are 'Cascades / I'm Not Your Lover', and 'Hey Cisco' (the latter complete with godawful backing vocals) which all receive their debut on DVD. 'Sometimes I Feel Like Screaming' features Morse and Glover's acoustic intro, which I admit I'd completely forgotten about! Unfortunately 'Somebody Stole My Guitar' was already history by the time Deep Purple reached Poland.

A plus point for the DVD, and one which came as something of a surprise, is the interview material. It wasn't exactly pushed to the fore of the pre-publicity, but would make for a worthwhile bonus release on its own. The four interviews, with Gillan, Glover, Paice and Morse, all date from 2004 (which explains Lord's absence), and weigh in at 20-30 minutes each. All four give some interesting answers, even making something of the occasional mandatory "what's it like to be in Poland" types of enquiries. In the main each interviewee is kept on his toes with questions posed by knowledgable interviewers such as Roland Bury from the Polish DPAS. I particualrly enjoyed Ian Paice's very straightforward responses. It's certainly not the three or four minutes of standard TV questioning that I expected.

The packaging has a very sparse merchandise release quality about it (with 2001 era Purple adorning the cover), and lacks details such as the sound options on the DVD, and if it is PAL or NTSC (mine turned out to be NTSC). The card and case are less flimsy than some earlier efforts however.

All in all 'Live Encounters' is a good 1996 era show, bulked out by two hours of enjoyable interview material. Good value for money as long as you don't expect much in the way of picture quality in particular.

review: Mark Ainsworth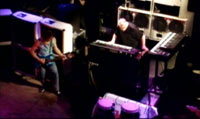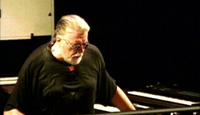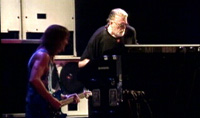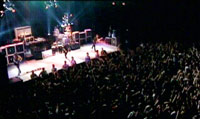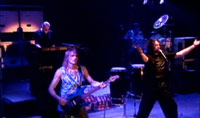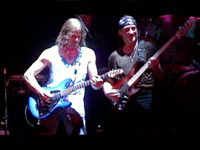 The Deep Purple 'Live Encounters' DVD is available to buy from the
dpas online store
The version reviewed is the
slimline DVD + double CD set.


The disc is Region 0 (all regions)
The sound is 2.0 or 5.1,
though there are no details on the package. Image ratio is letterbox throughout.