DIO
Tournado
I'm feeling a wee bit sniffy writing about this release. As you should know, this box set was intended for release during the Dio European tour in 2009, a tour that was cancelled when the news of Ronnie James Dio's stomach cancer broke. I remember muttering about it at the time, thinking it was just a money spinning way to offload those unsold "Killing The Dragon" and "Evil Or Divine" CDs. There was no way I was going to pony up for some postcards and one new song.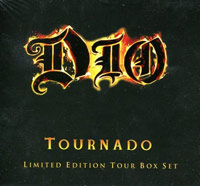 Then it was announced that it would be sold exclusively through the Dio website, and I still hummed and hawed. But when the announcement came that the summer 2010 Heaven & Hell shows had been cancelled, it coincided with some spare cash in my PayPal account, so I thought 'what the hell', and ordered one. That was three days before Dio died. So by the time it arrived I'd wallowed in some surprising misery, played his entire back catalogue and hosted a tribute show on internet radio.
But would this alter my earlier thoughts on the worth of the box set? Well, not really. It was still a lot of bucks for 1 new song, some postcards and a rather nice box to keep them in. For collectors, it's a nice package, but for anyone else £45 could have been better spent. I don't want to appear churlish but if you were one of the ones who missed out, and are thinking about forking out stupid money on Ebay, I'd think again (I've just looked and there's one with bidding at £156, and still a day to go before the auction ends).
The one new song, 'Electra' was originally to have been part of "Magica II", and it's a solid mid-tempo Dio stomper, featuring a lineup of Doug Aldrich, Rudy Sarzo, Simon Wright and Scott Warren. Dio himself is in fine voice, if indeed it was only recorded in 2009 prior to the abortive Dio tour, and the lyrics are in familiar territory - "There's no thunder, no lightning, just a gentle breeze to warn you that something will bring you to your knees!" The sentimental me is glad to have it, but the grinch within is still moaning.
For completeness sake, the package was / is;
"Killing the Dragon" CD
"Evil or Divine" DVD/CD (DVD is in PAL format and will not play in the U.S. or Japan DVD players)
Bonus CD single "Elektra"
Exclusive DIO photo cards
Certificate of Authenticity

review: Stuart A Hamilton