That Doogie White gets about a bit. We got back to the early eighies when La Paz were regulars in the pubs of my hometown, Edinburgh, before a brief stint with Midnight Blue resulted in an actual album. Then nothing, until he reappeared a few years down the line, singing in the brief Rainbow resurrection post Ritchie Blackmore's final departure from Deep Purple.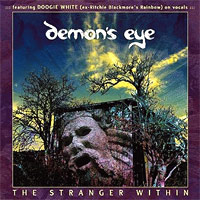 Since then, it's been the lot of a jobbing vocalist, most notably with not-in--the-least-a-Blackmore-ripoff Yngwie Malmsteen's band, Danish rockers Cornerstone, NWOBHM revivalists Praying Mantis and, most bizarrely, a recent album with Tank, alongside numerous sessions and tribute records.
Fair play for never giving up, but this is one of the strangest gigs yet. You see, Demon's Eye are a German Deep Purple tribute band, who've been plying their trade since the nineties. They've linked up with assorted Purple relations over the years for live shows including Jon Lord and Ian Paice, but this is their first album of original material. Now it may be pure coincidence, but with Doogie White on vocals, they've gone and released an album that has more than a passing resemblance to "Stranger In Us All" era Rainbow! Well, I suppose it's a change from impersonating Deep Purple.
Having said that, I did enjoy this album. Opener, 'The Unknown Stranger' kicks in with a old school Jon Lord riff before heading off into reunion era Purple mode. Then it's back into Rainbow mode for 'Sins Of The Father' before it's Joe Lynn Turner ballad time on 'The Best Of Times'. There are a few late period Rainbow tunes in a row before they throw a bit of a curveball on 'Heaven Again' , which is more of a funky Glenn Hughes number. Then it's back into reunion Purple for 'A Foolish Man', before the album highlight arrives in the shape of the near ten-minute 'Far Over The Rainbow'. You won't be surprised to hear that it's their Dio-era Rainbow number!
The album proper ends with a nod to Blackmore's Night on the instrumental 'La Vent Lament', before they offer up an extended version of 'The Best Of Times' as a bonus track. Doogie White is in good voice, and it's nice to hear him wrapping his voice around some really good tunes. There's no doubting that the rest of Demon's Eye are excellent musicians, and regardless of the glaring copycat style, I just found myself grinning all the way through the record. You just don't hear this kind of music anymore, certainly not from the originators, and it's well worth checking out.
review: Stuart A Hamilton