DPAS LIVE REVIEWS

DEEP PURPLE
Caprices Festival, Crans Montana, Switzerland
March 3rd 2005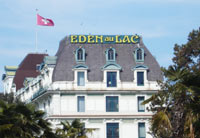 Just back from the 'Got Nee Knickers' show in Switzerland, though trust me, you really did need to be wearing them.
We all flew into Montreux, well, Geneve to be precise, grabbed the hire car and set off in the wrong direction, error spotted and off we went. First stop was indeed Montreux, on the Lake Geneve shoreline. We walked along the shore, spotting the Casino, not the original one of course, apparently, that one got burnt down. Time for some photos outside, moving along to the Eden Au Lac Hotel, where the band stayed all those years ago.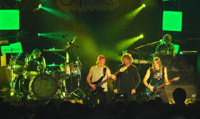 Onwards and upwards, quite literally, to Crans Montana and the Caprices Festival 2005. First thing, lets check the venue. Now, bear in mind, we're high in the Alps (some 12,000 feet) and its rather cold with loads of snow and the venue is........ a tent. I kid you not, same sort of thing used in Liverpool a couple of years back.
The show, well it was actually a belter, they were very impressive, mainly very tight, a few hiccups now and then and some technical problems for Don, but really a great show. The sound in the venue was excellent, great mix. Star of the night was Paicey, he was right on the money, even when Gillan interupted his drum solo, causing much merriment, with Gillan commenting that drum solos should always be that short.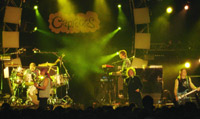 I'll leave others to detail the set, highlights for me were Demon's Eye, which was superb, Contact Lost and the following solo and Space Truckin' which oozed power. Gillans 'air-keyboards' were taken up by nearly all of the audience, who, it has to be said, were great, very enthusiastic, vocal and knew every word and note. Great show, great location, great fun.
Glover confessed afterwards that that was the first time they had played together since Plymouth, not even a soundcheck, you really couldn't tell. So, where are the summer shows?
review & photos: Michael Richards