DPAS LIVE REVIEWS
Deep Purple
Clyde Auditorium, Glasgow


November 11th 2009

"Purple were on storming form last night. They had their most varied set list in years and it was great to hear Wasted Sunsets and Sometimes I Feel Like Screaming again.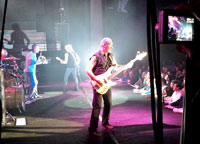 Steve Morse was at his best and played both Contact Lost and Well Dressed Guitar. Other highlights were Rapture of the Deep, The Battle Rages On and Space Truckin' which they tried out in an unusual key. The band seem to be getting better with age and seem to be really enjoying themselves. I hope they really let it hang out like this on the next album."
review: Andrew Jones
photo: Shelle Macpherson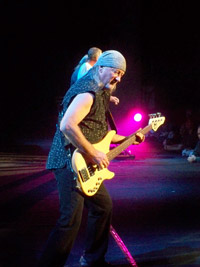 "Interesting show. First time i've ever seen a stage hoovered before a group comes on....
There was a good mix of old and new ditties. I missed my personal fave 'Lazy' and also noticed a definite trend towards 'jazz' during the set. Ian Gillan had a few lyric and set list memory losses, but us seniors get that don't we !! I think the crowd could have been more responsive. It's always good to see the boys and it's always good to here your favourites played live."
review: Ian Gibbs
photo: Shelle Macpherson
Intro 1. Highway Star 2. Things I Never Said 3. Not Responsible 4. Strange Kind Of Woman 5. Wasted Sunsets 6. Rapture Of The Deep 7. Fireball 8. Contact Lost - Steve Morse solo 9. Sometimes I Feel Like Screaming 10. The Well-Dressed Guitar 11. Wring That Neck 12. No One Came 13. Don Airey solo 14. The Battle Rages On... 15. Space Truckin' 16. Smoke On The Water. Encore : 17. Hush 18. Black Night
set-list: Adrien Rouyer

"I thorougly enjoyed the Glasgow gig last night, and to hear them perform some songs I have never witnessed live before. Obviously Wasted Sunsets goes without saying, but it was also the first time I had attended a concert that featured Not Responsible & Wring That Neck.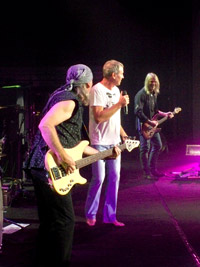 From that point of view the set list seemed quite fresh, and I especially enjoyed Sometimes I Feel Like Screaming again, even though it was cut short before the band cut into The Well Dressed Guitar. With that track, Contact Lost and Wring That Neck, there did seem to be an emphasis on instrumental tracks and passages.

Speed King was omitted, even though it was on the set list. I don't know if this means Gillan was feeling it in the voice department. Was hard to tell how he fared from my vantage point, as being right at the stage meant the PA was above and behind me, so for the most part I was listening to the backline, in particular Morse's cabinets.

With regard to the guy getting up on stage, basically Gillan was making a point to the bouncer, who came over to get the guy off his mate's shoulders. As soon as he did this Gillan went across and held on to the kid, refusing to let go, asking the bouncer what his problem was, and then telling him to f**k off.

The only downer on the night for me was my brother catching three plectrum's thrown into the crowd by Morse and refusing to give me one!!"
review: James Mitchell,photo: Shelle Macpherson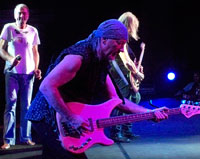 The Bouncer Incident, additional
"I'm no fan of Security, they have an impossible task. Prior to Smoke On The Water I had thought I could happily skip the rest of the tour, having seen a belter of a show from the front row, about five feet from Gillan and Morse.
If only Security had stopped the two pissed-up teenagers (and I doubt very much that they were fans of the band) from spoiling things for everyone around them. For my money, we all lost out. The performance merited a Speed King but all we got was a swift run through of Hush and Black Night with no solos and an early finish. At the end, Paicey gave a drumstick to my mate who was then mugged by the two drunken teenies. Wonderful."
photo: Shelle Macpherson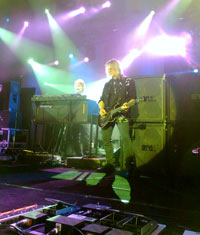 "I have thoroughly enjoyed Purple's previous two Glasgow gigs. However I left this latest show with mixed feelings. The best parts of the concert for me were the injections of fresh material in the form of No One Came (my favourite of the night), Sometimes I Feel Like Screaming (although why cut out the guitar solo at the end of the track?), Wasted Sunsets, and Wring That Neck, which I never thought I would get the chance to hear live.

On the down side, Hush and Black Night just sound tired to me these days. I have to say that Don played his heart out but I still find that the loss of Jon Lord leaves a massive hole in terms of stage presence. Roger and little Ian were brilliant, incredibly tight all night. However, I really feel that Ian Gillan was struggling badly during most of the set. He ducked out of practically all of the high notes (which he was able to hit on the 2007 gig in Glasgow), sung others in a lower octive, and barely spoke to the audience all evening. This does not augur at all well for touring the next album!
The photo was actually just taken on my phone- but turned out pretty good considering."
review and photo: Kenny Mathers