DPAS LIVE REVIEWS
Deep Purple
LG Arena, Birmingham


November 13th 2009

"The set started with Prokofiev's 'Montagues and Capulets' from 'Romeo and Juliet' and really built the atmosphere. Deep Purple then burst into a really fiery version of Highway Star with Glover and Paice driving it along much faster than I can remember from Wembley in 2007.

After Gillan's altercations with Wembley stewards during "Things I Never Said" in 2007, it was good to see him stay on stage on this occasion. Some have criticised the inclusion of this track but is does come from the "most recent" album and it certainly rocks.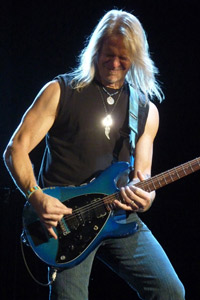 After a rousing "Not Responsible", which Gillan introduced by saying "We've only ever played this live twice ... and that was this week" they belted into Strange Kind of Woman. This was the second major test, for me, of the state of the band. It's a regular number so could they bring something new to it ... and they did - verve and enthusiasm and, most of all, fun. The interplay between Gillan, Glover and Morse was a joy. "Wasted Sunsets", beautifully lit, came next. Ian Gilan's voice may strain but the passion was there throughout. Gillan then said that it was time they got into a studio to record a new album and mentioned February 2010 as looking likely.
The "quiet medieval ballad" that Gillan introduced morphed into a burning version of Fireball, with Paice thundering out the drum line and Glover pushing the rhythm, before the pace was slowed down for the exquisite Steve Morse section. The interplay between guitar and vocals on "Sometimes I Feel Like Screaming" and then the layering of sound was stunning. During Well Dressed Guitar I got the impression that Airey and Paice were upping the speed, but Steve managed to cope and the whole place bounced. "Wring That Neck" was introduced as being written by "Dick Turpin" and it was good to hear it live after so many years. The structure remains the same, but the solos were quite different from the old Lord / Blackmore days. I felt that perhaps Don and Steve weren't in their comfort zones for this but it will develop and deserves its place if only to show off the jazzy side of Purple.
"No One Came" was delivered with lashings of humour by an obviously happy Ian Gillan. The lyrics lend themselves to humour and he milked them for all they were worth. Space Truckin' was a shortened version and Glover's bass playing was just stunning. And then to the inevitable Smoke On The Water. We didn't get the endless audience participation of old but everyone was singing. I had hoped for Speed King as an encore but it was not to be. After an interesting little intro based on an old Booker T number (I think) the band launched into Hush. Black Night brought the evening to a close.
Two very minor gripes in an otherwise outstanding evening: I do like to see a drum set on a podium of some sort, if only to bring the drummer up to the level of the standing musicians - Paicey was on the level stage and seemed a little out of it at times. Also, if you've got one of the best drummers in the world, a 30 second solo would have been nice. But hey, I've just seen the best group in the world play the best concert I've ever seen (or am likely to see). The look of stunned amazement on my 15 year old son's face at the end of the concert said it all. He's seen a few bands, and this left him speechless. We drove back listening to Live at Olympia with wide smiles across our faces. Thank God for Deep Purple.
Oh, and support The Crave were good as well. a 4 piece band, they played six numbers competently and look good for the future."
review: Graham Cooke, photo: Alan Perry


"Arriving at the LG Arena was the first surprise of the night - it is the first time since the revamp that I have been there. A pleasant surprise to see it designed as a venue instead of a shed. A trip to the merchandise stall only cost me £40, so things were looking good!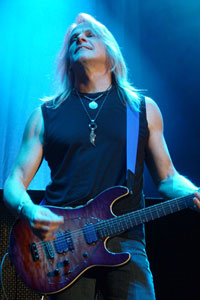 A rather large guy with a pony tail & an 'Access All Areas' pass was in the smoking area when I went out for a pre-concert ciggy. "Are you a roadie?" I asked him. "Yes" was the reply. "Keyboard tech, guitar tech, drum tech? which one are you in charge of?" says I, fascinated to get an insight to the backstage workings. "I'm in charge of Henry the Hoover" he said. What he said became apparent during the setting up of Deep Purple's gear as, on his hands & knees, he carefully cleaned the areas where the barefooted Gillan was likely to tread. (OK, I made that conversation up, but it could have been true!)

I did watch The Crave - a sort of proto-punk-rock band. Entertaining enough (better than the Darkness, but not as attractive as the Planets)
Then, after the stage was reset, the lights went down & the beloved Deep Purple took to the stage.

What an enjoyable and varied set. It would seem they listened to us. 'Not Responsible', 'No One Came', the welcome return of 'Sometimes I Feel Like Screaming' was a joy to behold. OK, they didn't seem as tight as usual, and I did notice a couple of missed timings; but it was still a very good night. The band, as usual since Morse joined, were all smiles and all seemed to have a ball. Steve's solo spot was as mesmerising as ever, and the screens on the side were great for watching his fret work. (I have a Morse signature Musicman and every time I see him play it makes me play mine less... inadequate doesn't come close). A shame Ian Paice seems content to take a back seat these days. He's still a superb drummer and the foot drum at the start of 'Fireball' was stunning in it's volume & intensity. I'd still like to see his one handed drum roll during a short solo however.
The only spoiler was the drive home through rainfall a monsoon would have been proud of. Still, the ringing ears and the memory of a good, if not great concert, saw me through the three hour, rain lashed drive home. Roll on the new album and the tour to follow."

review: Tom Dixon, photo: Alan Perry

"I've seen the band every time the group have played the UK since 2002, the last tour with Jon Lord. I was so happy that this time they didn't do one of those "package shows" with other big name bands to fill the stadiums, as they have done on previous UK tours. Not Responsible is one of my favourites. I felt it was under rehearsed but at least they are trying something different. Wasted Sunsets on the other hand was brilliant, Gillan sang it perfectly and it was just beautiful. The only down point was having to watch Ian Gillan. I love the guy and think he is still in OK voice, he looks so old and frail. His stage clothes don't help, but since when have Deep Purple been bothered about looks."
review: Scott Price

" Like others, I've seen the band at least once, often more, on every UK tour since Knebworth and for the first time ever I nearly didn't bother this time. The last two tours have been fine but frankly lacking in passion, and I couldn't get motivated to go and watch the same set list again. But I was persuaded by friends not to break an unbroken run and went along.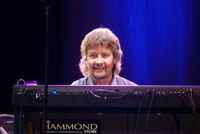 And yes, they pulled it out if the bag. The passion is back and the set list nicely changed to include a good mix of 'classics' and other, more satisfying stuff (for those of us that see them regularly). There could still be more from the early Morse days for me, but I've no real complaints about what was played.

I missed a solo from Paicey – just a short one would have been nice – but Roger's bass solo was great; he never seems to get the credit he deserves. Speaking of which, if the long-muted album does happen in Feb, please let's have Roger back on production. Someone like Michael Bradmore may help to get the artistic juices following and encourage the right approach to recording, but to my ears there's not been a Purple album as well produced as Abandon; the production quality on Rapture was frankly awful in comparison.

The final comment is just one of concern: is Ian G. okay? He bounced, he smiled and the voice wasn't bad (I've heard him better; I've heard him worse) – but the man looked tired and haggard in a way I've never seen before and was clearly struggling in places. Get some rest over Christmas!"

reviwe: Craig Brereton, photo: Alan Perry

"Really great re-furb job on the Arena and first impressions were pretty good. The merchandise lacked choice and WHAT no tour programme (?) - very disappointed. We took our seats, enjoyed the support act tremendously and waited for the main event.
Bang on time the band took to the stage and what a great relief, the sound system was fantastic.On recent shows they have shared with other top names, which has resulted in a compromise in this area. So it was great to get back to the real sound that made them renowned as the best live band in the world. The band were very tight and I think they are just getting better and better. Really felt sorry for Ian Gillan. He was obviously unwell, as his voice went half way though, but the band's brilliant music made up for it."
review: Ashley Cobb