27th April 2010.

Brisbane Convention Centre, Australia

"This band never seems to age. I feel I'm an Aussie Deep Purple concert veteran. I saw Deep Purple first in 1975 with the ill-fated Bolin tour (but it was still great. We were very Purple deficient back then and had been enviously reading the music press about Purples European and American tours), and now I have seen every tour thereafter. The '84 reunion, the first tour with Steve in 1999 (after a fifteen year wait). 2001 In Concert, 2004 Bananas Tour, 2006 Rapture of the Deep, and now, the 2010 "Because We Bloody Well Can" tour (for want of a better name).

When I found they were touring here through a very reliable and most venerable web site, to which you are connected if reading this, I arranged for two tickets thinking I'd bring along my wife and share my love of this band with her. "No thanks" she said. "Not my kind of music"....Shame on her. (Personal note: Contact divorce lawyers at earliest convenient time) What do you do when the love of your life won't go? Ask your best mate of course! So I did! I asked Barry if he would like to go, and he said "Yeah. Great. What do they sing?" "You know, Smoke on the Water, Black Night...." "Yeah, lets go. I'd love to hear Stairway to Heaven!" Groan........


The support band was Electric Mary. Great name, huge sound with two guitars, bass, drums and a quite impressive singer. They looked very comfortable on stage, but lacked something. Not sure what exactly, but I felt they had more of an American style to their music. I personally prefer British rock bands that have a certain "intellectual" style. A thinking mans rock band. American bands are rather brash and in your face, and this was what Electric Mary were like. They were good, but given time, I feel they will achieve a greatness in Australian music circles.

After a short break, the lights dimmed and taped music of Prokofievs "Montagues and Capulets" from Romeo and Juliet played. A great intro for the band with a slow build-up. Then, cutting over the top was that familiar snapping snare from Ian Paice, and Rogers bass notes high on the neck heralding Highway Star. The lights came up revealing Steve bent over his guitar, persuading it to imitate that great engine roar, and Don literally beaming from behind his Hammond, then Ian Gillan walked on stage completeing the band, and the audience clapped and cheered, welcoming Deep Purple to Australias first gig for 2010. The band ploughed through the first three numbers before taking a breath. Ian introduced 'Wasted Sunsets" as "....one we haven't done before", and it's now been done quite beautifully.

They played some old, some new, and one I've never seen live but have heard, and is one of my personal favourites. The Battle Rages On is a great tune, and a great album. Ian is the ultimate in faux pas make-up. He introduced Battle Rages On and turned around to find everyone had left the stage except for Don Airey. A short conversation between the two and Ian turned back to the front and said "Of course, before every good battle is a keyboard solo....", and slunk off stage, reappearing after the solo begging forgiveness.

The concert was great. Not the best and definately not the worst. A bit disappointed that "Sometimes I Feel Like Screaming" was an abridged version. It just didn't build up to that huge ending, but got cut off through Steves ending solo. Pity as it is one of my favourite Morse era songs. No One Came from my favourite album, Fireball, was wonderful with a mind-blowing strobe light finish. Good, solid performances from all and everyone having a great time. At one point Ian was goading Steve with some mischievous lyrics, and I'm still not sure what it was that Ian sang to Steve (third attempt) that made him lose his composure and break into laughter.

The Deep Purple machine is in full swing, so watch out you southern cities, 'çause it's coming your way (oops, sorry! They don't do that one now do they?) Deep Purple are always welcome Downunder, and here's hoping we will see many more concerts.......Oh, and Barry thought it was good (He later changed that to fantastic!).


Kindest regards to DPAS."
28th April 2010.

Sydney Entertainment Centre, Australia

"Second show for Deep Purple 2010 and I must say it was a very interesting show. The venue was the Sydney Entertainment Centre in a very intimate mode, perhaps a dozen or so rows from the stage to the mixing area and then the tiered seating. We were seated right of stage and the sound mix was very unusual; there was NO guitar in the main mix. The keyboards were very dominant, much louder than the guitar from the stage. It made it quite a different show. For others in the auditorium it may have not as been so noticeable. I did enjoy the dominant keyboard sound.

The complete set-list was:

Highway Star, Things I Never Said, Strange Kind of Woman, Wasted Sunsets, Rapture of the Deep, Fireball, Contact Lost, Sometimes I feel like screaming, Well Dressed Guitar, Wrong Man, Lazy, No One Came, Battle Rages On, Space Trucking, Smoke on the Water. Encore was Hush and Black Night, both were great versions, a RG solo into Black Night.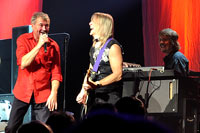 The highlights were Wasted Sunsets because back at the same venue in '84 I had made a cloth sign with Wastes Sunsets scrawled on it, managed to throw it onto the stage, Gillan caught it around his head and here we are 26 years later, I get to hear it live, great version. The Contact Lost / Sometimes I feel like screaming / Well Dress Guitar trilogy was fantastic. Lazy was a brilliant version, perhaps the best I have ever heard. Enjoyed hearing Battle Rages On, thought it would be heavier live but very, very enjoyable never the less.
Next stop, Newcastle"

"An interesting, and very much on, concert. I went with my son in law, for whom this was his first ever rock concert although I have been carefully schooling him in what good / great music is. And for his first concert he got to go backstage afterwards as well.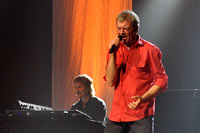 The show was about 15 minutes shorter than others I have been to (1hr 45) but you could feel that the band was simply reinvigorated. The audience was not up and rocking but they were making a lot of noise. Afterwards Roger said it was unusual that the audience was mostly sitting down but we reassured him that they were very much in their court.
For me the highlights were Wasted Sunsets, Battle, Wrong Man, Lazy and No One Came. These 5 songs were worth the price of admission alone. Their speed and virtuosity simply blew me away. Don teased the audience at the start of Lazy, slipping into Perfect Strangers a couple of times. Near the end of Space Trucking I think it was Ian seemed to lose his vocals a bit – he seemed to suddenly stop and go to the back of the stage.
Come the encores, the only words in Hush that were in the original song were "Hush" and "na na na na". Everything else was made up but that didn't REALLY matter. It was greeted with a great ovation. Roger's solo into Black Night was incredible. It wasn't just an extended intro but a full on solo that must have gone on for about 3 minutes. He double shuffled, strode around the stage like a genuine guitar god and generally showed everyone that you don't necessarily need 6 strings to play lead. And the sound! Leaning back against the seats you got a really good, deep massage with all the volume.
Afterwards we got to meet four of the five but the real surprise was that Ian PAICE showed up. I've only got to meet him once before and that was through the window of the car while he was waiting to be driven off after Newcastle 1999. He's like all the others – fair dinkum, friendly and showing a genuine warmth towards the fans.
All in all, a bloody good concert. Not the best I've been to but well worth the money. Wish I could afford some more tickets to other shows."
29th April 2010.

Newcastle Entertainment Centre, Australia

"Last night Sydney , tonight Newcastle which is about 2 hours drive north of Sydney .  The band seemed refreshed and more relaxed, standing front and centre the sound was really – great show. 

Set list was: Highway Star, Things I Never Said, Strange Kind of Woman, Wasted Sunsets, Rapture of the Deep, Fireball, Contact Lost, Sometimes I feel like screaming, Well Dressed Guitar, Mary Long, Lazy, No One Came, The Battle Rages On, Space Trucking, Smoke on the Water.  Encore was Goin' Down into Hush and Black Night.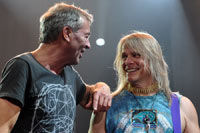 Highlights - the energy of the band, they seemed to be having a good time.  Highway Star was a really good version, Wasted Sunsets was great, Contact Lost was much longer than last night and very, very good.  It was unusual arrangement of Lazy with the verse and chorus very much towards the back end of the song, almost an instrumental, great intro by Don.  Don did his solo piece as the lead to The Battle Rages On and tonight the song seemed heavier.  For Smoke on the Water the band was joined by Nathan Cavaleri who did a really good job including one of the solos.  Ian Paice had a brief solo in Hush.  All in all a great night, two down and three to go, next stop, Canberra."
1st May 2010.

Festival Hall, Canberra, Australia

"Three hours south west of Sydney lies the nation's capital, Canberra , the venue for Deep Purple's fourth gig on the Australian leg of their 2010 tour. It is our 3rd gig in 4 days, our "hump" gig, 3 down and for us, 2 to go.

Smallish venue but a very enthusiastic crowd, . Not full, but in good voice, and solid appreciation of a good performance by the band, who appeared refreshed from their day off.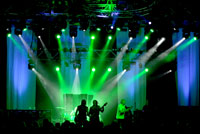 Set list was: Highway Star, Things I Never Said, Strange Kind of Woman, Maybe I'm a Leo, Rapture of the Deep, Fireball, Contact Lost, Sometimes I feel like screaming, Well Dressed Guitar, Mary Long, No One Came, The Battle Rages On, Space Trucking, Smoke on the Water, encore, Hush, Black Night.
Highlights were the varied set list, the different versions of Hush and Black Night, the teases of a riff-raff intro into Smoke On The Water, Highway Star was a cracker, No One Came kicks arse."

review and photo: Graeme Milton (from 'Graeme and Trevor's Deep Purple Down Under Tour 2010')


2nd May 2010.

Festival Hall, Melbourne, Australia

"Melbourne, and I now understand Ian's dislike of security guards. Security guard invites the first three rows to move to the barrier, apparently a request from the band, we venture forth only to be turned back by another security guard. As we reluctantly leave front and centre others surge forward.

Festival Hall is a barn-like venue in a fairly industrial part of town. Great crowd, venue looked full.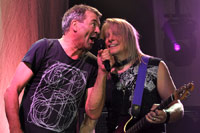 Set list: Highway Star, Things I Never Said, Strange Kind of Woman, Maybe I'm a Leo, Rapture of the Deep, Fireball, Contact Lost, Sometimes I feel like screaming, Well Dressed Guitar, Mary Long, Lazy, No One Came, The Battle Rages On, Space Trucking, Smoke on the Water, encore was Cissy Strut into Hush and Black Night. (Cissy Strut??)
I think it was overall the best show that I have seen on this tour. Lighting rig was smaller and not as good as Sydney and Newcastle.
Sound was better but being towards the front helps. Highlights were Highway Star, the organ / Leslie growl in Rapture of the Deep, the crowd participation especially in Well Dressed Guitar. Really looking forward to Adelaide. I could get used to this touring."

"A brilliant gig. After a couple a lack lustre Melbourne concerts in recent years the band has restored my faith. I have seen them 9 or 10 times, including back in the '70's with Blackmore, Bolin, etc but this was my favorite.

Great energy from the band and very tight with different and exciting introductions and subtle arrangement changes for some songs. Special mention to Don Airey. His keyboard work was a sensational managing to create a huge 'Purple' sound while at the same time imposing his own personality and style. Highlights were many however Rapture, Lazy and the bass solo leading into Black Night come to mind. Finally a word on Steve Morse....I just love this guy. Brilliant guitarist and gives out a great energy, enough said."

review: Robert Bathman
3rd May 2010.

Entertainment Centre, Adelaide, Australia

"Well its been a cracking pace seeing five shows in six night. Man, how do they do it?


Returning to my old home town was a bitter sweet experience. The show was mixed with plenty of action (more on that later), stood on the barrier, right in front of Don (more on Don later), security said OK to take photos, no video. Great because I have such a great position.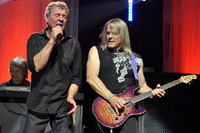 The venue is a rather smart auditorium but one again in a reduced mode, about 20 rows from the stage to the elevated seating. Unlike Melbourne, there were empty seats. The set list was different to the other shows, three Rapture Of The Deep songs in the first five songs. Highway Star started proceedings, followed by Things I Never Said, then Strange Kind of Woman. And the surprise was Wrong Man complete with a serious miss-timing issue with Roger being out of whack. Steve seemed particularly "dark" about it and Ian Paice was counting him back into it, they got there in the end but the air seemed a little tense. I remember seeing U2 at the Sydney Entertainment Centre stuff up one song, stopped it part way through and started again. Perhaps the issue was related to an earlier equipment issue where Roger went missing to correct what appeared to be terminal, it wasn't of course but there was a fair bit of running around. Next up was Rapture of the Deep, always enjoy this one, well, right up until another security guy comes along and says no camera. I suppose the Nikon D90 (digital SLR) does stand out more than the i-phone or the compact digitals, bloody security, hate them more than last night (sorry Romeo, but please be consistent).

Next was the ballad Fireball, then a very aggressive Contact Lost, different to any of the other versions on tour. Really enjoyed Sometimes I Feel Like Screaming and next was Well Dressed Guitar, complete with a guy collapsing at the front, just off to my right. Security was summoned and they were trying to lift him over the barrier. I was just in to help by grabbing the guy by the belt to help lift his dead weight. Apparently he was fine after a while but didn't appreciate being hauled up by his jeans - sorry. (Are YOU that guy? Email us at crunched-nuts@deep-purple.net)

Next up was Mary Long (really works well), then Lazy, and No One Came. It is almost worth the price of admission alone to hear this song, it really pumps. Next, Battle Rages On, which at the Sydney concert I thought was a little weak, but here it was a stand-out. Next Space Trucking and straight into Smoke on the Water. Encores were Hush and Black Night.

Got to go backstage to the meet and greet and meet Don Airey. Interesting chat with Don, who told a few war stories about his PandO days, indicated that the band really enjoyed the Canberra gig. Take note people, the band want you to participate in the experience. They want to see you on your feet as it helps make their (and your) night.

Sorry, off to bed now, back home to Sydney tomorrow to go to my real job (band is off to Perth) and face another month or so on the row, it is a punishing schedule, I wish them well."

review and photo: Graeme Milton. (Click the pic to see a gallery from the show)

" I am still on a high and it's now Friday May 7. I was seated four rows back to the right so pretty much in front of Steve. We weren't sure if we were allowed to get closer to the front of the stage but I wen't up anyway and then we were moved back. Didn't matter because nothing could take away the excitement of what had been planned as the night of nights for me - and what a show, what a night!
I loved the intro, the energy of the band and the encore was fantastic. I just want to hear that version of 'Hush' over and over again, it's the best!
I have never been to a 'real' rock concert before, but if there was one that I wanted to be at, it was always going to be Deep Purple. The music holds many memories for me and now a new chapter has been added and something inside me has been switched on.
I am completely starstruck and will never forget the way I felt when the lights came on and the best rock band in the world was right there in front of me about to belt out a song that I have only ever had cranked on all manner of stereos - Highway Star. Perfect!!!"

review: Michelle Osborn, South Australia

10th May 2010.

AsiaWorld Expo - Hall 10, Hong Kong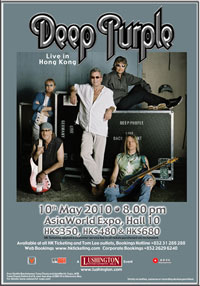 "Having returned from the UK only two hours earlier I could have been forgiven for missing the start of the show... that is, unless, you happen to know that the venue is next door to the airport! Jeez...you'd think I'd have learnt my lesson from having missed the start of the show in 2006, but no, Highway Star was already under way as I entered the auditorium.
It was the first time I'd been in one of the smaller halls at AsiaWorld Expo, and being late meant that I lost my front seat amid a crowd of people. I was just amazed to see that the usually-jobsworth security guys weren't sending folks back to their seats...or rows, at least. I guess they didn't fancy taking on a crowd of ageing gweilos. Anyway, I managed to manouevre myself to a spot about five metres in front of Roger.

Although I hadn't seen Deep Purple since the Wembley show in 2007 (the one where Ian Gillan threatened never to play there again, after reacting to the heavy handed security guys), the feeling was more one of familiarity - of seeing a bunch of mates again - than goosebumps from seeing your favourite band. Also familiar, was the set. I was disappointed by the absence of the "new" songs from last year's European dates - Not Responsible and Wasted Sunsets - and felt that, overall, the performance - this time he seemed much calmer, thinner (?), and perhaps less inclined to chat between songs."
12th May 2010.

Singapore Indoor Stadium, Singapore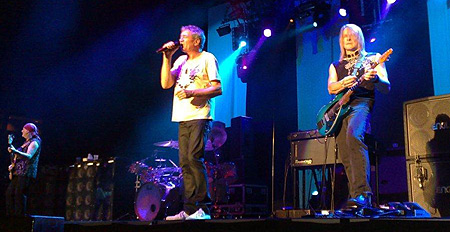 "The National Indoor Stadium is an airconditioned venue, a good thing as the humidity was really heavy outside. The temperature at midnight was 28°C, with approx 75% humidity.
The show was supposed to start at 8pm without an opener. At 8.10pm the intro tape was started and after all members had arrived on stage, Paicey lead the way into 'Highway Star'. A great opener in my opinion. According to newspaper reviews the crowd numbered around 5, 500. The general atmosphere was good, and whenever the old classics where played, everyone went crazy. The shpw lasted 108 minutes. It was great night in the company of great musicians, all of whom were in good shape.
Set list: Highway Star / Things I Never Said / Strange Kind of Woman / Maybe I'm a Leo / Rapture of the Deep / Fireball / Contact Lost / Sometimes I Feel Like Screaming / Well Dressed Guitar / Mary Long / Lazy / No One Came / keyboard solo ~ Perfect Strangers / Space Truckin / Smoke on the water / Hush (with solos from Roger, Steve and Paicey) / Black Night."
28th May 2010.    

Coca-Cola Dome, Johannesburg, South Africa


30th May 2010.   

Indoor Arena, International Convention Centre, Durban, South Africa


1st June 2010.    

Grand Arena, Grandwest Casino and Entertainment World, Cape Town, South Africa

"Late last December, as I clicked onto deep-purple.net, I was thinking about the 2010 Soccer World Cup and fantasising about how amazing it would be if Deep Purple returned to South Africa after a 15-year break. Can you imagine my surprise and delight to read the Masters of Rock SA announcement?! That's when I knew 2010 was going to be a memorable year.

My youngest daughter attended their 1995 concert while still in her mother's womb (3 months before her birth) – she's still a fan! Both of my teen daughters (17 and 14) were with me at the recent Joburg show. They're still talking about it – I think they found it almost a life-changing experience, and have been gloating ever since to their school  friends who couldn't get tickets.

At each venue I sat in much the same area – stage left in the lower part of the grandstand with an unrestricted view, except for a speaker column at the Joburg show blocking out Paicey ... this gave a disconnected feeling, as did looking at the two huge video screens on either side of the stage; it felt like watching a dvd, which is not what you'd paid for (SABC 3, one of the main sponsors, filmed the Joburg and Cape Town concerts). The Durban venue was the most intimate experience of the three – a narrower configuration with the seating closer to the stage, and no giant video screens.

In my opinion, the best concert overall – sound, mix, balance, performances, and crowd response – was in Cape Town. Coming into the venue from the outside parking, the Grand Hotel was prominent (I wondered whether any of the Deep Purple entourage noticed, given the lyric in "Smoke on the Water"). The crowds were fantastic at each venue, it's just that the Cape Town bunch topped the lot – my gauge was looking over the golden circle standing areas below my vantage point and checking the level of applause, whistling, cheering, singing, clapping to the rhythm of some of the riffs. 19,000 fans filled The Dome (verified by a contact within the venue management), with an estimated 6 – 7,000 each at the other two venues.

Two things commented on by both  Bernie Shaw and Mick Box of Uriah Heep at each show: their surprise at how many young people were there, and the amazing audience response (this seemed genuinely sincere on their part). At the first show, Mick even said during their performance, "We want to come back already!" He added that they would love to return to do a full two-hour concert. In Durban he said that he was "gobsmacked" at the response level. It may have a lot to do with South Africa's starved live rock scene.

Wishbone Ash arguably gained the most mileage from this memorable short tour – I heard so many favourable comments from audience members after each of their performances ( most punters were not familiar with their catalogue – kudos to Chris Venter of Universal Music South Africa for compiling "Best Of" 3xCD sets for both bands). Not having keyboards as part of their sound, and faced with the typical lower volume of an opening act, they played their hearts out, delivering competent, solid, entertaining performances. Of the three acts, they experienced the fewest sound problems. Uriah Heep's performances were also very consistent, with the Durban show probably their best . Each concert took a leap up when they hit the stage – volume, tempo, energy, lighting ... the sound seemed to expand in every direction to engulf you.

It was Deep Purple who improved noticeably over the tour's duration – not surprising, given the massive long haul travel they'd endured to get from Malaysia to Russia, and then from Armenia to Johannesburg, South Africa ... by Cape Town they had lifted the bar considerably, and Ian Gillan in particular was really on top of his game (from the first screams of "Highway Star" to a short refrain of "I'll See You in My Dreams" at the end of the encores). Just as an aside, at the end of the Joburg encores, Ian Gillan's parting comment was, "Enjoy your summer ..." After an audible gasp from the audience , he hastily corrected, "I mean winter".

It was an unexpected pleasure after my arrival at Cape Town Int'l Airport, on my way to the exit area, to bump into the DP entourage. In fact, it felt so surreal and dream-like. However, I managed to overcome any hesitation and introduced myself to Roger and Paicey, who were standing chatting together next to their luggage. They were very pleasant and friendly. After congratulating them on the Durban performance the night before, I said how much better the sound was than in Joburg. Paicey immediately agreed, noting that although The Dome is a great sized arena, it was like playing in a big barn (adding that some things as a performer you don't have control over). Paicey's snare drum sound was not right until Cape Town – it sounded choked or flat and too thin at the first 2 shows).


The Deep Purple setlists (the first three numbers were played without intro or any chat in between – each segued into the next, led by Paicey thrashing the intro beats on his hi-hats or crash cymbal):-
Pre-recorded Prokofiev Romeo and Juliet intro (Montagues and Capulets) into Highway Star. ELP recorded a version on their "Black Moon" album) 
Things I Never Said
Strange Kind of Woman
Maybe I'm a Leo
Rapture of the Deep (introduced by Ian Gillan as being off "our new record ... or our most recent lp". In Cape Town, he made a quick comment about probably recording a new album soon)
Fireball, incl. The lnto The Fire outro (Ian Gillan turns to Roger, asking "shall we play a slow, quiet one, Rog?" before Paicey unleashes the familiar drum riff)
Steve Morse – Contact Lost / Solo (morphing into) :
Sometimes I Feel Like Screaming (and straight into) :
Well Dressed Guitar
Mary Long
Lazy (this was prefaced by a brief Don solo and a tease from the opening riff of "Perfect Strangers")
No One Came
Don Airey solo – dramatic classical into boogie woogie, some referencing of Afrikaner Boere Musiek, and a few bars from the first section of the South African National Anthem. In between all of that was an amazing demonstration of the varied and different sounds and styles he can get out of his set-up. He really looked in control and as though he was thoroughly enjoying the gigs
Perfect Strangers (no teasing this time)
Space Truckin'
Smoke on the Water (in Joburg and Durban, Steve Morse referenced several well-known rock riffs before the immortal one... in Cape Town he only played "Owner of a Lonely Heart", joined by Roger and Paicey. It seemed as though he intended to play more, but changed his mind at the last second, as the Smoke On The Water intro was slightly fluffed)
Encores:-
Going Down* (just the first instrumental section before Paicey cymbal thrashes into):
Hush (with the briefest drum solo at the end ... perhaps 30 seconds or so)
Roger's Solo Spot, after which Paicey thrashes into:
Black Night.
*In Durban, Booker T and the MGs, "Time is Tight" was used instead of "Going Down".
Each concert started around 7 pm, finishing around mid-night. Wishbone Ash and Uriah Heep each performed for 50 minutes to an hour, with DP doing 1 hour 45. As South African fans, we can only hope that the promoters and sponsors will be encouraged enough by the results of this tour to make it happen again in the near future – bliss would be an annual Masters of Rock SA Tour ( a.k.a. Deep Purple and Friends). If the interval of 15 years is used as a benchmark, then I have serious concerns about any future visits to South Africa in this lifetime.
For more on this tour, including great photos from the Cape Town concert, go to mastersofrocksa.wordpress.com (Brian Currin's son, Michael, is the photographer). And for some stunning photos from the Joburg show of each of the bands, here's a link to Shayne Robinson's blog,  www.shaynerobinson.co.za / 2010 / 05 / masters-of-rock
review and set list: Euan Simpson ("Fungus Gil")
28th June 2010.

St George's Market, Belfast, Northern Ireland

"Deep Purple arrived in Belfast last night to play for the first time in their lengthy career. The venue had been changed at the last minute to St Georges Market...a Victorian fish market when it's not a R'n'R venue .It's a courtyard covered by a plastic(?) roof which caused the soundman to struggle early on.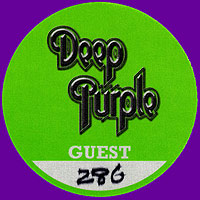 In fact, it took the guts of four tunes for the mix to sort itself out, and although clear from then on.. .the guitar could have been pushed up even more. The band were obviously struggling onstage as well, as big Ian made several trips to the monitor man and was gesticulating at him at length. When the issues had been dealt with, the band delivered yet another enjoyable and energetic couple of hours of fun. Deep Purple 2010 are a great night out... they deliver great songs, musicianship and great jams.
The set flowed well from "Highway Star" to "Black Night", .highlights included "Rapture Of The Deep", "No-One Came" and "Sometimes I Feel Liike Screaming". The band seemed happy, the little Ian / Rog engine room grooving along with ease, Big Ian in fine voice, Don smiling and having a ball as always. Steve Morse is a legend in my eyes, and can do no wrong!
I really enjoyed my night.....Deep Purple are one of THE great R'n'R bands.... and prove it effortlessly each time they take to the stage.
Now get into the studio, lads!!!!!!!!! Get the bloody finger out!!!!!"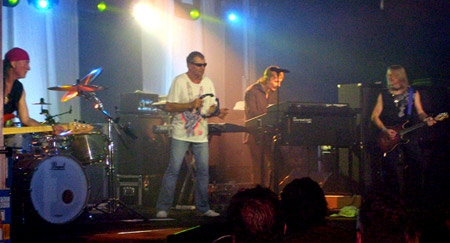 "Amazingly, next Monday sees Deep Purple's first ever show in Northern Ireland, after 42 years of touring. What has taken them so long to get here?
Keyboardist Don Airey - perhaps because he only joined in 2001 - isn't sure. "It had never occurred to me, but I suppose it's true." he says, "I suppose Northern Ireland came off the rock'n roll circuit a bit with all the troubles. I can only ever remember personally playing in Belfast once, with Bernie Marsden [in Whitesnake tribute Company Of Snakes]. So, it's quite a rare occassion."

30th June 2010.

"Live at the Marquee", Cork, Rep. Ireland

"For my second gig since arriving in Cork last year (the first was the rather wonderful Joe Bonamassa) I was hoping for a night to match the show that Joe had put on. It was the first time I'd seen Purple since the Monsters of Rock at Milton Keynes in 2006 and I was a little concerned - although I'd enjoyed that gig hugely, Ian Gillan's voice hadn't been in especially great shape for a lot of the night (which I didn't honestly realise until I heard a recording of it) and as I was taking my lady to her first Deep Purple gig, I didn't want either of us to be disappointed.

The "Live at the Marquee" gigs in Cork are held in what is effectively a circus big-top out near the city's docklands. It's about a 15 minute taxi ride through the evening traffic and, inkeeping with the spirit of Knebworth, the rain started while we were waiting for the cab. Mercifully, we'd taken a brolly and the walk through the car park to the Marquee wasn't too far. We found an outer area, housing the merchadising stalls which allowed us to pick up burgers and chilli fries and sink a couple of swift pints before going in.

My first thought on entering the main Marquee was that the sound engineer was going to have to pull out all the stops. The P.A. looked far from muscular and the whole place didn't appear to have been designed with acoustics in mind. We didn't have long to wait. There was no support act and shortly after 8 o'clock the intro tape started rolling. Although adrenaline and goodwill got them through "Highway Star" and "Things I Never Said", it wasn't until some rather animated conversation between Steve Morse and someone stage left that the sound cleared up a little.

I felt rather guilty at my lack of faith. They didn't let me down and were superb. I have to say that it's probably the best voice I've heard Big Ian in since the 1980's - I think he's realised that his range isn't what it once was and is now playing to his strengths rather than trying to force things. Certainly my lady, who comes from a very musical family, was moved to say that no 65 year old had a right to be singing that well. She also noted that he exuded effortless cool - he's still got it!

The Cork crowd were clearly up for "the craic" and the good humour on the stage spilled across us all night. Purple were, quite simply fantastic, with personal highlights being a beautiful "Sometimes I Feel Like Screaming", a bruising "Space Trucking" and a quite immense version of "Speed King" ("Ladies and Gentlemen, boys and girls - we are gathered here tonight to ROCK AND ROLL!!"). Steve shone throughout as did Ian Gillan although the biggest cheer of the night was probably for Roger's bass solo. "G'wan Rog, ya good thing!" was overheard! Paicey was as professional as ever without really stretching anything and of all the band, Don seemed most plagued all night by sound problems, never really cutting through the mix at all.

Overall a rousing success. Far better than I'd even hoped they'd be and the best I've seen them for years."

review: Greg Harrop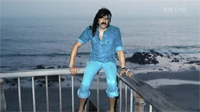 Irish TV channel RTE's 'Nationwide' magazine show featured a piece on photographer and Cork resident Fin Costello, who recalls memories of travelling with Deep Purple on their 1974 'Burn' tour across the US. You may recognise some of his shots from the trip, going right through to the California Jam. (And what look like a signed photo of Ian Gillan from the Japanese album sessions on his wall)
RTE have uploaded the article at www.rte.ie / news / nationwide. Just click 'Exhibition dedicated to Fin Costello goes on display' .
WIth thanks to John McEvoy


"It's been a long time since I was last in Cork. Anyone thinking of heading there should check it out in the last weekend of October when the international Jazz Festival takes place - really worth the visit.   Anyways me and the boy headed to the gig in the marquee which is what it says on the tin - a big circus like tent. It has a concrete floor and as it is only a temporary fixture I was not expecting a great sound. No support band tonight (thankfully) and a much bigger crowd than Belfast. At just about 8.30 the band walked on stage and went straight into Highway Star. Compared to Belfast the sound was excellent which was a big and welcome surprise.  
Steve changed his guitar during Things I Never Said and I thought he was going to have similar problems to Monday night but I don't know if something was bothering him or if he actually changes guitar because the song requires him to? Maybe someone could shed some light on this - is it something to do with different tunings during the song? On Monday there were obvious guitar problems and Roger had a look on his face that something wasn't right but tonight the guitar change went unnoticed by the band so I'm thinking they were expecting it.
The boys were really enjoying themselves tonight and it was obvious they were getting off on eachothers playing. Highlights for me tonight were Perfect Strangers, No One Came and Speed King. Again, the biggest disappointment was no solo from Paicey - what's up little Ian? I love watching this man in action and especially his one hand roll.
There were smiles all around the stage and I think special mention should be given to Roger who gave out plenty of plecs to the crowd and ensured that those in the crowd who showed they were having a really great time got something as he gave the plecs to the security guy to pass on to those he pointed to in the crowd. His solo was also great to hear and allowed for some audience participation. I would also like to mention the box of hankies Rog kept on top of his speakers alongside his brew - very Rock "n" Roll although it must be said the box was covered in black gaffer tape!!!!
The night ended with a rollicking Speed King which included snippets from some old Rock n Roll songs and at the end the crowd left extremely satisfied after a good night of music played expertly.  All in all an excellent night was had by all and I'm really glad I made the trip. Now roll on the autumn and I'll go see the Voice of Rock in Belfast. Looking forward to that one too."
3rd July 2010.

Mølleparken, Sønderborg, Denmark

"What a day and what a night! My Dad and I made the 2h 40min drive from Aalborg (Northern Jutland) down to Soenderborg (Southern Jutland) for our sixth Deep Purple concert. The weather was sunny all day and the temperature was about 33 degrees so it looked like a perfect evening for an open air concert.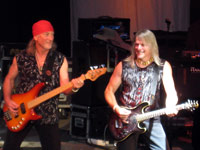 The venue was a small amphitheatre situated right next to a beautiful park (Mølleparken) in the town centre. Even though it was one of the smaller crowds on the tour (approx. 2,000-3,000 people) the atmosphere was electric. Most of the audience was of my dad's age, but when you looked around there was a good few younger people as well, ranging from 8-16 year-olds and a few around 20 like myself.
They opened with Highway Star (the only place in the set for this song!!) and continued with Things I Never Said. I was hoping that Things I Never Said would be replaced with Ted The Mechanic as in Belfast, but that didn't happen. There weren't any surprises in the set, but judging by the audience that didn't matter.
"Never Before" (Haha) have I felt such an energy and atmosphere at a Purple concert. Every single person was up for it and the band felt that as well. They were joking, smiling and having a really good time. Big Ian said; "Thanks for all the love you are sending down here. It really means a lot to us". The show ended after 1h and 50min and it was without doubt the best Deep Purple concert I've been to yet.
See ya next time!! "
Set list: Highway Star / Things I Never Said / Strange Kind of Woman / Maybe I'm a Leo / Rapture of The Deep / Fireball / Contact Lost / When a Blind Man Cries / The Well Dressed Guitar / Mary Long / Lazy / No One Came / Keyboard Solo / Perfect Strangers / Space Truckin' – Encores: Green Onions / Hush / Black Night
DPAS photo gallery. Deep Purple : Mølleparken, Sønderborg, Denmark (photos by Mikkel Andersen)
8th July 2010.

Wrigthegaarden, Langesund, Norway

Party in Langesund

Attendance: approx 2,600. The concert was moved from Krogshavn to Wrightegaarden, a very small and intimate concert stage in the centre of the small and beautiful town of Langesund, on the south coast of Norway, two hours drive from Oslo. A good concert, the band were in fine form, lots of smiles and grins, and a very enthusiastic crowd. Ian's vocals were in great shape, and Steve played very well throughout, with some particular highlights. In addition, Roger, Ian and Don never fail to excite us - excellent musicians and performers.

Setlist: Highway Star (good, nay very good) / Things I never said / Strange kind of woman / Maybe I am a Leo / Rapture of the deep / Fireball / Contact lost ~ Steve Morse solo / When a blind man cries (good) ~ More Steve Morse / Mary long (with great Steve solo!) / Lazy (very good) / No one came (excellent!) / Don Airey solo ~ Perfect Strangers (always a favorite among the Norwegians) / Space Truckin' (heavy - & good!) / Smoke on the water.

Encores: Hush, with a small rock'n roll medley, and a (brief!) Ian Paice solo / Roger solo – very good and very entertaining! / Black night, with a Steve Morse-audience interplay part – great fun for all.

From the looks on faces after the show, it seems that everyone enjoyed the concert very much."
10th July 2010.

"Rock Weekend Festival" Main Stage, Mohed, Sweden

new, August 5th

Playing time: about 90 minutes.

"The area in front of the main stage was filled with basically every festival visitor when Deep Purple took to the stage around 8 o'clock in the evening and went straight into Highway Star.

Don Airey worked quite hard at times, but the rest of the band were just playing technically well, smiling, looking at the sky (something up there was obviously more interesting than us!) but never really put any energy into the performance. An hour into the set quite a few of the audience had already left the site (believe it or not!). Solos were kept short and so was also Smoke On The Water. During the encore of Hush and Black Night the riff from Going Down was played at one point, but no drum solo this time."

Set list: Highway Star / Things I Never Said / Strange Kind Of Woman / Maybe I'm A Leo / Rapture Of The Deep / Fireball / Contact Lost / Steve Morse solo / When A Blind Man Cries / Well-Dressed Guitar / Mary Long / Lazy / No One Came / Perfect Strangers / Space Truckin' / Smoke On The Water // Hush / Black Night.