CHILDLINE ROCKS 2009 CD
As many people know, Childline Rocks is an annual charity concert which brings together classic rockers to raise money for, um, Childline. This year they teamed up with Concert Live to bring out an instant live CD. As a bonus, the 2CD set is augmented by a bonus third CD with exclusive photographs from the night, more of which later.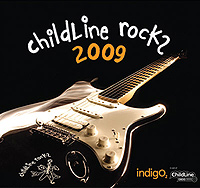 The Pretty Things, well two of them, kick things off with some acoustic blues, which is actually all rather dull, before Uriah Heep turn up to blow the cobwebs away with a fine, four track set. Then it's time for the late, lamented Thunder to take to the stage to remind everyone of just how good a band they were. The first CD ends with Hot Leg, the new band from former The Darkness front man Justin Hawkins. I've come up with a few words to describe just how awful they are, but the only ones that sprang to mind would make a sailor blush. And nothing in the dictionary could accurately convey the horror.
It took me a couple of weeks to play the second disc, as the copy I was sent was horribly scratched. A few emails later, and I finally get to hear the real nuggets. First up, former Deep Purple man Jon Lord turns up with The Storys front man Steve Balsamo for turns through 'Pictured Within' and 'Child In Time' before Lord reunites with fellow ex Purple person Glenn Hughes. Sadly, Justin Hawkins turns up again, but only briefly, and it's left to Steve Harley to close the show, culminating in a romp through 'Smoke On The Water'.
The sound quality is good enough, but the bonus photo CD is shameful, consisting of a selection of slightly out of focus audience pictures. And when I say audience pictures I actually mean pictures of members of the audience! It's not cheap, and if it wasn't a charity record, then I'd be screaming blue murder. Luckily, most of the music makes up for it.
review: Stuart A Hamilton
ChildLine Rocks 2009 is available to buy from /www.childlinerocks.co.uk

"Got my CD a few weeks back, I don't think it will hit my playlist that often, why? I was hoping for a chance to indulge in some great artists playing together, yes for myself primarily that was Glenn and Jon. However that hope was let down by the following:
I think the sound quality is hopeless. I feel for all the artists who gave their time and effort only to have their hard work ripped apart by this poor sound. I appreciate the individual requirements for each set are a consideration but is that not the reason for sound checks? The audience appeared to be in mourning, hardly any reaction no matter how the artists tried to engage them. The bonus pics add nothing, one good shot of all the participants etc. at the end. It's sad but I can't find any positives beyond the fact that the money raised from the CD may provide children with a route to the help they unfortunately so often it appears need, but reading the notes I can't help feeling that someone has made some profit somewhere as the contribution to the charity from the sales appeared to me as derisory."
review: Andy Worthington

"I must say that it's a pity it is not a DVD (looking at the You Tube stuff). However it could easily have been reduced to a single CD with two songs each from Uriah Heep, Thunder, Jon Lord, Glenn Hughes, and Steve Harley, with the addition of 'Smoke On The Water'.
CD3 is a joke, containing stupid pictures of the audience. CD 1 is a little disappointing, with the most awful music I have ever heard – Hot Leg. Thirty three years after they last played together Jon and Glenn Hughes produce a marvelous version of 'You Keep On Moving'., with Jon's organ making it sound every bit as special as it should. The sound quality is not 100%, but a lot better than a normal bootleg." review: Rob Berting

"One review mentions: "The audience appeared to be in mourning, hardly any reaction no matter how the artists tried to engage them." There was a great reaction on the night but there were probably no microphones over the audience. For instance, Glenn left it to the crowd to sing / yell out "I've been mistreated". Yet on the CD, as I recall, you hear nothing from the crowd.
The CDs sold on the night included too much time allocated to the introductions - Bob's meandering fill-ins whilst the stage was being prepared - to the point that Mistreated and Smoke were edited and incomplete. I gather from someone who bought a copy days later that this has been revised, the chat content reduced and all of the songs included are now complete." Nigel Young

Deep Purple Juke Box Jury
Have your say on 'ChildLine Rocks 2009'. Email your review to the deep-purple.net mailbox