DPAS REVIEW
Deep Purple
LIVE CASSETTE ANALYSIS VOL.2
The second volume of Mike Richards' excellent cassette analysis books is out at last. In his first volume, Mike set out to catalogue all known recorded Deep Purple shows between the years 1968 to 1993 which have turned up on tape. The idea is to give tape collectors some sort of basic reference work to help them identify tapes and check which are worth looking out for.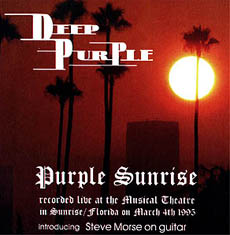 This second book follows the same sort of format. There are 80 pages of text (ink-jet printed and ring bound), covering the period from June 1994 (the brief Satriani tour of Europe following Blackmore's departure) up to the Concerto 30th Anniversary shows in September 1999.
To this Mike has also added a "catch up" section, which details tapes from 1968 to 1993 which emerged after the first volume was printed. This means you don't have to buy the first volume all over again. In all, Vol 2 covers an amazing 250+ shows, and Mike has listened to each and every one. There is a set-list and comments on performance and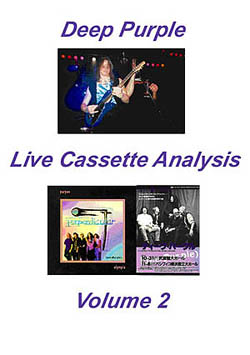 quality. Chapters are divided with colour sheets to make locating tours easier, and for ten of the sections Mike has added a page of tickets and CD Bootleg covers etc. to make it visually more interesting.
The best recommendation I can give is that this is one of three or four reference works which never leaves my desk.
As before, Mike is only producing the book in limited quantities. The price for Vol 2 remains the same as the first: UK £12.50. EU £15.00. ROW £17.00 These prices include postage and packing (it's quite a hefty tome) and copies are available from the DPAS orderline. Some copies of Volume 1 also remain, at the same price.
review by Simon Robinson.