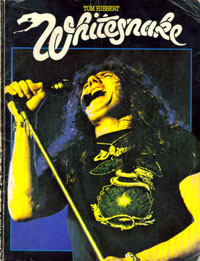 Omnibus : ISBN 0.86001.964.0 : 1981
48 pages

Back in the 80s, Omnibus (who did The Deep Purple Illustrated Biography) issued a number of quarto size paperback 'cut and paste' type rock biographies, including this one on Whitesnake, published in 1981. Printed in black and white, it uses a fairly in your face new wave graphic style to string a lot of interview quotes together (supplied by the band's press office) with some linking text by writer Tom Hibbert ("Whitesnake keep on side-winding, coiled and ready to strike, and shedding the skin of modesty..." etc.).
There are a bunch of b/white photographs thrown in (supplied by the band's label), though many are sadly hacked about (a shot of Jon Lord is cut up to look like a broken sheet of glass for some reason!). Nice colour photo on the front (of DC) and back (of the band on stage). Don't pay a lot for it unless you're a completist, but worth picking up for a pound or two at a car-boot / second hand shop. Thanks to Barry Will for suggesting we include it. It was not in print for long, and replaced by the Whitesnake Illustrated Biography a few years later.

SR
© 2008 DPAS/Darker Than Blue.
Not to be replicated, reproduced, stored and/or distributed in any way without prior written permission