• The first of the two Bolin books is available now, written by Greg Prato (see below). It is reviewed in full in DTB 60.
• A second Bolin book titled Post Toastee is tentatively scheduled for 2010, in order not to clash with the above. The author has also done a number of interviews with many of Bolin's early collaborators and fellow musicians, but as yet we're not sure what will mark this out from Greg's book.
Greg Prato, the writer of the official biography, has now spoken at length to over 50 of Tommy's friends, musical partners and business associates. Here are just some of those who have collaborated on the project so far: Carmine Appice (drums on Teaser and Private Eyes). Bobby Berge (Zephyr drummer)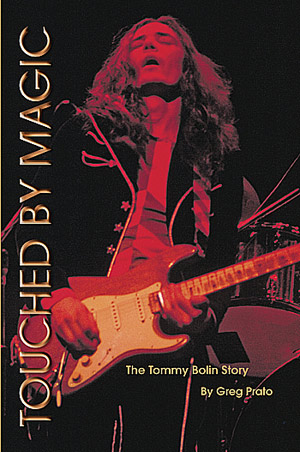 . Johnnie Bolin. Max Carl, Reggie McBride, Mark Stein, Jimmy Haslip, Narada Michael Walden (Private Eyes tour band members). Jeff Cook (Tommy's lyricist). David Coverdale. Jim Fox, Dale Peters (James Gang). Jan Hammer (keyboards on Spectrum and Teaser). Glenn Hughes. Eddie Kramer (producer Zephyr). George Larvick (bassist for Patch of Blue - one of Tommy's first bands). Alphonse Mouzon. Jeff Ocheltree (stage manager Private Eyes tour). Prairie Prince (drummer on Teaser). Stanley Sheldon, Gary Wilson, Kenny Passarelli (Energy), John Tesar (Tommy's lyricist). Martin Barre (Jethro Tull).
Greg's book is a digital print on demand title and is ready for ordering now (Dec 2008). You can order the book from www.lulu.com.
This is the publicity information on the book:
To many, Tommy Bolin was the legitimate heir to Jimi Hendrix's rock guitar throne. Stints with the James Gang and Deep Purple – as well as solo albums and a groundbreaking release with jazz-rocker Billy Cobham – certainly proved that the adulation was rightly deserved. Name a musical style, and Tommy could master it. And with a techno-color fashion sense, he certainly stood out from the pack. Only one problem, Tommy had a death-defying drug addiction, which ultimately would lead to a premature and tragic end - before he was able to truly take his standing among the elite musicians of the world. 'Touched by Magic: The Tommy Bolin Story' is the first book to focus entirely on the life story of Tommy Bolin – compiled from nearly 50 exclusive interviews (including family, friends, and band members that played alongside Tommy throughout the years).
Greg Prato is a Long Island, New York-based music journalist, who writes for a variety of sites and magazines, including All Music Guide, Billboard.com, Rolling Stone.com, and Record Collector Magazine, among others. Greg is also the author of 'A Devil on One Shoulder and an Angel on the Other: The Story of Shannon Hoon and Blind Melon,' and is a life-long fan of rock n' roll music - with Tommy Bolin being one of his favorite all-time guitarists.

Johnnie Bolin's foreword:

"After reading 'Touched by Magic,' it seemed to me every interview 'takes you there' for the moment. Being three years younger than Tommy, it walked me through my teen years; when I used to visit Karen and Tommy in Boulder, listen to Zephyr live at 15, and growing up following his career/playing music together, and eventually, joining the Tommy Bolin Band. One of the many things being said in this book is how kind and loving Tommy was, and what a beautiful soul Tommy had. Yes, he did have a serious drug problem, but we all have our problems, and deal with them in different ways. He chose his path because he truly was going to be a star, whatever it took. He had very loving parents, two brothers, and a very religious upbringing. My mom was truly a saint, and it showed in all of us. Enjoy the book – I give 105 stars to Greg!"