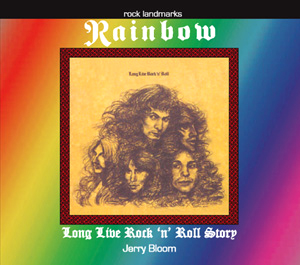 Rainbow: Long Live Rock'n'Roll Story
Jerry Bloom
Wymer Publishing, June 2009 / ISBN 978 0 9557542 2 7
This new series from Jerry heralds a series of similar books on 'landmark' rock albums. The format is very much like a series produced by Omnibus books a few years ago, as it is exactly CD sized and thus designed to sit on your shelf alongside the CD in question and compliment the original sleeve notes.
As you might expect from the master of all things Blackmore it's very informative and should appeal to hard-core Rainbow fans. The first section is devoted to the story of the sessions, there's a glossy middle section with photographs and the end part is a more detailed analysis of the tracks and discography. There is a longer review in DTB60.
SR