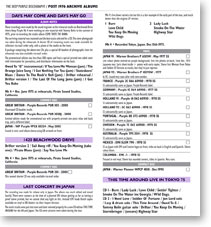 At long last plans are now being finalised for the first of the much anticipated DPAS discography updates. It has been decided to follow the pattern set by the original books back in the early 1980s, and cover Deep Purple's 68-76 output in Volume One. Volume Two will cover the reunion. Volume Three the post-Purple bands.
Simon has been liaising with a number of collectors, and will reactivate the discography email group shortly to enable people to help with checking and adding titles from their own collections: "I think it is crucial to have this input, and we really want these to be collaborative efforts." Unlike the original book, this time sleeves will be in colour and it is planned to include shots of as many rare sleeves as possible. This may well be published through the fanclub as the first two books were, but there is the likelihood of a retail edition as well.
We're told copies of the original two books fetch three figure sums in Japan - even though DPASMailorder still have copies of Vol 2 on sale!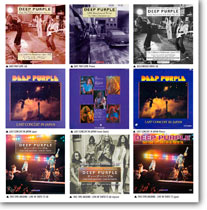 We've had a sample layout of two pages from the forthcoming Deep Purple Discography, and can show this here (click the thumbnails to enlarge). Simon adds: "It looks like this will be a square format book, for a couple of reasons. The old A5 edition just doesn't have the room we need, while it seems that the days when many of us would stuff this in a pocket on the way to the record fair are long gone! Equally a big A4 book looked a little unwieldly. The likely publisher has a few other books in this square format so it looked worth experimenting with and turned out to offer just what we needed. It also means some rare sleeves can be shown full page. Considerable time has been spent getting type sizes and layouts nice and clear while giving room for a lot of information. On the major album titles with a lot of variations, the sleeves will be shown along with the text. On albums where there are only a few variations, the sleeves will be grouped together opposite the text as shown on this sample, to make the best use of the space." We will have some more samples shortly. We're told this is just a sample, and subject to change, so don't go trying to spot mistakes just yet! DB