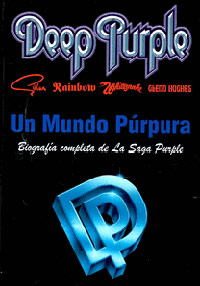 Author Jose Galván. Published Spain 2011
600+ pages A4 paperback. Colour cover and inside pages
The book tackles the band's history, The Pre Purple years, Gillan, Rainbow, Whitesnake, Glenn Hughes and life after purple for all musicians involved. As well as being a straightforward read through, Jose has cleverly set out a series of footnotes which allow you to follow the story of each musician individually if you want to do so. He also lists shows, set-lists, albums, and even charts the various fan-clubs which have been and gone over the years. There are colour photo spreads throughout too. It weighs an absolute ton.
Although the text is in Spanish, a lot of the extras are useful references for non-Spanish speakers as well. You can order direct from the publishers at www.ediciones.lenoir.es
Jose has just sent me a review copy too, so we'll hopefully be able to cover it in the next Darker Than Blue magazine. We won't be able to stock it through DTBMailorder due to the shipping costs.
Read more at Un Mundo Purpura on the Darker Than Blue blog.
SR